Does it work for the brand?
Bruce Barrow is vice-president of sports and entertainment with Encore Encore Strategic Marketing, a Toronto-based agency that has developed sponsorships and promotional events for clients such as Molson Breweries and Clearnet. For this report, we asked him to share some of...
Bruce Barrow is vice-president of sports and entertainment with Encore Encore Strategic Marketing, a Toronto-based agency that has developed sponsorships and promotional events for clients such as Molson Breweries and Clearnet. For this report, we asked him to share some of the event marketing lessons the agency has gleaned from its experiences.
If there's one major trend in marketing today, it's the emphasis placed on all things 'e' – e-mail, e-business, e-commerce and e-tail. There is, however, one 'e' whose significant role in the contemporary marketing mix is still sometimes overlooked: 'events.'
As electronic communication grows ever more popular, event marketing may prove to be the one and only true interactive experience that companies share with their valued consumers.
Events can serve as a foundation on which to build consumer promotions, advertising campaigns or public relations initiatives. Involvement with an event can enhance brand image and awareness, and help to build sales volume. And if that event lives up to its promise in the eyes of consumers (or better yet, over-delivers), the result can be lasting brand loyalty.
Evaluating events from a brand perspective
When it comes to event marketing, your primary options are (a) sponsorship (either title or secondary-category) of an existing event, and (b) development of a brand-driven proprietary event. Some companies may do big-impact proprietary events a couple of times a year, along with ongoing sponsorship activities to provide continuity and frequency.
Sponsorship of an existing event offers the borrowed interest that comes through association with a well-recognized property. And, because sponsorship is often shared among several corporate players, the cost equation can be attractive.
A proprietary event is developed to address a particular corporate need – whether that's generating revenue, or simply helping to promote a brand. Such an event can, obviously, be tailored specifically to a brand, helping to bring its essence to life. And, most importantly, it is ownable.
Before leaping into the fray, think carefully about objectives. You may have the greatest event concept in the world, or a tie-in with a major sports or entertainment property – but it won't work for you if it's off-strategy for the brand.
If you opt for sponsorship of an existing event, make certain that you're reaching your consumer both on- and off-site. (The number of people attending the actual event is insignificant compared to the number of people exposed to the event through marketing communications.) And remember that generating awareness of an event is not the same as generating awareness of the brand sponsorship of that event. One of the major challenges will be linking your brand intrinsically to the event property.
Look carefully at the event promoter's media plan to determine whether it meets your needs. If not, you may be required to build a plan of your own, either by converting some of your existing media, or by spending incremental media dollars. Co-promotions and on-site media opportunities should be factored into the plan. Does the event provide sampling opportunities, or other ways to convey your product's benefits to attendees?
When evaluating an existing event from a brand perspective, you should also weigh the following considerations:
- What is the appeal of the event?
- How does it fit with your brand?
- Who is the target audience?
- What is the rights fee, and how does that stack up against the potential benefits?
- What kind of awareness does the event have? Is there established equity, or is it a new property?
- What kind of media value does the property deliver?
- What is the PR or 'talk value' of the event?
- Will the brand receive credit for its association with the event?
- Will the brand be perceived as adding value to consumers through its participation?
- Is there opportunity to generate corporate goodwill through support of the event or an associated charity?
- Are there database marketing opportunities associated with the event?
- Is there scope for corporate hospitality, to help generate additional business-to-business opportunities?
- Can the sponsorship be integrated into the company's own internal incentive programs?
- Are there broadcast or Webcast opportunities associated with the event?
- Are there A/V integration or on-site signage opportunities?
- Are there opportunities to 'back-sell' (that is, to reinforce your brand's association with the event afterwards)?
The event planner's role
If you opt to develop a proprietary event, then an event planner can assist in designing a property that addresses corporate objectives, while keeping the quality of the attendee's experience very much in mind.
As a starting point, try developing an itinerary by mentally walking through the event from start to finish. Create a unifying theme, and then weave that throughout each component of the event. Look for enhancements that will create talk value, and make your event unique.
A comprehensive event management plan should cover all of the items on the following checklist:
- An event staffing plan
- Budget estimates
- Source suppliers
- Site selection
- Facility inspection
- Securing of permits and insurance
- Release and declaration documents and waivers
- Tickets and invitations
- Excursions, activities and other enhancements
- Travel and hospitality arrangements
- Ground transportation
- Talent booking
- Production
- Communications
- Security
- Signage and theme decor
- Media and public relations
- Emergency services
- A risk management plan
- A wrap party
- A final assessment and determination of key lessons learned
Having developed and executed unique brand-driven events for major clients, such as the Polar Beach Party in the Arctic for the U.S. launch of Molson Ice, Encore has learned important lessons about such initiatives. All events, whether large- or small-scale, require the same attention to detail from both event organizers and the corporate sponsor. And one should never let logistical difficulties get in the way of a big idea if the concept is right for the brand.
How companies benefit from events
Event marketing is the perfect vehicle for companies seeking opportunities to touch consumers directly – and consumers touched by an event can become outstanding ambassadors for a brand. In the U.S., for example, NASCAR fans are major advocates for those corporate sponsors that support the racing circuit. Handled properly, event marketing can build brand loyalty more effectively than just about any other marketing discipline.
- Get Carter: Toronto Raptor is proving Vince Carter is proving to be just as hot off the court as on p.25
- The ABCs of sponsorship research: How to tell whether you're getting your money's worth p.26
- Creative Trust pools fundraising resources p.30
RBC, TD and Lululemon among most valuable brands
Once again, the financial institutions and apparel brand landed in Kantar's top 10 lists for their sectors.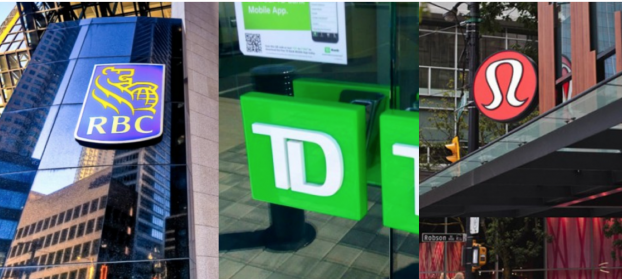 In the recently released 2022 edition of the Kantar BrandZ Top 100 Most Valuable Global Brands survey, several Canadian companies landed in the top rankings, namely in the financial institutions and apparel categories.
Two Canadian brands made an appearance in the survey's global banks rankings: RBC holds second position (57th overall), while TD ranks eighth (72nd overall), with brand values worth US$39.5 billion (up 43% from last year) and US$29.7 billion (up 47%), respectively. TD was among the fastest risers in the overall Top 100 survey, climbing 18 positions.
Lululemon takes fourth place as the most valuable apparel brand, behind Nike, Zara and Adidas. The Canadian athletic-wear company is valued at US$20.4 billion.
"Our 2022 rankings demonstrate both the resilience of our Canadian banking brands and their ability to create brand value by connecting with consumers to outperform other brands on the world stage," said Scott Megginson, president of Kantar Canada in a release. "They are leaders among brands in the global financial services sector and the number one position is coming within reach for RBC.
"It is also encouraging to see how Lululemon has continued to build brand value as people return to work," adds Megginson. "Its reputation for innovation, quality and reliability allows them to command a premium in the market."
Overall, Apple has landed in the #1 position and is projected to become the first trillion-dollar brand. It's brand value sits at US$947.1 billion, and is commended in the survey for its ongoing diversification strategy across its hardware, software and services portfolio. Apple moved up from second position in 2021.
Google has taken the second top spot, up one from the previous year, increasing its brand value by 79% to US$819.6 billion. In third place, Amazon dropped down two spots from last year's #1 position, and this year its brand value equates to US$705.6 billion.
In 2022, more than three quarters of brand value originated from U.S. companies, with media and entertainment, business solutions and technology providers and retail categories contributing to over half the total value of the Top 100.
According to Kantar, sector leaders emerged from a variety of industries, with technology and luxury brands growing the fastest – 46% for consumer technology and 45% for luxury. Automotive growth grew by 34%, and banks by 30%, compared to other sectors such as apparel at 20% and personal care by 17%.
Combined, the value of the world's Top 100 most valuable brands has increased by 23% to US$8.7 trillion in the last year. Set for release in October 2022, Kantar will rank Canada's top 40 most valuable brands, along with reports and insights for its market.