Movers & Shakers
CLIENTS: Bristol-Myers Squibb has appointed Maude Simard to general manager, Consumer Products Group - Canada. She was previously VP, Marketing. Simard joined BMS subsidiary Clairol Canada in 1976 and rose through the ranks to become VP, retail marketing. Simard's new job...
CLIENTS:
Bristol-Myers Squibb has appointed Maude Simard to general manager, Consumer Products Group – Canada. She was previously VP, Marketing. Simard joined BMS subsidiary Clairol Canada in 1976 and rose through the ranks to become VP, retail marketing. Simard's new job includes overall management, as well as strategic planning and growth performance.
Travelodge Canada has brought Dorothy Dowling on board as VP marketing. She comes to the Calgary-based hotel company from Travelodge Hotels in the U.S., where she was VP marketing and was instrumental in developing the company's Travelodge Miles loyalty program. Gopal Rao joins the company as director, national sales and marketing from the hotelier's real estate trust, Royal Host, where he was director, national sales.
Intrawest Corporation, Vancouver, which owns prestige ski resorts across North America, has hired Elizabeth Akey as its new regional director of sales and marketing.
Air Canada has appointed Calin Rovinescu its executive VP, corporate development and strategy, effective April 1. His responsibilities include alliances, corporate and government affairs, loyalty programs, information technology and e-commerce. As managing partner of Montreal-based law firm Stikeman Elliott, Rovinescu helped Air Canada stave off a takeover attempt by Onex Corporation, and engineer the airline's purchase of Canadian Airlines. Air Canada has also promoted Alice Keung to VP, information technology and chief information officer from director, information technology – commercial business units, a position she's held since last May. Keung previously worked as financial controller for the airline's marketing and sales department.
AGENCIES:
Neil Harris has been named creative director and art director at the Richmond Hill, Ont. offices of promotional marketing agency Vectra Marketing Group. Harris will be joined by Annabel Magennis, who was hired as senior account manager. She spent the last five years at the CNE as promotions manager.
Scott Simmons has joined Sales & Merchandising Group, a division of the Mosaic Group, as VP client service. Previously, Simmons was director of marketing and communications for the Oakville,Ont.-based Royal Canadian Golf Association.
MEDIA:
Mark Updegrove has been appointed president of Time Canada with responsibility for all publishing operations, including advertising, circulation and promotion. Updegrove, a Philadelphia native, was most recently division manager of Time's Los Angeles office. He takes over from Don Brown, who is retiring.
Toronto-based Key Media has named Renata Kunz the new consumer marketing manager for Toronto Life, Fashion and Canadian Art magazines. She joins the company from Saturday Night, where she held the same position.
The Globe and Mail has appointed Shannon McPeak vice-president, corporate sales to spearhead integrated advertising sales across all the Globe's media properties – newspaper, magazine, television and online. McPeak will also retain her responsibilities as VP, national advertising sales.
Stephen Petherbridge, the former head of the Globe's magazine operations, has been named VP, TV/New Ventures. He'll be responsible for ROBTv and develop new broadcast initiatives.
Helen Cochran has been given the role of VP, new business development for Globe Information Services, which includes the globeandmail.com Web site. Cochran has been working on new business initiatives for the Globe for the past year, including the launch of print and online product GlobeMegawheels.
ExtendMedia, a producer of interactive television (iTV) programming, has appointed Steve Billinger as president and COO. He was formerly director of interactive programming at U.K.-based News Corporation's BskyB's TV. Billinger will be joined by Ian Valentine, who comes on board as executive VP, business development. Their responsibilities include strengthening the company's alliances with entertainment industry leaders. ExtendMedia is headquartered in Toronto, with offices in New York and Los Angeles.
RBC, TD and Lululemon among most valuable brands
Once again, the financial institutions and apparel brand landed in Kantar's top 10 lists for their sectors.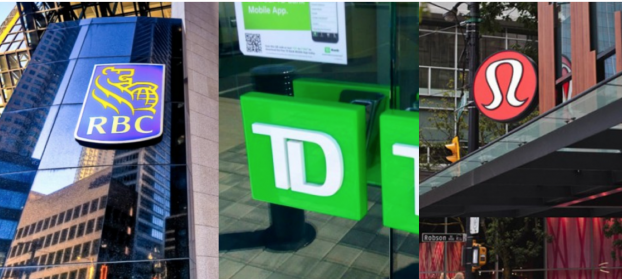 In the recently released 2022 edition of the Kantar BrandZ Top 100 Most Valuable Global Brands survey, several Canadian companies landed in the top rankings, namely in the financial institutions and apparel categories.
Two Canadian brands made an appearance in the survey's global banks rankings: RBC holds second position (57th overall), while TD ranks eighth (72nd overall), with brand values worth US$39.5 billion (up 43% from last year) and US$29.7 billion (up 47%), respectively. TD was among the fastest risers in the overall Top 100 survey, climbing 18 positions.
Lululemon takes fourth place as the most valuable apparel brand, behind Nike, Zara and Adidas. The Canadian athletic-wear company is valued at US$20.4 billion.
"Our 2022 rankings demonstrate both the resilience of our Canadian banking brands and their ability to create brand value by connecting with consumers to outperform other brands on the world stage," said Scott Megginson, president of Kantar Canada in a release. "They are leaders among brands in the global financial services sector and the number one position is coming within reach for RBC.
"It is also encouraging to see how Lululemon has continued to build brand value as people return to work," adds Megginson. "Its reputation for innovation, quality and reliability allows them to command a premium in the market."
Overall, Apple has landed in the #1 position and is projected to become the first trillion-dollar brand. It's brand value sits at US$947.1 billion, and is commended in the survey for its ongoing diversification strategy across its hardware, software and services portfolio. Apple moved up from second position in 2021.
Google has taken the second top spot, up one from the previous year, increasing its brand value by 79% to US$819.6 billion. In third place, Amazon dropped down two spots from last year's #1 position, and this year its brand value equates to US$705.6 billion.
In 2022, more than three quarters of brand value originated from U.S. companies, with media and entertainment, business solutions and technology providers and retail categories contributing to over half the total value of the Top 100.
According to Kantar, sector leaders emerged from a variety of industries, with technology and luxury brands growing the fastest – 46% for consumer technology and 45% for luxury. Automotive growth grew by 34%, and banks by 30%, compared to other sectors such as apparel at 20% and personal care by 17%.
Combined, the value of the world's Top 100 most valuable brands has increased by 23% to US$8.7 trillion in the last year. Set for release in October 2022, Kantar will rank Canada's top 40 most valuable brands, along with reports and insights for its market.