Technology File
IN-STORE KIOSKS TO ALLOW INTERNET ACCESS Toronto-based Systech Retail Systems has launched three in-store kiosk applications the company says will save consumers time and allow them controlled access to the Internet. The applications allow retailers to customize Internet access and display...
IN-STORE KIOSKS TO ALLOW INTERNET ACCESS
Toronto-based Systech Retail Systems has launched three in-store kiosk applications the company says will save consumers time and allow them controlled access to the Internet. The applications allow retailers to customize Internet access and display advertising on the screen at all times. Consumers will be able to send e-mail, print electronic shopping lists, withdraw cash, purchase event tickets or win prizes and gifts. They can even use the kiosks to swipe their frequent buyer card in order to view or print a list of the incentives to which they are entitled.
PIVOTAL SOLUTION TO ENHANCE CUSTOMER CARE
Pivotal Corp. of Vancouver has inked a deal with Vancouver-based ServicePlus Corp. that will provide integrated Web, wireless and Windows service and support capabilities for the companies' customers. The collaborative solution will offer companies the ability to manage the entire customer relationship life cycle from the initial point of contact with sales and support through field and depot service. The software is designed to increase customer care levels by arming service and support personnel with integrated, up-to-the-minute customer information.
SOFTWARE ANALYZES CUSTOMER DATA TO SUPPORT DECISION-MAKING
A Montreal-based company has integrated its software with that of a company in San Jose, Calif., that the two say will allow users to analyze customer information collected through the Internet and traditional marketing, sales and service channels. Visionyze.com and Clarify Inc. say their integrated offering can help improve fact-based decision-making. Clients can use point-and-click technology to analyze customer data gathered and integrated from different points of customer interaction.
IBM LAUNCHES DATA MANAGEMENT SOLUTION
Markham, Ont.-based IBM Canada has unveiled the IBM Content Manager to help companies manage the ever-increasing amount of digital information now facing organizations. According to Big Blue, the content management market is expected to exceed $10 billion by 2004. IBM's Content Manager solution involves the collection, management and electronic distribution of all forms of business information – including e-mails, audio, video and images – and linking it to core business processes. It is designed to help clients integrate, leverage and share all forms of digital content for increased productivity, operational efficiencies and competitive advantage.
Zulu grows its team and makes a slate of promotions
A director of interactive production for Zulubot is among dozens of new faces and roles at the agency, in response to recent wins.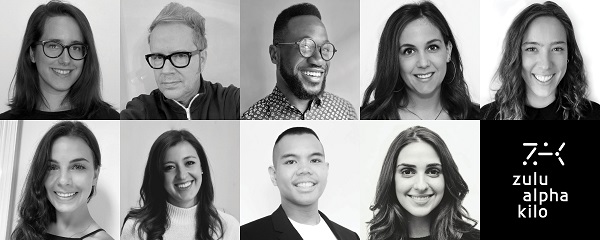 Toronto indie shop Zulu Alpha Kilo had made several new hires and promotions on the heels of new business and also organic growth from existing clients.

Zulu could not officially announce the account wins at this time.

However, it can report that Ece Inan, most recently at Toronto design and tech shop Array of Stars, has been named the agency's new director of interactive production for Zulubot, the agency's production arm. In the new role, Inan will lead AR, VR, voice and other digital innovation projects.

Also on the production side, James Graham, who has spent the last 17 years with Grip, has joined the agency as its studio director.

Zulu has also made numerous additions on the client services side, led by Michael Brathwaite, also from Grip, as account director.

It's also announced a spate of new account supervisors, including Hayley Blackmore (from G Adventures), Risa Kastelic (from BT/A), Kara Oddi (also from BT/A), Emily Anzarouth (also from Grip), Chris Rosario (from FCB/Six) and Sarah Shiff (from Rethink).

In addition to the new hires (pictured above), the agency has also announced several promotions: Alyssa Guttman moves from account director to group account director, while Nina Bhayana, Michelle Fournier, Jenn Gaidola-Sobral and Erin McManus have all been promoted to account director, and Haley Holm to account supervisor. On the strategy team, strategists Carly Miller and Spencer MacEachern have both been promoted to strategy director, while Shaunagh Farrelly, who has been with Zulu for two years in a client service role, moves into a new role as a digital strategist.

In December, the shop also announced that Stephanie Yung would be returning to the agency after a stint in New York as its head of design. Recent wins the agency has been able to announce including work as AOR for the Ottawa Senators, as well as a new arrangement with existing client Consonant Skincare, setting up an in-house team to support growth after taking an equity stake in the company.

Zulu president Mike Sutton says it's wonderful, in a new year, to welcome new faces and energy to the team and says the agency is fortunate to have had so many people across the agency step up to support its clients.

"Simply put, they were rock stars, and the promotions are very well deserved," Sutton says.