Chapters stands out in dot-com crowd
Agency/Media Company: OMD Canada Client: Chapters Online Brand: www.chapters.ca Media Team: Stacey McIntyre, media manager; Ariela Freed, media planner Timing: April to November 1999 Best Use of Newspaper: Runner-up The Background The overriding objective for Chapters.ca was simple:...
Agency/Media Company: OMD Canada
Client: Chapters Online
Brand: www.chapters.ca
Media Team: Stacey McIntyre, media manager; Ariela Freed, media planner
Timing: April to November 1999
Best Use of Newspaper: Runner-up
The Background
The overriding objective for Chapters.ca was simple: 'Selling stuff while building a brand.'
The major strategic imperatives were to accelerate new customer acquisition, ensure improvement in the area of repeat sales and develop the brand. The client wanted to create the perception of market and category dominance and, obviously, meet quarterly and fiscal sales objectives.
Among the major challenges were: competing with other Canadian and U.S. online retailers (such as Indigo.ca and Amazon.com); standing out amid the profusion of 'dot-com' advertisers in the marketplace; and contending with some very aggressive timing and sales objectives.
The Plan
The strategy called for a multimedia approach, to maximize awareness of the plan among both traditional book buyers and Internet shoppers. To establish the perception of itself as the category leader, Chapters.ca had to dominate the targeted media.
The prime goal was to infiltrate urban markets, where a significant percentage of Internet users live and/or work. Key areas were hand-picked and selectively targeted, taking into consideration such factors as proximity to competitors, entertainment districts, affluent residential areas, financial districts and so on. This approach was adopted for virtually all media, from washroom posters to transit shelters.
In addition, guerrilla-marketing tactics were used to garner more attention from the press and public, and to build credibility with young, hip, Internet-savvy 'leaders.'
Place-based advertising in both print (a hockey-themed execution in The Hockey News, for example) and out-of-home media (riskier creative in club and bar washrooms) helped make the brand more pertinent to the target.
The specific elements of the plan were…
Outdoor horizontal posters and transit shelters: With respect to these vehicles, the plan called for the combination of a site-specific buy and a targeted GRP buy.
Washroom posters: The approach here was location-specific, targeting trendy bars, cafés, restaurants and clubs during the launch phase.
Elevator News Network: On ENN, the brand effort was complemented by sponsorship of content screens ('New Releases,' 'Top 5 Books,' and so on) developed specifically for this campaign.
Transit: In transit, the plan called for dominance of Toronto's Bay subway station, which is located near the Chapters flagship store, as well as posters in other high-traffic stations, interior dominance of 60 Toronto subway cars (10% of the fleet) and exterior panels on streetcars during the summer months.
Radio: Throughout the campaign, radio was used to maximize frequency. In addition to brand spots, which employed the same 'voice' as the print and transit creative, there were promotions geared toward each station's individual listeners. These promotions served to drive traffic to the site, and helped to create additional brand excitement.
Felt media: In a noteworthy departure from traditional media, the Chapters.ca logo was printed on the felt of pool tables in trendy bars, clubs and pool halls.
Theatre slide advertising: 10-second slides featuring the print and transit creative appeared on theatre screens between showings.
Newspapers: Small-space ads ran in national dailies, local dailies and urban weeklies. The brand also had a presence in the promotional sections and publications produced by various papers. In addition, a Canada Day newspaper rain bag was created to promote a special July 1 site offer.
Magazines: Half-page horizontal full-colour ads appeared in national consumer magazines (including Maclean's, Time, Chart, Shift, En Route and The Hockey News), as well as local city magazines such as Toronto Life and Vancouver Magazine.
The Results
All told, Chapters.ca exceeded its aggressive initial sales objectives by some 200%. By October 1999, awareness of the Web site among Ontario book buyers stood at 20.4%, versus 10.6% back in April. What's more, after just three months of advertising, it was the second most recognized online brand among book buyers across Canada.
Competitors recognized that the campaign was working too; the entire media plan was copied by another player several months after the launch.
Awareness of Chapters.ca in this country now equals that of Amazon.com – and as of last October, more Canadians were shopping at the Chapters site. Sales for the most recent quarter exceeded those of the previous year by a whopping 2000%.
Also in this report:
* Bates takes the cake p.BMP2
* MaxAir fires on all cylinders: Multi-tiered plan for high-menthol gum was imbued with irreverence p.BMP3
* Dentyne Ice kisses up to teens with party promo: Initiative was designed to drive both brand awareness and sales p.BMP4
* Kool-Aid placement reflected fun, refreshment p.BMP6
* Aussie creates 'in your face' presence: Repositions brand as funky, outrageous p.BMP8
* Guerrilla tactics get Panasonic noticed: Campaign used underground channels to reach club crowd p.BMP10
* Much VJ follows his Natural Instincts on air p.BMP12
* Campbell's cooks up targeted advertorial: Partners with CTV, magazines to create a presence beyond traditional ad buy p.BMP16
* Looking at Philips through fresh eyes: Redefinition of target market sparked departure from the traditional choice of television p.BMP18
* Jays plan hits home run p.BMP21
* Minute Maid aims for morning ownership p.BMP24
* Western Union a global Villager p.BMP28
* Scotiabank breaks out of the mold p.BMP32
* Clearnet clusters creative: Complementary boards were positioned in proximity to one another to maximize visibility, engage consumer p.BMP38
* The Judges p.BMP43
Zulu grows its team and makes a slate of promotions
A director of interactive production for Zulubot is among dozens of new faces and roles at the agency, in response to recent wins.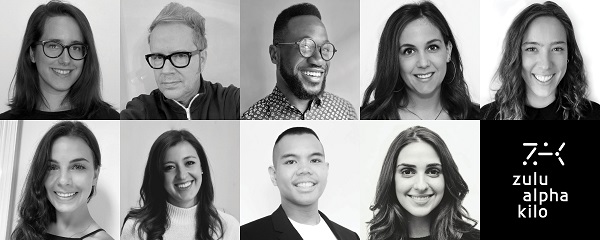 Toronto indie shop Zulu Alpha Kilo had made several new hires and promotions on the heels of new business and also organic growth from existing clients.

Zulu could not officially announce the account wins at this time.

However, it can report that Ece Inan, most recently at Toronto design and tech shop Array of Stars, has been named the agency's new director of interactive production for Zulubot, the agency's production arm. In the new role, Inan will lead AR, VR, voice and other digital innovation projects.

Also on the production side, James Graham, who has spent the last 17 years with Grip, has joined the agency as its studio director.

Zulu has also made numerous additions on the client services side, led by Michael Brathwaite, also from Grip, as account director.

It's also announced a spate of new account supervisors, including Hayley Blackmore (from G Adventures), Risa Kastelic (from BT/A), Kara Oddi (also from BT/A), Emily Anzarouth (also from Grip), Chris Rosario (from FCB/Six) and Sarah Shiff (from Rethink).

In addition to the new hires (pictured above), the agency has also announced several promotions: Alyssa Guttman moves from account director to group account director, while Nina Bhayana, Michelle Fournier, Jenn Gaidola-Sobral and Erin McManus have all been promoted to account director, and Haley Holm to account supervisor. On the strategy team, strategists Carly Miller and Spencer MacEachern have both been promoted to strategy director, while Shaunagh Farrelly, who has been with Zulu for two years in a client service role, moves into a new role as a digital strategist.

In December, the shop also announced that Stephanie Yung would be returning to the agency after a stint in New York as its head of design. Recent wins the agency has been able to announce including work as AOR for the Ottawa Senators, as well as a new arrangement with existing client Consonant Skincare, setting up an in-house team to support growth after taking an equity stake in the company.

Zulu president Mike Sutton says it's wonderful, in a new year, to welcome new faces and energy to the team and says the agency is fortunate to have had so many people across the agency step up to support its clients.

"Simply put, they were rock stars, and the promotions are very well deserved," Sutton says.