Minute Maid aims for morning ownership
Agency/Media Company: Starcom Worldwide Client: Minute Maid Company of Canada Team: Chris Morandin, media director; Stephanie Guran, planning supervisor; Rishma Dewsi, buying supervisor Timing: January to December 1999 Best Use of Newspaper The Background The goal was to...
Agency/Media Company: Starcom Worldwide
Client: Minute Maid Company of Canada
Team: Chris Morandin, media director; Stephanie Guran, planning supervisor; Rishma Dewsi, buying supervisor
Timing: January to December 1999
Best Use of Newspaper
The Background
The goal was to position Minute Maid orange juice to consumers as a brand that allows them to make the most of the day ahead – a very relevant positioning, as over 73% of all orange juice is consumed during the morning daypart.
With adult consumers as the key target, the media team set about constructing a plan that would not only deliver 'morning ownership,' but would also reflect the hurried way that adults bustle through the early part of each day.
The Plan
The strategy focused on certain key areas:
Morning television: The media team leveraged 52-week sponsorships of breakfast programs on Global in Montreal, CIVT in Vancouver and ASN in Atlantic Canada. The sponsorships included product placement during interviews and editorial coverage, opening and closing billboards and brand-sell spots, plus a 'Minute Maid monitor' on the Vancouver show.
Morning newspaper: Minute Maid had continuous insertions on the front page of the National Post for its calcium-fortified product – a placement that gave the brand additional exposure through newspaper boxes. In this way, the newspaper campaign reached both readers and busy adults in the street on their way to work in the morning.
The Results
Minute Maid continues to build a morning ownership presence, with strong results. In addition to increasing target awareness, the brand has captured the number one position in the calcium-fortified orange juice segment, with a 60%-plus share of market. The client continues to invest in this strategy and expand the program.
Also in this report:
* Bates takes the cake p.BMP2
* MaxAir fires on all cylinders: Multi-tiered plan for high-menthol gum was imbued with irreverence p.BMP3
* Dentyne Ice kisses up to teens with party promo: Initiative was designed to drive both brand awareness and sales p.BMP4
* Kool-Aid placement reflected fun, refreshment p.BMP6
* Aussie creates 'in your face' presence: Repositions brand as funky, outrageous p.BMP8
* Guerrilla tactics get Panasonic noticed: Campaign used underground channels to reach club crowd p.BMP10
* Much VJ follows his Natural Instincts on air p.BMP12
* Chapters stands out in dot-com crowd: Multimedia approach helped retailer create perception of market and category dominance p.BMP15
* Campbell's cooks up targeted advertorial: Partners with CTV, magazines to create a presence beyond traditional ad buy p.BMP16
* Looking at Philips through fresh eyes: Redefinition of target market sparked departure from the traditional choice of television p.BMP18
* Jays plan hits home run p.BMP21
* Western Union a global Villager p.BMP28
* Scotiabank breaks out of the mold p.BMP32
* Clearnet clusters creative: Complementary boards were positioned in proximity to one another to maximize visibility, engage consumer p.BMP38
* The Judges p.BMP43
Meat and plant-based sales are both strong at Maple Leaf
Both priority areas performed well in the company's full-year results, helped by a boost in marketing for new products.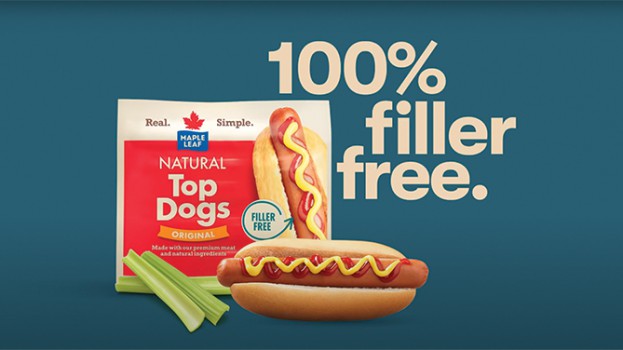 Maple Leaf Foods reported higher Q4 and full-year 2020 sales, driven by its sustainable meats and plant-based proteins. 

The CPG co. reported quarterly sales of $1.13 billion, up from $1.02 billion for Q4 2019, as well as net earnings of $25.4 million, compared to $17.5 million for the same period the year prior (an increase of 45.2%).

For full fiscal 2020, the company reported a total increase of 9.2% in sales, driven by what it says is "strong growth in both the meat and plant protein groups."

"We have repositioned our portfolio towards two high-growth categories now representing 20% of our annual sales generating a compounded growth rate in excess of 25% over the last three years," says Michael McCain, the company's president and CEO.

Meat protein group sales – comprised of prepared meats, ready-to-cook and ready-to-serve meals, snack kits, value-added fresh pork and poultry products that are sold to retail, foodservice and industrial channels, and agricultural operations – grew 11.3% for the quarter. 

Meanwhile, sales of plant protein products – refrigerated plant protein brands such as Lightlife and Field Roast, premium grain-based protein, and vegan cheese products sold to retail, foodservice and industrial channels – was up 5.5% over the same period. 

Sales growth for its meat portfolio was driven by "a favourable mix-shift towards sustainable meats and branded products," but also growth in exports to Asian markets, and pricing actions implemented to mitigate inflation and other structural cost increases, according to the company. Strong demand in the retail channel was offset by lower volume in foodservice as a result of COVID-19.

For its plant-based offerings, sales for 2020 were $210.8 million compared to $176.4 million last year, representing a growth of 19.5%, or 18.1% after excluding the impacts of foreign exchange. The segment was driven by expanded distribution of new products, continued volume increases in its existing portfolio, and pricing actions implemented to mitigate inflation and other structural cost increases.

SG&A expenses totalled $144 million for the plant group alone in 2020, with investments focused on advertising, promotion and marketing to build awareness, as well as supporting brand renovation and new product innovation. SG&A for meat proteins were $346.6 million for the full year, and the company says it expects SG&A levels and marketing investment in 2021 to be largely in line with where they were in 2020.

The company, which in 2019 announced it had gone carbon neutral, says it's amplifying this commitment while "focusing on eliminating waste in any resources it consumes, including food, energy, water, packaging, and time."