Kool-Aid placement reflected fun, refreshment
Agency/Media Company: The Media Edge Client: Kraft Canada Brand: Kool-Aid Media Team: Robert Brown, media group head; Chris Stewart, media planner Timing: May to September, 1999 Best Use of Out-of-Home Best Plan for a Budget of More Than $1...
Agency/Media Company: The Media Edge
Client: Kraft Canada
Brand: Kool-Aid
Media Team: Robert Brown, media group head; Chris Stewart, media planner
Timing: May to September, 1999
Best Use of Out-of-Home
Best Plan for a Budget of More Than $1 Million: Runner-up
Best Plan Overall: Second Runner-up
The Background
Kool-Aid's 1998 campaign re-awakened the brand character in the consumer's mind. Awareness results showed that the advertising in out-of-home media captured Kool-Aid's active consumer – Mom – while exciting the kid target. For 1999, we needed to evolve the brand's out-of-home placement to build upon the previous year's success, and deliver a program more national in scope.
The new creative retained Kool-Aid's trademark smiling face imagery. The media plan, meanwhile, continued the strategy of placing out-of-home in the path of our summer consumer. And once again, the placement itself was as much a part of the 'fun and refreshment' message as the actual creative.
The Plan
Television: The 1999 campaign was built upon the most successful elements of the previous year's plan, including strong national children's TV from May through September to communicate product news: specifically, the introduction of Slushies and Ice Blue Raspberry Lemonade mix.
Out-of-home: We built the out-of-home on a solid base of TSA/street-level, posters and exterior transit to deliver targeted reach skewing family neighbourhoods and venues in the selected markets. The out-of-home ran in eight major urban centres.
To leverage the exposure of the out-of-home campaign base and further cement Kool-Aid's branding, we drafted a wish list of 'pointable media' placements that added a 'wow' element to the plan.
The Kool-Aid ferry: Kool-Aid sponsored the children's amusement village of Centreville on Toronto Island. To create a link to consumption, we secured an agreement with the City of Toronto to wrap the Sam McBride, which is one of the ferries carrying thousands of families to the island each summer. The result was a colourful and imposing floating billboard, which garnered attention from both consumers and the press. The 'Kool-Aid Ferry' was packed all summer long; in fact, children often insisted upon waiting for it rather than taking an unwrapped Ferry – much to the chagrin of parents and dock attendants.
Kool-Aid sailing: We renewed Kool-Aid's sponsorship of the Royal Canadian Yacht Club racing team in Toronto, as well as that of an affiliated club in Vancouver. Three two-person racing boats were outfitted with sails and spinnakers sporting the Kool-Aid smile.
Subway stations: We targeted key subway stations, placing platform posters as well as vertical cards on every position of the station escalators. This placement strategy created impact, and communicated fun and variety. When we first used subway posters in 1998, we found that they were stolen as fast as they could be posted. This time around, the supplier used plexiglas coverings, which prevented theft. (Well, almost prevented.)
Cottage country: To tap the family fun of cottagers' weekly exodus, we purchased posters strategically positioned on the major and secondary routes to cottage and cabin country, outside of both Toronto and Vancouver. And we added some more targeted reach by placing a synergistic creative execution – in which the holes in a cottage screen door formed the shape of the Kool-Aid smile – in Cottage Life magazine.
The Vancouver challenge: Because of municipal restrictions, out-of-home in Vancouver poses a challenge to planners. We maximized Kool-Aid's visibility by renewing the sailing sponsorship (as noted above), and by purchasing giant banner locations – newly approved – on a major artery into the city's west end. We also placed the creative on the sides of delivery trucks in the Vancouver area. This placement was particularly arresting. Indeed, fleet drivers said they found themselves greeted like celebrities by passersby. Deliveries to schools met with particularly enthusiastic response.
Strategic spectaculars: To add even more fun, we secured spectacular locations for custom-made executions in high-volume family areas. In Toronto, for example, we focused on the SkyDome area, where we placed an execution that featured workers mixing a giant Kool-Aid. (This execution also appeared in Winnipeg, Halifax and Montreal.) The 'Ice Blue' flagpole execution in Toronto and Calgary, meanwhile, featured mannequins of children 'frozen' to the pole by their tongues. And in family-dense north Toronto, we placed an Ice Blue superboard, with a parka-clad mannequin scraping frost from its face.
In addition, we returned to a number of successful locations from 1999, notably backlit panels on the Gardiner Expressway, and banners at high-traffic intersections such as Toronto's Bay and Davenport.
The Results
The 1998 Kool-Aid campaign had been a great success. Indeed, the advertising creative found its way into other vehicles, such as new package designs and in-store displays. The 1999 campaign, for its part, maintained strong advertising awareness among both moms and kids. The brand achieved record-high base line volume growth versus the previous year – results that kept us all in Kool-Aid smiles.
Also in this report:
* Bates takes the cake p.BMP2
* MaxAir fires on all cylinders: Multi-tiered plan for high-menthol gum was imbued with irreverence p.BMP3
* Dentyne Ice kisses up to teens with party promo: Initiative was designed to drive both brand awareness and sales p.BMP4
* Aussie creates 'in your face' presence: Repositions brand as funky, outrageous p.BMP8
* Guerrilla tactics get Panasonic noticed: Campaign used underground channels to reach club crowd p.BMP10
* Much VJ follows his Natural Instincts on air p.BMP12
* Chapters stands out in dot-com crowd p.BMP15
* Campbell's cooks up targeted advertorial: Partners with CTV, magazines to create a presence beyond traditional ad buy p.BMP16
* Looking at Philips through fresh eyes: Redefinition of target market sparked departure from the traditional choice of television p.BMP18
* Jays plan hits home run p.BMP21
* Minute Maid aims for morning ownership p.BMP24
* Western Union a global Villager p.BMP28
* Scotiabank breaks out of the mold p.BMP32
* Clearnet clusters creative: Complementary boards were positioned in proximity to one another to maximize visibility, engage consumer p.BMP38
* The Judges p.BMP43
RBC, TD and Lululemon among most valuable brands
Once again, the financial institutions and apparel brand landed in Kantar's top 10 lists for their sectors.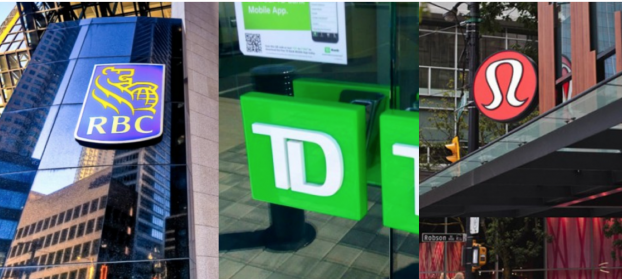 In the recently released 2022 edition of the Kantar BrandZ Top 100 Most Valuable Global Brands survey, several Canadian companies landed in the top rankings, namely in the financial institutions and apparel categories.
Two Canadian brands made an appearance in the survey's global banks rankings: RBC holds second position (57th overall), while TD ranks eighth (72nd overall), with brand values worth US$39.5 billion (up 43% from last year) and US$29.7 billion (up 47%), respectively. TD was among the fastest risers in the overall Top 100 survey, climbing 18 positions.
Lululemon takes fourth place as the most valuable apparel brand, behind Nike, Zara and Adidas. The Canadian athletic-wear company is valued at US$20.4 billion.
"Our 2022 rankings demonstrate both the resilience of our Canadian banking brands and their ability to create brand value by connecting with consumers to outperform other brands on the world stage," said Scott Megginson, president of Kantar Canada in a release. "They are leaders among brands in the global financial services sector and the number one position is coming within reach for RBC.
"It is also encouraging to see how Lululemon has continued to build brand value as people return to work," adds Megginson. "Its reputation for innovation, quality and reliability allows them to command a premium in the market."
Overall, Apple has landed in the #1 position and is projected to become the first trillion-dollar brand. It's brand value sits at US$947.1 billion, and is commended in the survey for its ongoing diversification strategy across its hardware, software and services portfolio. Apple moved up from second position in 2021.
Google has taken the second top spot, up one from the previous year, increasing its brand value by 79% to US$819.6 billion. In third place, Amazon dropped down two spots from last year's #1 position, and this year its brand value equates to US$705.6 billion.
In 2022, more than three quarters of brand value originated from U.S. companies, with media and entertainment, business solutions and technology providers and retail categories contributing to over half the total value of the Top 100.
According to Kantar, sector leaders emerged from a variety of industries, with technology and luxury brands growing the fastest – 46% for consumer technology and 45% for luxury. Automotive growth grew by 34%, and banks by 30%, compared to other sectors such as apparel at 20% and personal care by 17%.
Combined, the value of the world's Top 100 most valuable brands has increased by 23% to US$8.7 trillion in the last year. Set for release in October 2022, Kantar will rank Canada's top 40 most valuable brands, along with reports and insights for its market.