Women start to get their due online
As women continue to migrate online, a small number of Canadian marketers have begun rolling out Web sites geared toward female consumers - and none too soon, according to a number of industry analysts. While marketing to women online hasn't had...
As women continue to migrate online, a small number of Canadian marketers have begun rolling out Web sites geared toward female consumers – and none too soon, according to a number of industry analysts.
While marketing to women online hasn't had to be a major focus for marketers before now – women have never before used the Net to the same extent or in the same ways men have – the reality of online gender parity is one that has to be dealt with, says Sandra Tamburino, director of business development with ACNielsen-DJC Research.
'Whether you need to market to women depends on your product, but if you do, you can't just make a blanket statement,' says Tamburino. 'It would be wise to market specifically to them – and that comes with understanding not only their usage on the Net, but their traditional decision-making process.'
In anticipation of the female move online, Citytv's home- and lifestyle-oriented television talk show CityLine recently made its debut on the Web. The Net version features how-to instructions, projects, recipes, an ask-the-experts section and the online CityLine AXS loyalty club. The site mirrors the show's programming by covering several of the main subject areas – health and family, home, fashion, gardening and cooking – and targeting the same audience of women 25 to 34 years old. According to Maria Hale, managing director of ChumCity Interactive, Web-exclusive information will also be developed in an effort to further draw its strong female following online and encourage new viewers to both the show and the site.
'We're going to be featuring things like online chats, chats with our experts and a message board system so that our audience will be able to communicate with one another. This is one of the areas that we think will grow and receive a lot of attention moving forward,' she says.
Last year, 51% of Canadian Internet users were women – a ratio that reflects Statistics Canada numbers for the population as a whole, according to Tamburino. In January, ACNielsen-DJC Research published the 4th annual Women Online Study, which polled a sample of 6,000 Canadians over the age of 12 who've used the Net in the last year. In 1997 and 1998, 47% and 49% of those online were women.
The percentage of men engaged in Net activities like downloading, clicking on banners and participating in newsgroups, however, is considerably higher than that of women, according to Tamburino. Women most often use the Net to find education and health information, participate in chat rooms, and obtain recipes. Kraft Canada's Web site, for one, boasts several female-oriented features including an interactive kitchen, a meal planning service, and a recipe finder/cookbook.
Although women exert a great deal of purchase power, the study shows they are trailing men when it comes to e-commerce: 34% of men have made a purchase online versus 19% of women. And only about 20% of women do online research about future purchases, compared to 36% of men.
Tamburino says while women still do not use the Net as frequently as men, nor do they spend as much time per visit, the time spent online will increase as their experience and comfort level increase.
'All the types of things women look for in the traditional environment, they also need on the Internet,' says Tamburino. 'If your site is difficult to use, loaded or embedded with all kinds of information and layers of content, you're going to create a barrier.'
She suggests marketers build a community of interest among women by giving them something of value.
Ford Motor Company of Canada has been attempting to do just that by moving some of its traditionally female-oriented activities online, according to Lauren More, the automaker's sales and marketing communications manager. The company features its Car Smarts Interactive Seminars program for women, offered in partnership with Chatelaine magazine, on its Web site. Bobbie Gaunt, president and CEO of the auto manufacturer, also recently hosted a one-hour live interactive chat from the Canadian Auto Show.
'Certainly e-initiatives are a focus for Ford in general and the women market is definitely a focus. If you consider that one in three cars and one in five trucks are purchased by a woman, and 85% of all vehicle purchases are influenced by women, it's absolutely an important market for us.'
According to Web measurement company Media Metrix, U.S. sites with a high concentration of women include toy, greeting card and health sites. In the U.S., women represent 48% of Internet users, with forecasts estimating they will begin to outnumber men online within the next 12 months, according to Jupiter Communications.
Christina Rodmell, co-founder of The Wired Woman Society, a Toronto-based association representing women who work in the online and digital communications industry, says advertisers and marketers need to forge connections and relationships with their female audience if they're to thrive. They can do this, she says, by making their sites friendly, easy to use and visually appealing, and by including a mechanism by which women can ask questions and offer criticism.
'The virtual world is slowly starting to reflect its brick-and-mortar counterpart. It's important to tap into the female market, but you can't umbrella us under one ad campaign. You really have to understand the dynamics,' Rodmell says.
SheaMoisture encourages women of colour to 'Be Your Beautiful'
The Unilever hair and skincare brand spoke to an underserved market with events in the lead-up to the Toronto Carribean Carnival.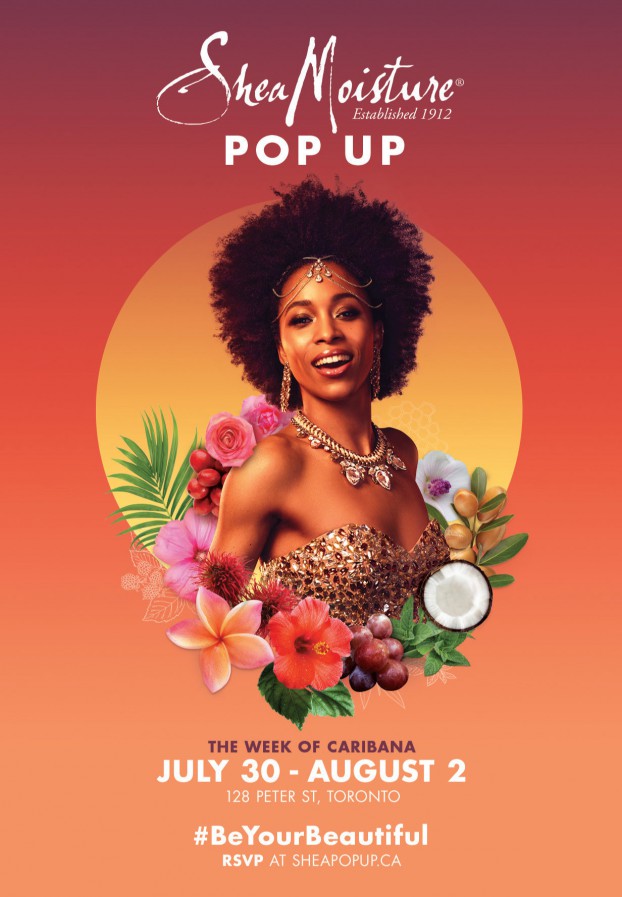 Outside the SheaMoisture pop-up shop last weekend, there was a big mural with a woman rocking her natural hair and a confident smile. It was similar to the vibe inside the airy building, which smelled of coconut and was filled with smiling women (and a few men) wearing their hair however they pleased on a sticky early August day.
In the lead-up to the Toronto Caribbean Carnival grand parade, the hair and skincare line held four days of events with the aim of inspiring anyone who entered the downtown Toronto to "Be Your Beautiful!"
"Our purpose is to over serve the underserved and to advocate for women of colour. We are trying to encourage women of colour to define beauty on their own terms," says Bobby McMaster, brand manager for SheaMoisture Canada.
McMaster and his SheaMoisture Canada fellow brand manager, Abimbola Rafuah, say many Canadian brands are failing to speak directly to women of colour at all, creating an underserved market.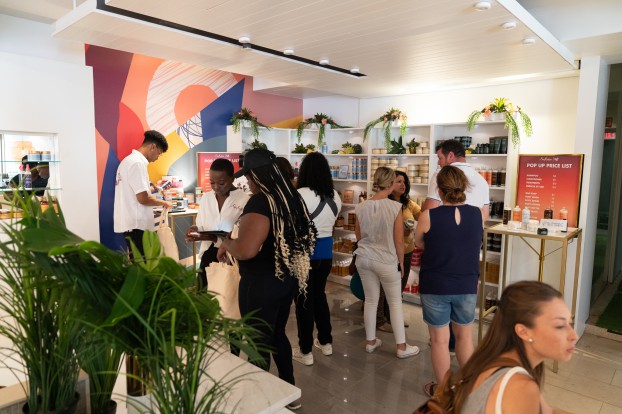 "Every day we've sold out. The reaction has been so phenomenal, from day one people would come in and say 'we appreciate you,' it's been an outpouring of love," said Rafuah. She attributes the palpable excitement inside the pop-up to fellow women of colour wanting "a space where they could come together and talk about issues and sisterhood, and we created a space for them to do that."
The hair and skincare brand has long been a favourite among women of colour in the U.S., which was purchased by global behemoth Unilever in late 2017. SheaMoisture was launched in Canada following the acquisition, and this pop-up is one way to get the word out that people no longer have to go south of the border to stock up.
"We've heard so many people come up to us and say for years we've had to get everyone in the car and go up to Buffalo," said McMaster. "By launching into Canada in a really big way… we're really trying to democratize products for this type of hair."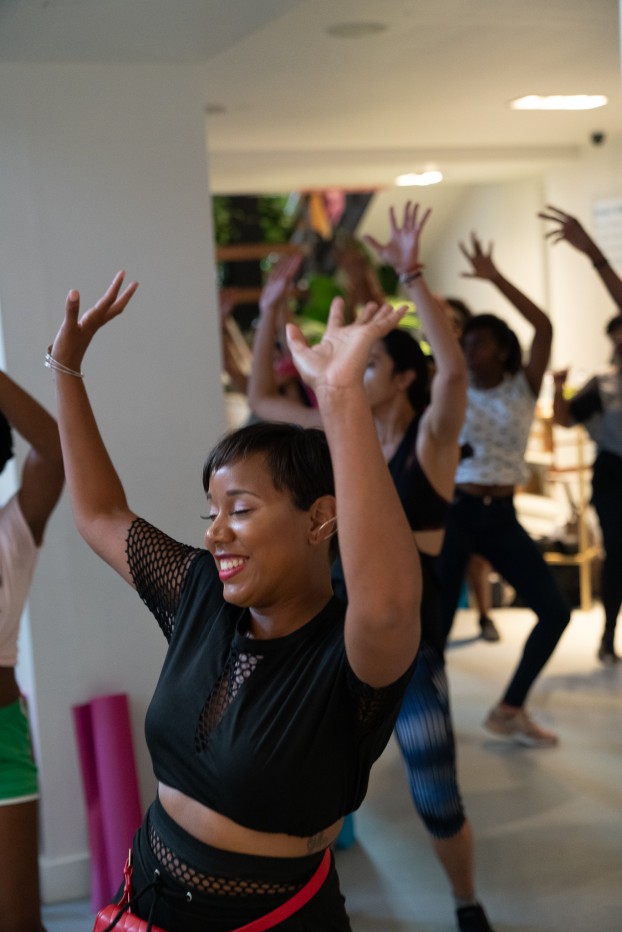 The brand's first-ever pop-up activation in Canada featured everything from a salon and style bar to yoga classes to after parties with female DJs, DJ Rosegold, Killa Kels and Dre Ngozi. There was also a keynote speech by Tracy Moore, the host of Cityline, a workshop by Sister Talk Leadership Academy's Karlyn Percil, as well as musical performances by Jully Black, Ammoye and Domanique Grant. Artwork showcases by Benny Bing and Alexis Eke, as well as a natural hair masterclass with "cosmetic chemist" Sister Scientist rounded out the activation.

The event hashtag, #BeYourBeautiful was seeded by influencers donning a range of styles from shaved heads to belly button-grazing braids to corkscrew-tight curls, encouraging people on Instagram to pop by the pop-up shop.

SheaMoisture signed on as an official sponsor of Caribana, North America's largest cultural festival, back in March and has been holding activations at or near Toronto Caribbean Carnival events in the lead-up to the annual festival.

Langton Communications handled public relations, while Unilever's internal agency U-Studio led the creative and Adept handled the production.