Branding dot-coms with PR poses challenges
Hugh Black and Gabriella Nobrega are vice-presidents with GCI Group in Toronto. In building their brands, many dot-com enterprises face a dual challenge. In addition to defining who they are, they also have to define their market, and their own...
Hugh Black and Gabriella Nobrega are vice-presidents with GCI Group in Toronto.
In building their brands, many dot-com enterprises face a dual challenge. In addition to defining who they are, they also have to define their market, and their own place in that market. Because they may be creating brand new market niches that never existed before, they need to sell both the concept and their brand to a wide range of audiences, including investors, potential partners, customers, analysts and the media.
Autobytel.ca and TargetNet.com are just two of the dot-coms that currently find themselves in the midst of this exercise.
Autobytel.ca, a leading Internet car-buying service, has spent the past year educating consumers about the benefits of purchasing vehicles online, while at the same time trying to demonstrate to automotive dealers how the Web can help produce a winning solution for themselves and their customers.
TargetNet.com, a provider of online advertising products and services, is introducing clients and agencies to the concept of rich media banner ads, and promoting its ability to deliver targeted reach through its Adpulse and Datacom properties.
Both enterprises have employed public relations as a key instrument for building their brands. Why? Because PR is one of the most cost-effective means for a dot-com to get the results it's looking for.
As Internet-based ventures, dot-coms operate in an exceedingly fast-paced environment, where technology evolves swiftly and change is constant. Slow down, and you risk being overtaken by competitors.
The need to move quickly has prompted many dot-coms to take a broader view of public relations than is often the norm in the offline world. Their use of PR extends well beyond traditional media relations, into areas such as brand positioning, investor relations and the building of strategic partnerships. One dot-com executive, for example, told us recently that he was looking not only for a firm that could execute well, but that could bring a network of potential partners to the table.
One of the pitfalls of communications in the dot-com space is the impulse to move too quickly and continually shift the organization's core positioning. This is a fatal mistake. Just as in the offline world, public relations strategy on the Net must be rooted in core brand character and key messaging. Too often, however, there's a temptation to neglect strategy (or develop it on the fly) and move immediately into execution.
Rob Carscadden, general manager of TargetNet, says that dot-coms must learn to adapt to the pressure of a fast-paced environment, while at the same time embracing the proven brand-building techniques used by traditional bricks-and-mortar companies.
The key is to establish a positioning that, on the one hand, is flexible enough to withstand the constant change of an evolving market, and yet will remain relevant to the audiences that the company wants to reach. The core brand proposition needs to be distinct, striking a balance between emotion and logic – and it must be used consistently.
Here again, public relations can play a crucial role. After all, by definition, PR is the process of establishing relations and communicating with your audiences in a consistent manner.
Dot-com enterprises do enjoy one particularly important advantage from a brand-building standpoint: the two-way communication that is possible in the online environment. Through ongoing dialogue and exchange with customers, dot-coms can customize and tweak their messaging – overnight, if necessary – while working to stay within the bounds of their core positioning.
When carefully planned and thoughtfully executed, public relations can help to create some of the world's most powerful brands. The key is to combine strong positioning with solid execution, thereby ensuring that the brand enjoys the highest possible level of awareness and relevance to customers.
Also in this report:
* Dot-coms put best face forward: PR playing a larger role in communication strategies of online enterprises p.B2
* PR meets investor relations: Disciplines converging in high-tech world p.B5
* High-tech PR expertise in short supply p.B6
* PR firms must show creativity in hiring p.B7
* Web impacting corporate reputation: Companies want to know what's being said about them online – and by whom p.B8
RBC, TD and Lululemon among most valuable brands
Once again, the financial institutions and apparel brand landed in Kantar's top 10 lists for their sectors.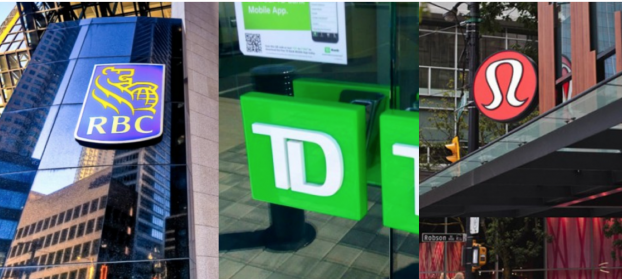 In the recently released 2022 edition of the Kantar BrandZ Top 100 Most Valuable Global Brands survey, several Canadian companies landed in the top rankings, namely in the financial institutions and apparel categories.
Two Canadian brands made an appearance in the survey's global banks rankings: RBC holds second position (57th overall), while TD ranks eighth (72nd overall), with brand values worth US$39.5 billion (up 43% from last year) and US$29.7 billion (up 47%), respectively. TD was among the fastest risers in the overall Top 100 survey, climbing 18 positions.
Lululemon takes fourth place as the most valuable apparel brand, behind Nike, Zara and Adidas. The Canadian athletic-wear company is valued at US$20.4 billion.
"Our 2022 rankings demonstrate both the resilience of our Canadian banking brands and their ability to create brand value by connecting with consumers to outperform other brands on the world stage," said Scott Megginson, president of Kantar Canada in a release. "They are leaders among brands in the global financial services sector and the number one position is coming within reach for RBC.
"It is also encouraging to see how Lululemon has continued to build brand value as people return to work," adds Megginson. "Its reputation for innovation, quality and reliability allows them to command a premium in the market."
Overall, Apple has landed in the #1 position and is projected to become the first trillion-dollar brand. It's brand value sits at US$947.1 billion, and is commended in the survey for its ongoing diversification strategy across its hardware, software and services portfolio. Apple moved up from second position in 2021.
Google has taken the second top spot, up one from the previous year, increasing its brand value by 79% to US$819.6 billion. In third place, Amazon dropped down two spots from last year's #1 position, and this year its brand value equates to US$705.6 billion.
In 2022, more than three quarters of brand value originated from U.S. companies, with media and entertainment, business solutions and technology providers and retail categories contributing to over half the total value of the Top 100.
According to Kantar, sector leaders emerged from a variety of industries, with technology and luxury brands growing the fastest – 46% for consumer technology and 45% for luxury. Automotive growth grew by 34%, and banks by 30%, compared to other sectors such as apparel at 20% and personal care by 17%.
Combined, the value of the world's Top 100 most valuable brands has increased by 23% to US$8.7 trillion in the last year. Set for release in October 2022, Kantar will rank Canada's top 40 most valuable brands, along with reports and insights for its market.