IAB, CMA on brink of fundamental change
With some 30 years' experience in media advertising, sponsorship marketing, direct marketing and public affairs, Peter Case recently established his own communications and marketing consultancy in Toronto....
With some 30 years' experience in media advertising, sponsorship marketing, direct marketing and public affairs, Peter Case recently established his own communications and marketing consultancy in Toronto.
The fledgling Internet Advertising Bureau is reported to be taking aggressive steps to move from a volunteer group to more of a full-time, professional organization. Welcome news at a time when clarity and measurement tools are so badly needed.
With its first executive director in place, the IAB is embarking on a drive for additional membership – an effort to add to its already 100-plus tripartite base.
The IAB began to take shape roughly three years ago, and since then has steadily gained influence and critical mass. As a national advocate for Internet marketing and advertising, the bureau has set out to build an objective resource for stimulating new media advertising models and for sponsoring education forums. It also boasts a modest but useful public policy role.
At the same time, The Canadian Marketing Association (CMA), formerly the Canadian Direct Marketing Association and one of the country's major, potential "influencers" in interactive marketing, is also gearing up.
Its size, its focus on public policy issues and education, and its membership roster provide a natural reason to take a leadership position with respect to interactivity to ensure that marketers are better able to understand and deal with the implications of rapid-fire changes.
To do so, however, could mean yet another shift in the mandate of the CMA. Two years ago, after many debates, it rewrote its mission statement to broaden the association's scope beyond direct response, shifting to the wider embrace of "information-based" marketing.
Understandably, in the short time since, the CMA has retained a somewhat heavy membership skew toward direct marketers, many of whom continue to be governed by an inordinate focus on one-way relationship marketing principles. But that's changing.
With customers more empowered than ever, interactivity has become a key marketing driver. Presumably, real "relationships" will flow from an improved or open two-way flow of communication.
Clearly, the CMA is logically positioned to lead Canadian businesses in their quest to adapt to interactive marketing. It may actually be the sole organized group to which Canadian marketers currently can turn.
The association has established an "Internet marketing council," one of several that deal with specific areas of concern, and, it has a task force and an advisory group poised to move forward. These are a beginning.
Nonetheless, while the CMA may have a solid arsenal of resources and support to get the job done, nothing short of a big, bold, , association-wide step into the interactive fray will keep it in the forefront.
Marketers entering this new era need a strong, fully credible, solidly visionary and aggressively influential voice to act in their interest.
Just as it refashioned itself as a leader in information-based marketing, there's a compelling argument that the CMA should now build quickly on its strengths and mobilize to become Canada's hub for the evolution of interactive marketing.
* * * * *
On another topic entirely, Canada has benefited significantly from many years of hard work by a relatively small but dedicated band of media managers. Together and individually, they've brought wisdom, growth, influence and professionalism to media planning and buying. They have forged a solid operating template for the many people who work today in the media.
You'll recognize their names: Ann Boden, Sunni Boot, Bruce Claassen, Hugh Dow, David Harrison, Peter Swain. Each has run or is heading a media agency-of-record and they all participate extensively in industry forums, proffer sought-after advice and counsel, provide opportunities for newcomers to learn and thrive and, generally, command the respect of buyers and sellers alike.
These key players are central to the growth and success of media planning and buying in Canada; they've become something of a core, if not inspirational, group – leading, pushing and cajoling. Some might even say beating.
And just when they got things pretty well right, the road has taken a sharp turn toward media convergence.
While their sophisticated understanding of media dynamics will no doubt combine to make them a solid bet in the tumultuous years ahead, it's fair to say the savvy six have an additional job: to begin positioning and promoting the next wave of leaders who will follow. And one of the things they'll have to teach these up-and-comers is the importance of relationships.
For some strange reason, there's been a lot of discussion lately about whether relationships between buyers and sellers are important in the advertising business. Implicit in these discussions is the suggestion that media inventory is nothing more than a commodity where relationships count for little and price counts for a lot.
I, for one, can't understand a view that believes in media for media's sake, a philosophy that doesn't take into account the opportunity for powerful alignments and creative solutions.
Boden, Boot, Claassen, Dow, Harrison, Swain – they've built an entire industry around relationships. It's unlikely they could have done so otherwise.
In my own case, I can say unequivocally that some of the best and most productive media initiatives developed while I was at Royal Bank were borne out of relationships with all levels of media.
It occurs to me that anyone who argues against the value of relationships has spent little time developing and benefiting from them.
Their loss.
Peter Case can be reached at (905) 762-0182.
Zulu grows its team and makes a slate of promotions
A director of interactive production for Zulubot is among dozens of new faces and roles at the agency, in response to recent wins.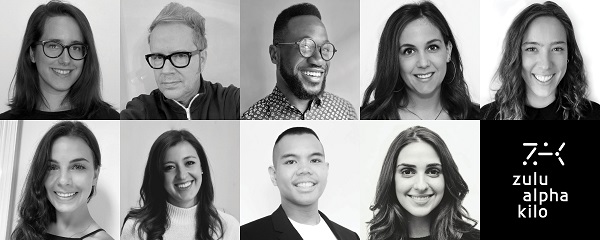 Toronto indie shop Zulu Alpha Kilo had made several new hires and promotions on the heels of new business and also organic growth from existing clients.

Zulu could not officially announce the account wins at this time.

However, it can report that Ece Inan, most recently at Toronto design and tech shop Array of Stars, has been named the agency's new director of interactive production for Zulubot, the agency's production arm. In the new role, Inan will lead AR, VR, voice and other digital innovation projects.

Also on the production side, James Graham, who has spent the last 17 years with Grip, has joined the agency as its studio director.

Zulu has also made numerous additions on the client services side, led by Michael Brathwaite, also from Grip, as account director.

It's also announced a spate of new account supervisors, including Hayley Blackmore (from G Adventures), Risa Kastelic (from BT/A), Kara Oddi (also from BT/A), Emily Anzarouth (also from Grip), Chris Rosario (from FCB/Six) and Sarah Shiff (from Rethink).

In addition to the new hires (pictured above), the agency has also announced several promotions: Alyssa Guttman moves from account director to group account director, while Nina Bhayana, Michelle Fournier, Jenn Gaidola-Sobral and Erin McManus have all been promoted to account director, and Haley Holm to account supervisor. On the strategy team, strategists Carly Miller and Spencer MacEachern have both been promoted to strategy director, while Shaunagh Farrelly, who has been with Zulu for two years in a client service role, moves into a new role as a digital strategist.

In December, the shop also announced that Stephanie Yung would be returning to the agency after a stint in New York as its head of design. Recent wins the agency has been able to announce including work as AOR for the Ottawa Senators, as well as a new arrangement with existing client Consonant Skincare, setting up an in-house team to support growth after taking an equity stake in the company.

Zulu president Mike Sutton says it's wonderful, in a new year, to welcome new faces and energy to the team and says the agency is fortunate to have had so many people across the agency step up to support its clients.

"Simply put, they were rock stars, and the promotions are very well deserved," Sutton says.