Daewoo melds media in car giveaway
Daewoo Auto Canada, together with media partners Canoe and Sun Media, has added a new twist to the typical click-and-win promotion by using traditional media to promote and execute its recent online car giveaway....
Daewoo Auto Canada, together with media partners Canoe and Sun Media, has added a new twist to the typical click-and-win promotion by using traditional media to promote and execute its recent online car giveaway.
To enter the draw, users had to locate a special icon – a Daewoo Nubira sporting a canoe on its roof – published daily in Sun newspapers, and then identify its location on the Canoe.ca Daewoo contest microsite.
The contest, which ran in the Vancouver, Edmonton, Calgary, Winnipeg, Ottawa, Toronto, Montreal, Quebec City and Halifax markets, targeted consumers looking to buy a vehicle in the next year. A total of 43,853 Canadians signed up for the promotion.
Hiding images within the pages of a newspaper for readers to find and identify is nothing new, says Jay Donnelly, corporate marketing director for Sun Media, but forcing them to seek out the entry ballot online is. And that combination of old and new media provided a couple of distinct advantages.
"Consumers were able to go in and find out all kinds of information, or even set up an appointment with Daewoo," he says. "In a traditional print promotion, you'd never get that depth.
"At the same time, a promotion [exclusive to] the Net has no qualifying nature to it – the newspaper stage lends credence to the contest and gives you a more qualified entrant."
The 21-day contest, which concluded earlier this month, was designed to build awareness for Daewoo, which has been operating in Canada for just over a year, and create some excitement around the all-new Nubira.
Brad Rome, national advertising manager for the Korean automaker, says it was logical to integrate an online component into the contest.
"The traditional method of finding a vehicle is newspaper, but more and more people are turning to the Internet for information and even trying to purchase vehicles online," says Rome. "It made sense to be in both media."
Online consumer incentive programs have grown in number lately, spurred on by technological advances and the growth of e-commerce activity. A wave of Canadian companies has launched online contests in the last six months, including Tridel Corporation (which recently gave away a $160,000 condominium), Canada Post, Chapters.ca, Ford Motor Company of Canada and Look Communications.
And while the obvious advantage of Web-based contests has been their potential to gather valuable demographic, behavioural and contact information about those who enter, the Daewoo initiative did not have data collection at the top of its priority list.
"Our objective more than anything was to be able to provide information to people as they came through the site," says Rome. "It wasn't to build a database. It was to give people an opportunity to find out about us, or ask for a brochure or a test drive."
He says there are no plans to follow up with registrants via e-mail. However, he says, contest participants were asked to complete short behavioural questionnaires on both the Canoe/Daewoo contest microsite, and on the Daewoo Canada site, to which they were automatically linked once they'd finished registering for the contest.
AnneMarie Wolkman, marketing manager with Canoe, says the questions on the microsite were not automotive-specific, but rather general questions on Internet usage to help the Web portal determine the type of contests and information users are looking for. The Daewoo survey, for its part, focused on gauging the buying nature of online users and target purchasers, she says.
"Certainly there are a lot of people who utilize online contests as a way of gathering information, but [we don't want to] hinder people or make it so cumbersome that users don't want to participate. It is an opportunity, but you don't want to alienate your audience by asking too many proprietary questions," she says.
RBC, TD and Lululemon among most valuable brands
Once again, the financial institutions and apparel brand landed in Kantar's top 10 lists for their sectors.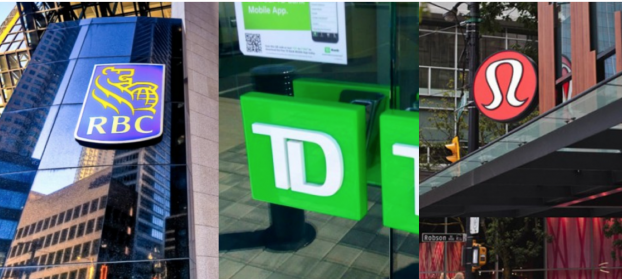 In the recently released 2022 edition of the Kantar BrandZ Top 100 Most Valuable Global Brands survey, several Canadian companies landed in the top rankings, namely in the financial institutions and apparel categories.
Two Canadian brands made an appearance in the survey's global banks rankings: RBC holds second position (57th overall), while TD ranks eighth (72nd overall), with brand values worth US$39.5 billion (up 43% from last year) and US$29.7 billion (up 47%), respectively. TD was among the fastest risers in the overall Top 100 survey, climbing 18 positions.
Lululemon takes fourth place as the most valuable apparel brand, behind Nike, Zara and Adidas. The Canadian athletic-wear company is valued at US$20.4 billion.
"Our 2022 rankings demonstrate both the resilience of our Canadian banking brands and their ability to create brand value by connecting with consumers to outperform other brands on the world stage," said Scott Megginson, president of Kantar Canada in a release. "They are leaders among brands in the global financial services sector and the number one position is coming within reach for RBC.
"It is also encouraging to see how Lululemon has continued to build brand value as people return to work," adds Megginson. "Its reputation for innovation, quality and reliability allows them to command a premium in the market."
Overall, Apple has landed in the #1 position and is projected to become the first trillion-dollar brand. It's brand value sits at US$947.1 billion, and is commended in the survey for its ongoing diversification strategy across its hardware, software and services portfolio. Apple moved up from second position in 2021.
Google has taken the second top spot, up one from the previous year, increasing its brand value by 79% to US$819.6 billion. In third place, Amazon dropped down two spots from last year's #1 position, and this year its brand value equates to US$705.6 billion.
In 2022, more than three quarters of brand value originated from U.S. companies, with media and entertainment, business solutions and technology providers and retail categories contributing to over half the total value of the Top 100.
According to Kantar, sector leaders emerged from a variety of industries, with technology and luxury brands growing the fastest – 46% for consumer technology and 45% for luxury. Automotive growth grew by 34%, and banks by 30%, compared to other sectors such as apparel at 20% and personal care by 17%.
Combined, the value of the world's Top 100 most valuable brands has increased by 23% to US$8.7 trillion in the last year. Set for release in October 2022, Kantar will rank Canada's top 40 most valuable brands, along with reports and insights for its market.