Building e-health brands
For the past five years, a pioneering interactive agency has led a quiet revolution in healthcare marketing - and today, even the most conservative pharmaceutical companies are riding the surging wave of change....
For the past five years, a pioneering interactive agency has led a quiet revolution in healthcare marketing – and today, even the most conservative pharmaceutical companies are riding the surging wave of change.
It all began in 1995 when Dr. John Reeves noticed that an increasing number of his patients were educating themselves medically through the Internet – and a vision was born. Leaving his full-time family practice, he teamed up with Steve Melles, an experienced pharmaceutical marketer, to form Infinet Communications, a dynamic, 25-person firm uniquely positioned to understand the separate-yet-complementary needs of doctors, patients, and pharmaceutical companies. Blending medical, marketing and technological expertise, Infinet is rapidly blazing new trails in eHealth, both nationally and globally.
The agency first made headlines in 1996 when it launched Sympatico's HealthyWay, Canada's first consumer healthcare information portal. More recently, Infinet helmed the online launch of Viagra and will soon break the Internet portion of the Celebrex campaign – two of the most successful pharmaceutical brands in recent history.
Reeves and Melles say that the growing prominence of the Internet as a consumer information resource makes it strategically crucial to the healthcare marketing mix.
"The age-old relationship between physician and patient is being fundamentally re-shaped by the Internet," says Dr. Reeves. "Patients are no longer waiting for their next checkup to obtain medical information and regulations make it difficult for pharmaceutical companies to speak directly to consumers using traditional media. The Web presents a golden opportunity, allowing them to embed themselves deeply into the emerging new paradigm of healthcare relationships.
"Since physicians are no longer the sole gatekeepers to medical information, pharma companies have an opportunity to become key players in the industry as providers of value-added content and applications."
Reeves and Melles have been patiently educating clients – hospitals, patient associations, leading professional publications and major pharmaceutical companies – about how the Web is transforming traditional marketing. Pushing clients to think globally, they and their team of strategists work closely with product managers to develop end-to-end e-business plans, integrating capabilities like physician research, ePR, direct e-mail marketing, Web site development and monthly roi analysis.
"Our clients are not just speaking to a mass consumer audience," says Reeves, but to segmented audiences of consumers, patients, physicians, pharmacists and journalists. "It's essential to understand how each segment will respond to marketing messages.
"Unless you really immerse yourself and learn how to link e-health campaigns, sponsorships and strategic media buys, you're not going to understand how it all comes together to impact roi."
Infinet applied this insight to the development of the Canadian Web site for erectile dysfunction drug Viagra (viagra.ca). Supporting the traditional components of the heralded medication's Canadian launch campaign, viagra.ca quickly educated doctors across the country about a new category of illness that most hadn't learned about in medical school.
"When doctors encountered the onslaught of male patients looking for Viagra, they were prepared to handle them with an accurate diagnosis and treatment plan" notes Reeves. "Used strategically as a rapid information dissemination tool, viagra.ca was able to effectively do the work of a much larger sales rep force."
The site's unbranded consumer area, meanwhile, offered Canadian men unsure of their medical status a discreet online education program to determine clinically
whether or not they were exhibiting symptoms of erectile dysfunction – motivating those with symptoms to visit a physician.
Based on Viagra.ca's success, Infinet has been pushing clients to take the segmented approach to the next level with dynamic, database-driven solutions. Moving beyond static content pages, the dynamic site approach allows clients to customize messages and graphic interfaces based on product, or even the geographic location of the user. A recently launched corporate Web site for a major Canadian healthcare company exemplifies this approach, relying on a stocked content and application database that feeds the corporate and product areas of the site with targeted content.
"Whether people visit a client's corporate site or one of the product
specific sites, they access the same content and applications through a
number of highly customized user interfaces." explains Melles. "This allows clients to build one back-end database and leverage it into several versions to maximize branding, whether corporate or product specific.
"This same concept is particularly effective for global branding applications. Companies can build one comprehensive content and application database, and allow affiliate brand managers around the world to leverage these assets to develop regionally customized versions for local consumption. In this way smaller affiliates can afford to present world class Web offerings by
participating in a centralized initiative."
The strength of this model recently helped the agency land the global online business for a European-based pharmaceutical brand – its first major international contract and eloquent testimony to the power of Infinet's message.
"E-Health marketing creates enduring, permission-based relationships between patients and healthcare brands by evolving an ongoing dialogue," says Melles. "Whether it be through interactive patient compliance tools, online CME programs or electronic newsletters, we can establish a client's site as the credible destination for healthcare information within a given therapeutic area or areas."
Also in this report:
- Overview
RBC, TD and Lululemon among most valuable brands
Once again, the financial institutions and apparel brand landed in Kantar's top 10 lists for their sectors.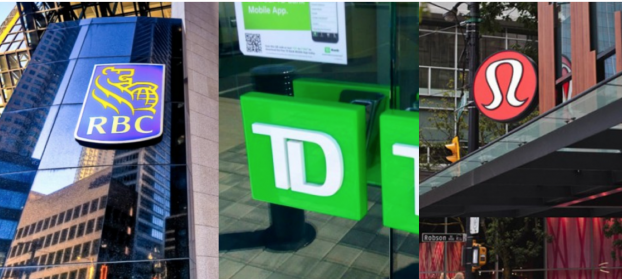 In the recently released 2022 edition of the Kantar BrandZ Top 100 Most Valuable Global Brands survey, several Canadian companies landed in the top rankings, namely in the financial institutions and apparel categories.
Two Canadian brands made an appearance in the survey's global banks rankings: RBC holds second position (57th overall), while TD ranks eighth (72nd overall), with brand values worth US$39.5 billion (up 43% from last year) and US$29.7 billion (up 47%), respectively. TD was among the fastest risers in the overall Top 100 survey, climbing 18 positions.
Lululemon takes fourth place as the most valuable apparel brand, behind Nike, Zara and Adidas. The Canadian athletic-wear company is valued at US$20.4 billion.
"Our 2022 rankings demonstrate both the resilience of our Canadian banking brands and their ability to create brand value by connecting with consumers to outperform other brands on the world stage," said Scott Megginson, president of Kantar Canada in a release. "They are leaders among brands in the global financial services sector and the number one position is coming within reach for RBC.
"It is also encouraging to see how Lululemon has continued to build brand value as people return to work," adds Megginson. "Its reputation for innovation, quality and reliability allows them to command a premium in the market."
Overall, Apple has landed in the #1 position and is projected to become the first trillion-dollar brand. It's brand value sits at US$947.1 billion, and is commended in the survey for its ongoing diversification strategy across its hardware, software and services portfolio. Apple moved up from second position in 2021.
Google has taken the second top spot, up one from the previous year, increasing its brand value by 79% to US$819.6 billion. In third place, Amazon dropped down two spots from last year's #1 position, and this year its brand value equates to US$705.6 billion.
In 2022, more than three quarters of brand value originated from U.S. companies, with media and entertainment, business solutions and technology providers and retail categories contributing to over half the total value of the Top 100.
According to Kantar, sector leaders emerged from a variety of industries, with technology and luxury brands growing the fastest – 46% for consumer technology and 45% for luxury. Automotive growth grew by 34%, and banks by 30%, compared to other sectors such as apparel at 20% and personal care by 17%.
Combined, the value of the world's Top 100 most valuable brands has increased by 23% to US$8.7 trillion in the last year. Set for release in October 2022, Kantar will rank Canada's top 40 most valuable brands, along with reports and insights for its market.