Those cool Chupa Chicks
Britney Spears meets Tank Girl. That's the latest look for the Chupa Chicks....
Britney Spears meets Tank Girl. That's the latest look for the Chupa Chicks.
If you're on the wrong side of…oh, 30, then the statement above probably didn't make a lot of sense to you. But if you've got the youth and stamina to go clubbing in downtown Toronto on weekends, then you're probably familiar with the Chicks – two enthusiastic young women who buzz around the city's entertainment district on scooters, handing out Chupa Chups lollipops to those standing in line outside the local dance clubs.
The Chupa Chicks are the brainchild of Tania Koster, creative director with Toronto-based Ground Control Marketing. Their new look – "cheerleaders with an edge," as she puts it – was culled from a number of sources, including music and film.
"It's all about taking a lot of different images, putting them together and hoping that they work," she says.
That pretty much sums up Koster's job. As promotional agency for Chupa Chups, Ground Control is responsible for helping the Spanish confectionery maker develop grassroots efforts aimed at building the brand in Canada.
Rather than tap current trends, Chupa Chups wants to establish its hip credentials by getting ahead of the curve. So Koster's role is to predict what's going to become cool for the youth demographic, and then make every effort to associate that image with the brand.
While Chupa Chups lollipops have been available in Canada for several years now (the distributor is Koffman Foods of Mississauga, Ont.), support for the brand has been somewhat fragmented, Koster says. However, the company is now trying to integrate all of its Canadian marketing efforts.
What that means, in practical terms, is that Ground Control works in complementary fashion with the brand's advertising agency, Toronto-based Harrod & Mirlin/FCB.
The strategy is two-pronged: Ground Control targets the "influencers" (the image-conscious 18-34-year-olds who effectively define what's cool), while Harrod & Mirlin targets younger teens through more traditional avenues.
While mass-media advertising makes an important contribution to the brand's overall image, it's the grassroots activity orchestrated by Ground Control that determines how well it registers on the street-cred meter.
Koster says a key to the global strategy for the Chupa Chups brand has been to involve itself with the entertainment industry. "Entertainment is driven by image," she says. "It's a way to get people to notice you in the media."
In this market, that has meant establishing a presence for the brand at film and CD release parties, as well as other entertainment events such as the North By Northeast music festival and the MuchMusic Video Awards.
As on-site spokespeople for the brand, the Chupa Chicks play no small part in building its "street image." Their look changes frequently, to ensure that the image stays just ahead of the trends. (They started out last year as Geisha Girls, and went through Viking Chick and Boogie Girl phases before entering their latest incarnation.)
As long as they're memorable and create a fun climate for the entertainment-seekers they're targeting, then the Chicks have done their job, Koster says.
"The brand is fun, and we want to keep it that way," she says. "When all is said and done, the consumer is going to remember the girls when they hand them candy."
On the advertising side, Harrod & Mirlin/FCB is currently working on a new campaign for Chupa Chups that will run in outdoor and specialty television.
While the creative won't borrow any of the imagery developed by Ground Control, it will communicate the same emotion, says Branka Stavric, group account director with Harrod & Mirlin. "We're trying to integrate the efforts."
The challenge, she says, is to convey cool without appearing to be telling kids what to buy – a delicate exercise, given that this is exactly what the advertising will be doing.
Stavric says the media-savvy target prefers to find its own products, rather than having something shoved down their throats. "We're just trying to make it easy for them to find the product," she says. "We want them to feel like it's their brand."
The target also dislikes slick advertising, she adds, so it's important that any effort by the brand to establish cool appears to be unconscious. "You want to be a cool, hip brand – but a brand that's not trying too hard to be a cool, hip brand."
As an addition to these efforts, Ground Control has found a novel way to establish a national television presence for the brand. The agency has created a special Chupa Chups bench for the MuchMusic set. The bench, which will be presented to the music station this month, is made of Plexiglas and filled entirely with the lollipops, in their colourful wrappers. (The Chupa Chups logo, by the way, was originally designed by Salvador Dali.)
While the Chupa Chicks street program remains a Toronto-only effort at this point, Koster says the brand also gets involved in national promotions, in order to target some of Canada's other major urban centres. It partnered with Zomba Records, for example, on a series of parties across the country for the Groove Armada CD release. And the brand has done product sampling at Alliance Atlantis film screenings and Snowboard Canada events.
So how does Ground Control go about predicting which trends the target group will embrace next?
Koster says the Chupa Chups brand identity – irreverent, fun and sassy – crosses all cultural barriers, so she approaches the search for cool with a similar notion in mind. One of the best places to go trend-hunting, she notes, is Asia.
Stylistic cues can come from any number of sources, including music, fashion and film. But there's no formula for predicting cool, Koster says. Much of it is simply based on her own instinct, and those of her colleagues at Ground Control.
"I don't really know how I do it," she says. "It's just something I've always been good at doing."
Also in this report:
- Labatt employs dry humour: Moderation campaign relies on insights from student target p.B4
- Advertising to kids in Quebec no picnic: Know the rules or suffer the consequences p.B10
- Dentyne Ice locks lips with youth target: Has built ongoing campaign on theme of anticipating first kiss p.B14
- Grads more valuable than you know p.B15
Zulu grows its team and makes a slate of promotions
A director of interactive production for Zulubot is among dozens of new faces and roles at the agency, in response to recent wins.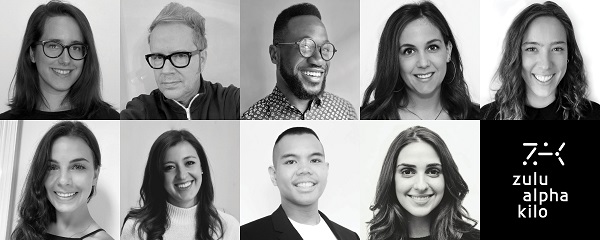 Toronto indie shop Zulu Alpha Kilo had made several new hires and promotions on the heels of new business and also organic growth from existing clients.

Zulu could not officially announce the account wins at this time.

However, it can report that Ece Inan, most recently at Toronto design and tech shop Array of Stars, has been named the agency's new director of interactive production for Zulubot, the agency's production arm. In the new role, Inan will lead AR, VR, voice and other digital innovation projects.

Also on the production side, James Graham, who has spent the last 17 years with Grip, has joined the agency as its studio director.

Zulu has also made numerous additions on the client services side, led by Michael Brathwaite, also from Grip, as account director.

It's also announced a spate of new account supervisors, including Hayley Blackmore (from G Adventures), Risa Kastelic (from BT/A), Kara Oddi (also from BT/A), Emily Anzarouth (also from Grip), Chris Rosario (from FCB/Six) and Sarah Shiff (from Rethink).

In addition to the new hires (pictured above), the agency has also announced several promotions: Alyssa Guttman moves from account director to group account director, while Nina Bhayana, Michelle Fournier, Jenn Gaidola-Sobral and Erin McManus have all been promoted to account director, and Haley Holm to account supervisor. On the strategy team, strategists Carly Miller and Spencer MacEachern have both been promoted to strategy director, while Shaunagh Farrelly, who has been with Zulu for two years in a client service role, moves into a new role as a digital strategist.

In December, the shop also announced that Stephanie Yung would be returning to the agency after a stint in New York as its head of design. Recent wins the agency has been able to announce including work as AOR for the Ottawa Senators, as well as a new arrangement with existing client Consonant Skincare, setting up an in-house team to support growth after taking an equity stake in the company.

Zulu president Mike Sutton says it's wonderful, in a new year, to welcome new faces and energy to the team and says the agency is fortunate to have had so many people across the agency step up to support its clients.

"Simply put, they were rock stars, and the promotions are very well deserved," Sutton says.