Ubisoft strums real guitars on tour
The developer targets music lovers for its latest release, Rocksmith, which uses real guitars as controllers.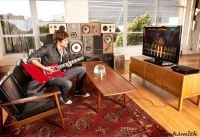 For some, the thought of authentic guitars being used as game controllers is mind-boggling. But for Ubisoft, it's the latest advance in its portfolio of music-based games, and the new game attached to the tech, Rocksmith, will be taken on tour this summer for Canadian music festival-goers to experience as a pre-launch hands-on demo.

MiC can already hear the reverberation of electric guitars being played directly through our gaming consoles.

The promotional run-up to the game's release includes an experiential and traditional campaign, with Toronto-based Front Row Centre handling the creative elements, Montreal-based Nurun on digital and media by the Quebec office of ZenithOptimedia.

Usually Ubisoft's efforts are directed at one specific demo, says Kevin Goodman, CEO, Front Row Center, but with Rocksmith, the brand is attempting to reach three sets of consumers: pro-gamers, avid musicians and music lovers wanting to give guitar playing a go.

"This game is really trying to target the fans and people who are at various concerts and festivals," he says. "It is more than looking at a broad generic shopping mall strategy or a generic festival strategy. It's one thing to talk about Rocksmith, but it's another thing to really experience it."

The game will make on-site appearances at the Osheaga Music and Arts Festival in Montreal (July 29 to 31) and at Sonic Boom in Edmonton (Sept. 3).

Ubisoft booths at each festival will be marked with the fittings of a musician's basement (pre-stardom), with display monitors, lounge chairs for the player's friends to cheer from and, of course, actual guitars, says Goodman.

Backstage areas will also be decked out in the same style for festival performers who also want to try their hand at the game.

The game will also be promoted online through social media and a Rocksmith site with information about the tour, coming events and contests. Amplifier, an e-magazine created for the game, will also be featured on the site.

Rocksmith is set to launch on Oct. 11 and is compatible with Xbox 360, Playstation 3 and PCs.