BrainTrust gives cash for sporting helmets
The community org sponsors heads in a campaign, developed by Taxi, to motivate youth to cover theirs up.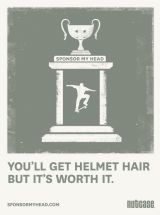 BrainTrust Canada, a community agency dedicated to preventing injury and maximizing independence for people living with brain injury, wants young people to protect their heads with helmets when rolling, riding or skating, and it has issued a $5,000 incentive to do so.

The "Sponsor My Head" campaign, created by the Vancouver office of Taxi, gives attention to the number of deaths and disabilities caused by head injuries, especially in youth age 13 and up, says Magda Kapp, director of communications, BrainTrust Canada Association.

The campaign contest opened on Wednesday and is set to run until Aug. 17. Young Canadians are invited to sign up to its site to become an eligible contestant. Subsequently, 500 of the first to register will be a sent a free Nutcase helmet to use in a video of themselves performing an original sport stunt. They are encouraged to submit their video and promote it in order to gain votes on the campaign site.

On Sept. 26, a judging panel will decide which three submissions have the most style, flare and creativity and will be rewarded with sponsorship money and Nutcase swag. The winning young person will become a part of the Nutcase team.

To keep it fun, the campaign will be supported by street graffiti in Toronto, Vancouver, Kelowna and Calgary. OOH posters and in-store materials will also be distributed by Vancouver-based communications co Smak.

Kapp says that the lack of helmets being worn by skateboarders and youth taking part in other street sports is what spurred the organization to put the initiative into action.

BrainTrust Canada partnered with Nutcase helmets on the campaign because they understand marketing to youth with helmets that are cool enough for kids to want to wear them, says Kapp.