AToMiC Print Engagement
Ikea picks up gold with its Moving Day execution, TVO captures silver with its tiger cage, BC Hydro powers up with a bronze win.
GOLD: Ikea's moving day
Every year Ikea has a Summer Sale in Montreal. The sale coincides with a particularly busy July period of moving in the city, and it is sometimes difficult to get Montrealers' attention. Ikea needed to figure out a way to not only invite them to the sale, but help them out at this busy time.
Not everyone in Montreal actually moves on Moving Day (July 1), but a lot of them do, since fixed term leases typically begin and end on this day. Ikea launched an experiential media campaign to make moving easier by providing people in Montreal with boxes (which can be very hard to come by during the weeks leading up to Moving Day).
The OOH execution featured Ikea-branded boxes people could take with them, printed with moving tips, checklists, a dinner offer for those who had yet to set up kitchens and an offer for Ikea furniture. The boxes were staged as wild postings around the city in easy-to-reach, high-traffic locations. If the boxes were taken, there was messaging underneath telling people to come back soon once they were replenished.
Also, 14-foot pyramids of moving boxes were placed in high-traffic areas of the city where an event team distributed them to desperate movers. On top of all the OOH, Ikea took control of a radio station with a playlist of songs designed to keep people moving and directing them to the box locations.
More than 10,000 boxes were given away over the course of two weeks, and Ikea was sent thank-you emails and notes. Local media picked up on the offering and news of the "free Ikea boxes" grew online as well. But most importantly, the idea really paid off with sales at the Montreal stores up 37% from last year.
Credits:
Client: Ikea Canada
Media Agency: Jungle Media
Creative agency: Leo Burnett
Connection Planning Director: Brooke Leland, Jungle Media
Media Planning Assistant: Graham Campbell, Jungle Media
Account Director: Jennifer Kelly, Leo Burnett
Creative Group Heads: David Federico, Morgan Kurchuk, Leo Burnett
CCO: Judy John, Leo Burnett
Producer: Anne Peck, Leo Burnett
Other agencies involved: Optimum Events, Grassroots Advertising, Titan Outdoor Advertising
Deputy Marketing Manager: Hilary Lloyd, Ikea
Communications Manager: Mathias Karlsson, IKEA
TVO, Ontario's publicly funded media organization, found it had a significant portion of viewers 65+ but was lacking engagement with the burgeoning younger viewer and future donor.
The impetus was to contemporize and re-colour TVO by engaging a younger demo where they work and live, by highlighting some of the more intriguing programs TVO had to offer, like The Tiger Next Door, a disturbing documentary about wild tigers kept in captivity in North America.
United by the tagline "TVO makes you think," the campaign launched the fall schedule and drove to TVO.org. The idea was to change the perception of TVO by reaching the target during moments of quiet contemplation and small talk, such as in an elevator. To promote The Tiger Next Door the agency took advantage of the media itself,  turning elevators into tiger cages. Consumers entered "the cage" and could immediately feel like a trapped animal. The elevators were surrounded with posters to keep that feeling top of mind.
Online, the agency utilized rich media ad units and video-embedded banners and highlighted the time-sensitivity and compelling content. Through Facebook's Social Ads and the TVO Twitter account, it reached existing TVO fans and recruited others with paid exposure and viral response.
The campaign earned
5.6 million media impressions, and audience viewership overall for The Tiger Next Door grew by 29%. Viewers 45 to 65 grew by 7%. During the course of the campaign, clicks to the TVO home page increased 28% and clicks to the schedule page increased 19% year over year. Facebook over-delivered on planned impressions, expanding the TVO fan page by 50% by campaign end.
Credits:
Client: TVO
Agency: Leo Burnett
Creative Directors: Judy John, Lisa Greenberg
Group Creative Director: Kelly Zettel
Copywriter: Matthew Williamson
Art Director: Rob Trickey
Print Producer: Anne Peck, David Eades
Art Buyer: Leila Courey
Account Exec: Allison Tang
Group Account Director: David Buckspan
Planner: Brent Nelsen
BRONZE: BC Hydro's sensory experience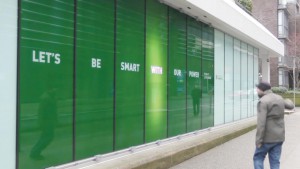 BC Hydro, through its Power Smart program, is faced with a unique challenge: trying to get British Columbians to use less of what it sells – electricity.
Research showed that energy waste isn't perceived to be that bad because we can't see it. BC Hydro needed to help people see when energy is being used, and when it can be saved.
As a complement to TV, print, radio and TSA creative, a high-traffic storefront was created with a motion sensor display that integrated energy efficient LED lights, semi-transparent film and lasers sensors.
The lights behind each word in the message "Let's be smart with our power" only turned on when someone passed in front of them, bringing to life the idea of only using the power you need.
A QR code and URL drove to the Power Smart section of BC Hydro's mobile site where offers, tips, product rebates and links to Facebook and Twitter were found.
Over the 38 days in market there were 142,880 interactions with the boards, and 91% of British Columbians agreed that they would be "doing more" to save power since seeing the campaign, an increase of 6%.

Credits:

CDs: Dean Lee, Cosmo Campbell

Copywriters: Neil Shapiro, Katie Ainsworth

Art director: John Larigakis

Account manager: Amanda Waye

Associate director of media strategy: Erin McWhinnie

Media/production company: The Media Merchants

Jump to: