AToMiC Transmedia
Canadian Tourism Commission takes gold in transmedia, with silver and bronze finishes by H&M, CTV's SuperBodies and Parks Canada.
GOLD: Canadian Tourism Commission's social explorations
Tourism is one of the fastest growing sectors in the global economy, and while the pie was getting bigger, Canada's share was shrinking within an intensely competitive international tourism marketplace. Trying to sell Canada as a vacation destination in a world of
exotic tourism locales posed a definite challenge.
Through quantitative studies by the Global Tourism Watch, it was found that Canada was stereotyped as all beautiful scenery and outdoors, and a bit one-dimensional. International travellers didn't have enough of a sense of the breadth of experiences Canada could offer.
Also, people's travel desires were increasingly being inspired by friends and larger online communities.
The insight was to rally around the sharing of authentic "traveller-to-traveller" experiences. The invitation to "Keep Exploring" would give travellers the emotional commitment and bragging rights – "I'm going to Canada to do that" – and would compel them to choose Canada over other exotic locales.
DDB created a social media inspired campaign platform that showed authentic traveller experiences in a style mimicking the way consumers research their own trips. All elements of the campaign led to the Keep Exploring interactive blog, which used social media to allow consumers to get a richer picture of the travel experience and join the conversation.
On television, instead of spending large sums on lavish productions, travellers' videos from YouTube were used to tell a series of stories. Print emulated Flickr and Facebook, and the front covers of major newspapers were taken over with wraps that looked like a blog including QR codes that live-linked to long-form content on the Keep Exploring blog.
Online ads used Google Maps and Street View technology to virtually transport travellers onto real Canadian streets. Digital storescapes transformed empty storefronts into Twitter-based murals that featured interactive touch-screen interfaces and aggregated tweets and photos from real travellers to Canada, posted in real time.
The "Keep Exploring" campaign platform has helped propel Canada to being named the number one country brand in the world by FutureBrand, bumping the U.S. from the top spot. Seven of the nine countries polled are CTC key markets that received over 80% of CTC's international marketing budget and contributed approximately 85% of all international arrivals in 2010. This is the first step in the CTC's efforts to capture Canada's fair share of international tourism growth.
Credits:
Client: Canadian Tourism Commission
Agency: DDB Canada, Vancouver
CDs: Cosmo Campbell, Dean Lee, Josh Fehr
Copywriters: Dean Lee, Cosmo Campbell, Kevin Rathgeber, Cameron Warden, Jeff Galbraith, Neil Shapiro, Jarrod Banadyga, Jessica Schnurr, Mark Sissons
Art directors: Cosmo Campbell, Dean Lee, Murray Falconer, Brandon Thomas, Chris Moore, Colin Hart
Account managers: Bryce Sparks, Shannon Cherry, Dana Rudelier, Geoff Wilton, Shannon Frame, Marty Yaskowich, Jennifer Green, Michelle Kitchen
Producers: Katherine Mutzke, Erica Jonsson, Kimberly Holden, Gayle Robson, Zerlina Chan, Courtney Smith
Photographers: Hubert Kang, Kevin Arnold, Daniel St. Louis, Clinton Hussey Photography, Various
Digital artists: Laurel Miller, Laurice Martin, Phil Collins, Total Graphics
Digital Designers: Ellie Moon, Yuan You
Flash: Plus K Studios
Mobile Support: Mobile Discovery
HTML Development: Justin MacLeod, Anthony Trad, FCV Technologies
Studio designer: Laurel Miller
Information architects: Anne Forkutza, Dale McRae
Agency media: Erin McWhinnie
Media development: InWindow Outdoor
Creative technologist: James Chutter
Community cultivators: Chris Walts, Kumiko Ide, BJ Vicks, Veronica Heringer
Mobile support: Mobile Discovery
Audio company: Wave Productions
Audio house producer: Craig Zarazun
Audio house engineer: Craig Warrian
Post-production co: JMB Post
Editor: Daniella Sorrentino, JMB Post
Colourist: Randy Egan
SILVER: H&M struts the MMVAs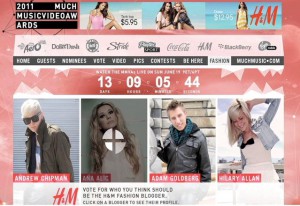 H&M looked to MuchMusic to develop a never-done-before creative initiative that would extend reach beyond their MuchMusic Video Awards (MMVA) sponsorship.
For the first time, Much created a Fashion Hub within the MMVA website that incorporated H&M-inspired blog posts and hosted the point of entry for the contest, "Be H&M's Fashion Blogger at the 2011 MMVAs."
To promote the contest, Much produced a 30-second spot that aired for four weeks. Viewers submitted videos showcasing their fashionista credentials and utilized their own social network to acquire votes.
Much and H&M selected their Top 4 Fashion Bloggers and their profiles were featured on the MMVA Fashion Vertical, along with their music- and fashion-related blog posts.
During MMVA weekend, winning fashion blogger Hilary Allen did everything and anything fashion related including talking fashion with Canadian pop sensation Fefe Dobson at H&M, taking over the red carpet and co-hosting two live cut-ins that aired during the broadcast, and live tweeting from H&M Canada's Twitter account.
H&M also became the first advertiser to design the wristband that served as the ticket to the MMVAs.
The 2011 MMVAs were the most-watched broadcast in Much history. The MMVA microsite saw a 125% increase in visits over last year on show day, and four of the top 10 trending Twitter hashtags worldwide were MMVA-related.
H&M saw double-digit growth in Facebook "likes" and Twitter followers, and with over 13 million impressions delivered across TV, online and mobile, H&M got its fashion-related content to viewers wherever they were.
Credits:
Client: H&M (Hennes & Mauritz) – Vicki Certosini, Emily Scarlett
Agency: MediaCom – Anthony Hello, Lindsay Greig
Media: MuchMusic, Bell Media – Zack Simone, Ashley Rodrigues
BRONZE: CTV's spectacular SuperBodies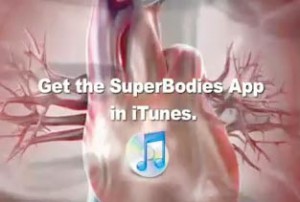 Inspired by the forensic animation on the show CSI, SuperBodies was first introduced during the 2010 Olympic Games as a series of two-minute vignettes exploring the anatomy of elite athletes.
In February 2011, Discovery Canada aired a new incarnation – a 60-minute documentary that further explored the impact of competitive winter sports on the bodies of elite athletes.
In partnership with CTV Olympics and the Bell Broadcast and New Media Fund, an educational game app was created to support the doc. With 3D animation and original video segments, the SuperBodies mobile app allows users to peel away the human skin to reveal what truly happens on the inside when star athletes perform.
Online, Facebook and Twitter facilitated knowledge sharing and fan interaction with athletes and sports scientists.
With its continued success, CTV commissioned another 12 segments for the 2012 Summer Olympic Games in London.
Credits:
Funded by: Bell Broadcast and New Media Fund CTV
Produced by: Peace Point Entertainment Group
Executive Producer: Les Tomlin
Producer/Project Manager: Eric Leo Blais
Host: Dr. Greg Wells
Director: John Turner
Writer: Ken Hegan
Concept, Design, Production, Development: Kolody Inc.
Technical and Creative: Junction VFX

BRONZE: FilmCAN and Primitive Entertainment's project in the parks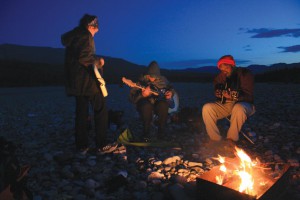 The National Parks Project (NPP) is an exploration of the link between nature and creativity, produced in part to celebrate the centennial of Parks Canada, captured in a TV series and augmented online by FilmCAN and and Primitive Entertainment.
The genesis of NPP was a series of trips to 13 national parks across Canada. Each trip included a different group of three musicians and one filmmaker, whose task was to collaborate on a short film and soundtrack that captured their collective impressions of the landscape. The website was a hub wherein all of the various elements could interconnect through the "virtual park."
The NPP kicked off with the TV series premiere on Discovery World HD in March. Each episode followed the artists through the parks as they pursued their creative goal in an unfamiliar environment, and concluded with a throw to the website, where short films were unlocked weekly. Songs written and recorded in the parks, photographs, artist bios, park information and bonus video content for every park was included. Also, each week a new digital EP of music was released through iTunes.
The full collection of NPP films then premiered at the Hot Docs Film Festival, and the full LP/CD was released to iTunes. These events set the stage for the Toronto premiere of the NPP Live on May 19, the actual centennial of Parks Canada.
The project has received coverage and acclaim in publications such as the Globe and Mail, as well as on CBC Newsworld and other major outlets. Six episodes of the documentary series have been sold to Air Canada, and it has attracted the attention of several international festivals.
Credits:
Created And Produced By: Joel Mcconvey, Geoff Morrison, Ryan J. Noth
Executive Producer: Michael Mcmahon
Produced By: Kristina Mclaughlin, Kevin Mcmahon, Michael Mcmahon
Location Music Recorded And Mixed By: Paul Aucoin, Ian Mcgettigan
Production Manager: Kate Kung
Production Co-Ordinator: Kavita Gill
Music Supervisor: Paul Aucoin
Post-Production Supervisor: Andres Landau
Online Editor: Eric Wiegand
Unit Manager: Barry Bichard
Additional Camera: Mark Ellam (Wapusk), Russell Gienapp (Sirmilik / Standing Wave)
Original Music For Tv: Matt Davis
Location Sound Recordists: Paul Aucoin, Ian Mcgettigan, Trevor King
Sound Assistant: Aidan Mcmahon (Standing Wave)
Video Post House: Technicolor Creative Services
Colourists: Colin Moore, Michael Thibodeau
Video Project Co-Ordinators: Christian Carruthers, Gaëtan Martel
Titles For Film Collection: Shawn O'keefe
Graphics For TV: Mark Alberts
Post Audio Facility (TV): Dark Studio
Post Audio Facility (Films): Theatre D
Re-Recording Mix: Daniel Pellerin, Chris Guglick, Matt Chan
Sound Edit: Elma Bello
Research: Joel Mcconvey, Geoff Morrison, Ryan J. Noth
Production Assistant, Ashley Jane
Post-Production Assistant, John Hooper
For Primitive Entertainment: Production Manager, Jen Mulqueen
National Parks Project Interactive designed by Grand Creative: Luke Canning Matthew Quinn
Jump to: