Travel Alberta and Roots team up
The newly rebranded tourism co collaborates with the clothing brand in its new holiday campaign.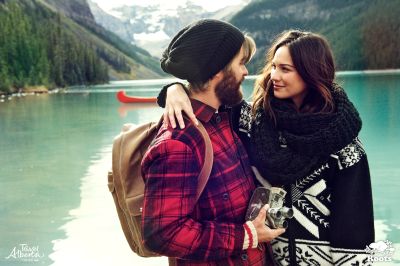 Iconic Canadian brand Roots has partnered with Travel Alberta in its holiday campaign that features shots of 20-somethings in a snug cottage bounded by the western province's picturesque backdrop.

After much research into what makes Travel Alberta a first-rate destination, the tourism co came to the conclusion that the mixture of "authentic experiences" and "landscapes" – portrayed in the ads – is what they need to start selling, Marney St. John, director of brand experiences, Travel Alberta, says.

Last week, the organization went through a rebrand. And instead of focusing solely on the trees, hills and mountains, it decided to create reasons for people to visit by looking at the experiences they can take from the province.

The Roots holiday ads with Travel Alberta imagery and logos, as well as a 16-page photo look-book will be placed in the Globe and Mail. There will also be ads in magazines including Flare, Fashion and Where as well as in Roots stores across the country on Nov. 14. The clothing brand will also feature a video of the photo shoot location on its website and Flickr, while a Facebook album of the shoot has also been created by the brand.

Travel Alberta will continue to make good use of the partnership as ambassadors for the tourism co invite shoppers in select Roots stores to enter its "Snow No Bounds" contest promotion, says St. John.

She adds that Travel Alberta plans to continue to partner with brands that will assist in showcasing their attributes and the experiences they offer.