Not only has John St. joined the Agency of the Year winning ranks for the first time in three years, but it also won Bronze for Digital Agency of the Year. The firm's impressive trajectory for 2011 includes picking up ING Direct in October as its AOR, as well as new clients like Kraft Singles, WWF, Mitsubishi and the Family Channel.
The Wiserhood grows up
In 2009, Canadians were introduced to the Wiserhood, a brotherhood of gentlemen who toasted uncompromising qualities in other men with a sip of Wiser's Canadian Whiskey.
Wiser's needed to appeal to its core drinker (45+, conservative), but to grow, it needed to appeal to younger guys too – the transitional males leaving frat parties behind. John St.'s insight was that every man, regardless of age, admires a guy who stands up for what he believes in.
TV launched last October with two spots. "Offsite" showed a young man eschewing a humiliating task at a corporate team-building session, while "Art Gallery" showed a guy cleverly avoiding a day at an art gallery. Each of these men's exploits were applauded by the "Wiserhood 5" with a nod, a slow clap and a toast of Wiser's.
The Facebook community was launched concurrently by giving Wiserhood members a sneak peek at the new spots if they "liked" the Wiserhood page.
John St. also created the "Slow Clap App" – a Facebook application that allowed users to send their friends a Wiserhood Slow Clap.
Wiser's has increased volume share and revenue an additional 1% in the past 12 months, despite decline in the category overall. A full 46% of the Wiser's franchise is now between 19 and 34 years old (vs. Crown Royal and Canadian Club's 38%) an improvement of 10 percentage points in two years.
Maple Leaf becomes Your Butcher Shop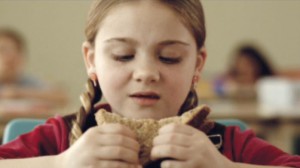 Maple Leaf Foods had spent the previous 18 months recovering from one of the largest recalls in Canadian history. By the end of 2009, while the company had gained back some trust, the brand was still suffering from declining sales and equity on measures like quality, taste perceptions and confidence in their products.
The target was busy moms, who tend to listen to the advice of experts. Maple Leaf had over 500 accredited butchers, so the idea was that it would be known as "Your Butcher Shop."
TV and radio focused on demonstrating the Maple Leaf butcher's expertise either through his craft ("Jack of All Trades" on TV) or how he makes life easier ("The Meals of Our Lives" on the radio). The butcher also communicated new product innovation, as seen in the TV spot "Stephanie Potter," which launched Natural Selections, deli meat without artificial additives or preservatives.
Q1 of 2011 was the first quarter in the last nine that Maple Leaf returned positive business results for related categories. Perhaps more importantly, consumers were coming back to the Maple Leaf brand, as demonstrated by loyalty scores improving six percentage points from 37% before the campaign to 43% in 2011.
Stanfield's supports men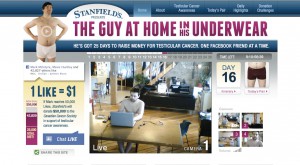 Stanfield's underwear wanted to become relevant to a younger generation of men, so John St. took its brand proposition of "we support men" to a new level online.
To "support men" in a more purposeful way, it tied the brand to the cause of testicular cancer and created "The Guy at Home in his Underwear," an unedited, unscripted, live-streamed, 24/7 fundraising social media experiment.
Testicular cancer survivor Mark McIntyre spent 25 straight days at home in nothing but his Stanfield's skivvies for all to see at GuyAtHome.com. Viewers could communicate with Mark via live chat and participate in fundraising challenges. And for each Facebook "like" received, Stanfield's donated $1 to the Canadian Cancer Society.
The campaign resulted in 52,161 Facebook likes (vs. goal of 25,000), 700,000 website visits, 5,216,100 social media impressions, 80% repeat website visits (vs. 50% goal) and three million minutes of LiveStream viewing time.
There were over 45 million media impressions in just one month, with stories in the Globe and Mail, National Post, Global TV, CBC and Sun Media, and it generated $52 million for testicular cancer awareness (vs. $25 million goal).
AutoTrader offers free parking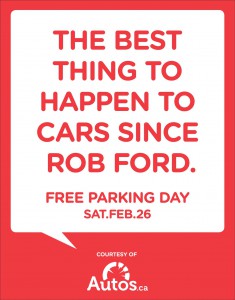 Autos.ca was a new brand (created by parent company AutoTrader) to help drivers navigate the perilous world of buying a car online.
John St. was asked to come up with an idea to launch the new site at the Toronto AutoShow.
Autos.ca was created to help car buyers, so the idea was to help AutoShow attendees with a Free Parking Day. On Feb. 26, 2011, Autos.ca bought out all of the parking spaces at seven garages owned by Green P and offered free parking for the day.
Digital banner ads were created and posters outside the participating lots communicated the event. Wild postings appeared on nearby construction sites and in the parking lots themselves with headlines like: "The best thing to happen to cars since Rob Ford" or "You'll think you've died and gone to Barrie."
Branded cards were stuck into meters on King and Queen Streets to let drivers know Autos.ca had covered their parking costs.
Autos.ca received coverage in the National Post, Global News, CBC, CTV, CP24, Chum FM, and 680News just to name a few, generating over three million impressions.
Over 13,343 drivers parked for free that day generating positive social media buzz. And Free Parking Day over-delivered on the objective or driving traffic to the site with a total of 195,872 visits.
Tetley breaks the habit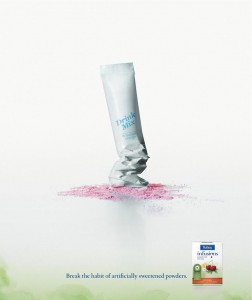 Tetley Infusions had only been able to garner a 4% share of the single serve drink mix business (its chief competitor, Crystal Light, had 60% of the market). The product needed to achieve a 10% dollar volume share by September 2010, otherwise it would be shelved by TATA, Tetley's global parent.
The "all about me" target consumer loved Crystal Light. In research, women confessed to consuming the product habitually, which led to this insight: Crystal Light was a bad habit that needed to be broken.
The campaign was called "Break the Habit," an unsubtle allusion to even more unhealthy vices.
Thirty-second TV spots that ran across network and specialty channels used sobering confessions from women talking about how addicted they were to unhealthy "powders" before switching to Tetley Infusions.
Print in women's magazines mimicked the iconic stop-smoking iconography of the '80s.
At the end of the campaign, Tetley Infusions had achieved a 14% dollar volume share of the single-serve iced tea drink mix category, exceeding the goal by four share points (or 29%). Shipments were up 60% over the spring/summer time frame and 62% of gains came from consumers switching. The brand was not delisted but rather, support for the brand was increased in 2011 as a result of the campaign's success.
Jump to:
AOY Gold: BBDO maps out a win
AOY Silver: DDB keeps exploring – and expanding
AOY Bronze: Taxi revs its engine
Honourable mention: Leo Burnett is back in the winners' circle
AOY Finalist: Rethink's winning streak