Media Experts has lived up to its name this year, capturing strategy's Media Agency of the Year Silver award as a result of its efforts on behalf of clients like Telus, Mini and WestJet.
The agency has also made sure it lives up to the name by investing in systems to keep it ahead of the curve. Take its newly built demand-side platform, Xpeto. Media Experts is the first independent media services firm in Canada to develop its own online trading desk. Xpeto incorporates multiple ad networks, delivering Media Experts clients upwards of half a billion impressions while providing them with benefits in terms of behavioural and niche targeting, pricing, and the ability to pre-screen impressions in real time to better establish their value.
With an extremely large head-count in its digital group, the space is a strong focus for Media Experts. It has even devoted an entire day to digital that also celebrates the agency's forward-looking approach, bringing everyone together from the shop's Montreal, Toronto and Vancouver offices. Digital Day's third anniversary was in March and featured speakers including Shelly Palmer of NBCU's Live Digital with Shelly Palmer. The prevailing theme was championing preparedness in the face of a rapidly evolving digital landscape with consumers changing the way they interact with content more often than they change their socks.
That theme is particularly fitting given that it was two years ago that Media Experts reshaped itself as a "tradigital" agency, a significant evolution that had an impact on all facets of its business.
Mark Sherman, founder and owner of Media Experts, explains the reorg as a "focus on how traditional and digital media work together and what insights digital media and [its] performance could bring to optimizing offline media. Online and offline media are inextricably linked. Offline creates interest, drives people online to search or display, where advertisers can harvest the interest created offline and close the sale online."
The change affected not only the way the agency operates, but also its structure, right down to seating arrangements. Digital people were moved into traditional account and planning roles, and traditional personnel into digital capacities. The goal, says Sherman, is to cross-pollinate, creating over time a new breed of media executive that has the necessary broad skills that will bring maximum benefit to the agency's clients.
"What we're trying to do with our customers is help them understand that digital media is an important part of their arsenal that shouldn't be left to a department in their company. Marketers need to be as adept and as informed about digital media as they are about traditional media and, moreover, be able to clearly understand how digital and traditional work together to drive engagement and business results."
The "tradigital" approach has obviously been a success since its inception. On top of the work that's helped propel the agency to strategy's MAOY top three, it's also helped attract significant new business recently, winning media assignments for the likes of Bell Canada. Tradigital is only part of the puzzle, however. The bigger picture approach has been labelled "Imagine 2015" an initiative that's seeing the agency evolve across the board to adapt to the changing media landscape.
"'Imagine 2015' is a blueprint for the media services agency of the future," says Sherman. "That blueprint includes and is influenced by tradigital thinking in part, but is more multi-faceted as it covers all aspects of our media management business."
As part of that imagination, adds Sherman, the agency will redefine its digital practice, essentially removing the digital department and seeding the entire company with digital expertise.
"[Digital] is a very important part of our business," says Sherman. "We can't forget that we still have 80% of our investments in traditional media and we need to maintain, refine and improve those skills every day, particularly as traditional media becomes more digital. So, we want to bring digital thinking [and] analytics to traditional media and we're doing it by seeding the department."
Agency stats
Number of staff: 120
Number of offices: 3
Number of clients: 28
New business: Bell Canada, Canadian Breast Cancer Foundation, Virgin Mobile Canada
Annual billings: Almost $300 million
Telus Mobility shows its stripes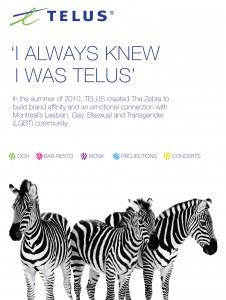 Telus Mobility is famous for its trademark critters. In July 2010, the mobile co launched a summer campaign targeted at Montreal's lesbian, gay, bisexual and transgender (LGBT) community, with the introduction of a new one: the zebra. It personified Telus's celebration of this community, encouraging consumers to proudly display their unique stripes.
Telus formed partnerships with the Quebec Gay Chamber of Commerce and Divers/Cité, supporting key events in the LGBT community, and helpline Gai Écoute.
OOH installations were secured in Montreal's Gay Village, relating the story of a zebra who has "come out" with the message "I always knew I was Telus."  Huge outdoor projections in the Village's pedestrian mall were also displayed during the summer's biggest events.
In a unique execution, consumers had their fingerprint digitally recorded, which, when enlarged, resembled zebra stripes. The prints were used to create personalized mobile desktop wallpaper.
A Telus zebra mural in the Beaudry Metro station and zebra placemats and coasters in neighbourhood bars and restaurants ensured a constant presence.
In print, there was a "French door" gatefold in Fugues magazine and a dominant presence in targeted publications Guide Touristique Gai du Quebec and Entres Elles.
Online, Telus banners drove traffic to the "Je Suis Telus" microsite featuring exclusive free content, special offers, a summer calendar of events, links to community organizations and an interactive game.
Sales of Telus products and accessories at the Telus retail location in Montreal's Gay Village during the campaign increased 74% year over year. The campaign translated into genuine affinity for the brand, as confirmed by the dramatic increase in sales and a solid and enduring partnership with the LGBT community.
Mini's virtual vending machine
One of the features of the Mini R5X that resonates with consumers is the ability to customize it with options like new upholstery or branded Hi-Fi systems.
The objective of the Mini Interactive Vending Machine was to intercept the busy urban target in downtown Toronto and immerse them in a fun, interactive activity which drove home the message that Mini is truly customizable.
Media Experts collaborated with Taxi 2 to develop the largest interactive projection ever executed in Canada. They made consumers' mobile phones the "remote" to control the experience: a larger-than-life projected vending machine stocked with nine variations of customized Minis.
High pedestrian traffic areas with a huge architectural canvas were chosen, and custom software enabled SMS text messaging aggregators to forward commands to the projection engine.
Each customized Mini launched into its cheeky animation on a consumer's text command, moving through a pinball machine or breaking through the vending machine glass.
Users received a personal message on their handset directing them to Mini's mobile site to extend the conversation.
The installation changed locations each evening from outside the Air Canada Centre before and after major sporting events and concerts, to the exterior of the hottest clubs and bars with huge lineups and culminating in a projection in Nathan Phillips Square on New Year's Eve.
The installation served to raise both awareness of Mini's customizable options and sales: year over year sales at the downtown Mini dealership rose 75% (January 2010 vs. January 2011).
WestJet flies in Eastern Triangle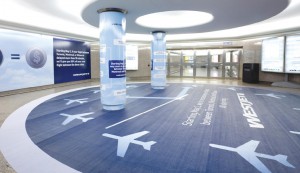 In May 2011, WestJet launched an aggressive two-month campaign to increase its share of travellers in the critical "eastern triangle corridor" of Montreal, Toronto and Ottawa.
Air Canada and Porter had a stronghold on business travellers in the corridor, the core target of the campaign, though Toronto remains Canada's most important market and the domestic traveller working in the downtown core was a secondary target for WestJet's messaging.
Advertising for the business segment can be bland and traditional. Business people are resolutely focused on their work day, with their communication blinders firmly in place. The media executions had to create dramatic and exciting "disruptions" within the business target's hectic day to ensure attention to the message, spur consumer engagement and drive traffic to Westjet.ca.
So Media Experts dominated Toronto's high-traffic Union Station PATH with larger-than-life floor decals, wall murals, pillar wraps and backlit posters to connect business people with WestJet's story of their increased schedule in the eastern corridor.
Elevators were wrapped, both inside and out, in prime downtown office towers. Print executions in daily Vancouver, Calgary and Edmonton newspapers focused on the business sections with dominant full-colour, half-page ads and a WestJet logo on the top of every page.
In a Canadian media first, Media Experts executed a unique DPS centre spread in key business magazines covering virtually every Canadian business sector throughout the month of May.
In online and mobile executions, Media Experts leveraged Display AdFrames, expanding display ads into full frame video upon consumer rollover. It further leveraged mobile ad networks to ensure business travellers searching for weather, travel and other information on their smartphones were exposed to WestJet's expanded eastern triangle offering.
WestJet further captured the attention of the business community by picking up lunch at the most popular business restaurants in Montreal, Ottawa and Toronto. Instead of receiving a bill at the end of the meal, a card arrived at the table notifying diners that WestJet had just picked up their tab, and offering them a discount on their next business flight in the eastern triangle corridor.
Confidential results of the campaign were shared with the judges.
"This campaign seamlessly integrated traditional and non-traditional media with below-the-line, buzz-generating tactics, striking the perfect balance of brand engagement and reach."
–Judge Kerri Roche, strategic planning director, Target Marketing
Jump to:
Media directors of the year: Terry Horton, VP, media director, Cossette Media and Mark Sherman, founder, owner, executive chairman, Media Experts
Next Media Star: Shahnaz Mawji, supervisor, communications strategy at Carat
MAOY Gold: MediaCom's innovation evolution
MAOY Bronze: Mindshare dives into digital bridging
MAOY Honourable Mention: Starcom's streak stays alive