Canadian Tire rolls out new auto retail concept
The "Automotive Store of the Future" plans to elevate the customer experience.
Canadian Tire has launched a new auto retail concept that reinvents the store's customer service experience.
The new store, dubbed the "Canadian Tire Automotive Store of the Future," launched in Bowmanville, ON. Oct. 22 in a newly-constructed building that's over 75, 000 square feet, making it one of the 15 largest stores out of 487 nationally. Similar concepts launched Nov. 3 in existing Orleans and Cambridge, ON. locations. Canadian Tire dealers can adopt the features that best suit the needs of their local markets.
The concept incorporates a range of new elements, including a new service reception area with digital menu boards, an auto safety/baby area, and in-aisle digital product look-up technology and digital signage. New stores will also feature approximately 700 new SKUs predominantly in the electronics, cellphone accessories and trailer categories.
Other shopper-friendly elements include a redesigned tire wall, which gives people better access to tires, with more merchandise placed at eye-level and turned-out tires so customers can touch and feel the treads and grooves. The tire wall area also includes tire look-up terminals where customers can access product information. There is also a new sound booth area called the Sound Stage, in which customers can test their in-car or marine audio entertainment systems.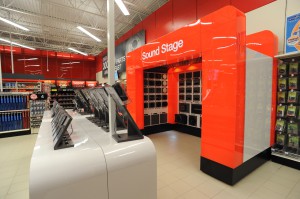 "The new automotive concept store focuses on elevating the customer experience by providing a solutions-oriented approach to automotive needs, and providing customers with the information they need to make informed purchase decisions," says Allan MacDonald, SVP, automotive.

It also features significant auto service enhancements that MacDonald says are unique to the automotive market, including a revamped auto service area with a new drive-in reception area, and new services like express lube and filter. The enhanced service reception area is outfitted with a fireplace, live plants and a separate room for extra privacy should customers desire it.

"We have [also] invested heavily in training throughout all stores to provide front-line employees with the tools and information they need to provide the best possible customer experience," says MacDonald. "We're focused on setting a new benchmark."