Dear Santa…
A 2012 wish list from adland.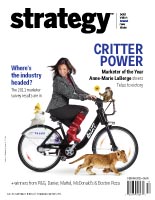 We've been nice this year. Amid the business of helping commerce tick along, many good deeds were done by adland.
Our cover illustrates the growing brand value of meaningful CSR. Telus's Anne-Marie LaBerge's overall Marketer of the Year win comes down to achieving that rare feat – an unmistakeable identity with an emotional connection – reinforced by efforts like the Facebook profile-pinking in aid of breast cancer and the emission-friendly sponsorship that brought us Bixi bikes.
Congrats to Anne-Marie and her team (human and critter) and all of the Marketers of the Year. All had really bold strategies with impact.
This issue also charts how things played out across the wider industry, as per 2011 recaps and 2012 plans shared by marketers in our annual survey. For a more granular and diverse reflection, strategy asked a few key players to look ahead, and share their wish list for 2012. Here's what's on their minds…
ZenithOptimedia CEO Sunni Boot wants social metrics: "Real TV engagement ratings came a bit closer as Royal Wedding watchers sent millions of tweets about Pippa's derriere. BBM/Twitter ratings are just around the corner!"
58Ninety CEO Ted Boyd wants real reorientation: "My hope is 2012 will be the year when digital sensibility truly permeates the marketing mix. I hope that it will finally start to be viewed as inseparable from the DNA of a great idea and cease to be bolted on as an afterthought. Digital is a state of mind not a channel."
BBDO CEO Gerry Frascione concurs: "The definition of a creative team has completely changed. The context for which we view content is as important as the creative itself. You need a much broader, more diverse team at the ideation stage and brilliant execution will win every time."
Unilever brand building director Sharon MacLeod, who leads Dove, Canada's poster brand for advertising's positive cultural impact potential, hopes for more in that vein: "At our best we are in the business of awakening hearts, igniting passion and making a difference. I always wish that in our wake there will be a little magic."
And Thom Lachman, president, P&G Canada, is on the same page: "For 2012, P&G would like to encourage everyone to thank those who have supported them. As the official sponsor of the London 2012 Olympic Games, P&G will shine the light on moms by helping moms of Canada's Olympic team stay connected to their children. The ultimate goal is to help send the mom of every Canadian athlete to the Olympic Games."
Cundari Group CEO/chair Aldo Cundari could do with less virtual connecting: "May there be an overwhelming resurgence of people talking face to face rather than via BBM, text, Facebook. I also wish everyone would start spelling out words again, LMFAO, TTYL…WTF?"
Taxi CCO Steve Mykolyn has a similar complaint: "I'm hoping against hope that people stop posting trivial crap and updating their pathetic status a million times a day on Facebook. Are you listening L? And don't get me started on the never-ending changes to the terms and conditions. I can hardly wait for the world to end."