Nike sponsors first national track and field event
The brand looks to reach emerging high school athletes as a result of the partnership with School Sport Canada and Trojan One.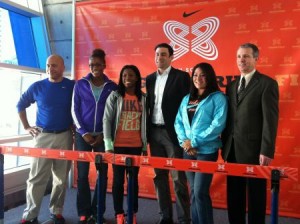 From British Columbia to Nova Scotia, male and female high school athletes will now be able to compete against each other on a national level as a result of a joint venture between School Sport Canada (SSC) and Nike.

The Nike High School Grand Prix was launched Monday at a media event held at Toronto's Varsity Centre – which is also set to house the invitational track and field event between May 11 and 13.

Integrated marketing agency Trojan One worked with Nike and the SSC to create the championship that will include 312 high school athletes, representing 24 teams (12 female and 12 male) from 12 Canadian provinces.

Chris Rigney, head of sports marketing, Nike Canada, says that while the brand has participated in and supported other track and field events in the past, this will be the first time that it has taken the experience to a national level.

"This is really the first time that there will be an opportunity for top-tier high school track and field talent to assemble together and compete against one another," he says. "Historically, there really hasn't been an opportunity to do that. This is a chance for people to see how they stack up against athletes from other parts of the country."

Rigney goes on to say that the event fits into Nike's mission to intersect its "High Performance" position with the consumer experience.

"The brand strategy is always about tying into high performance and really focusing on that young emerging high school runner," he explains. "This is really a chance to take those two worlds and bring them together to create an opportunity that will make the consumer experience more special than it has ever been."

Photo (left to right): Mark Harrison, president, TrojanOne; Phylicia George; Perdita Felicien; Chris Rigney, head of sports marketing, Nike Canada; Priscilla Lopes-Schliep; Doug Gellatly, president, School Sport Canada.