Battle of the bands
Take a brand-building lesson from Hollerado and Lights, two musical acts that are building impressive fan bases through grassroots initiatives, social engagement and DIY approaches.
Want to know how to turn young consumers into fans of your brand? Take a cue from their favourite musical acts, who are building impressive fan bases through grassroots initiatives, social engagement and DIY approaches.
Hollerado
Hollerado, a Juno award-winning indie-rock band from Manotick, ON., is possibly one of the most innovative bands currently on the market, says Kieran Roy, general manager, Arts & Crafts, its managing label.
The musicians have a strong DIY aesthetic, something youth can emulate. For example, when the band received a new tour van, they invited fans to come spray paint the new wheels.
Their first album, aptly title Record in a Bag was literally thrown into Ziplock bags and sold in stores, with extras, like downloadable content vouchers, contest entries and stickers. "It's a Cracker Jack box approach to music," says Roy. "[The marketing is] fun, it's playful and younger audiences think it's something they could aspire to do – it doesn't feel out of reach."
Youth will gravitate towards Hollerado because they can see themselves in the band, says loyalty and youth expert Sean Claessen, VP strategy and creative, Maritz Canada, a loyalty consultancy, and former CD at Youthography, a youth-oriented research and marketing agency. This is a band that has risen because it put in the elbow grease and now it's paying off, he says. Youth see that and think one day they can do it too.
"There is an honesty and transparency that's probably more relatable than traditional marketing," Claessen says, suggesting brands consider less highly polished marketing campaigns. "Don't hesitate to show your audience things you're trying," he says. "Don't worry about letting the effort show. With young people, you may in fact earn more respect and credibility by being very upfront that you're trying this new thing."
Hollerado isn't afraid to try new things – often with creative and entertaining results. With 1.8 million views on their YouTube channel, the bands' innovative approach to videos has garnered international attention (the latest video has the band members racing around on ostriches), but directly engaging fans is what keeps them coming back, says Roy. For example, he points to the band's "Meet the Mayors" tour, which sent the boys across the country asking mayors questions their fans tweeted in.
"I think youth feel disconnected to the political process [and that] their voice isn't heard," says Roy. "[Meeting the mayors] didn't make a song sound any better, but it breeds loyalty [because] Hollerado said, 'No. Our voice is important.'"
As youth often feel their voices are ignored, there are certainly more brands giving them platforms, like P&G's Secret did with its "Mean Stink" anti-bullying campaign, opening a dialogue for youth to talk about the subject on Facebook.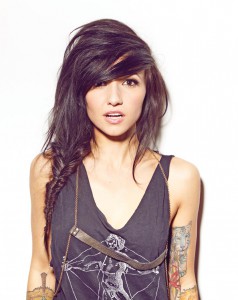 Lights

Lights (born Valerie Poxleitner) hit the stage in 2008 with her synth-pop sound and an already-strong social media presence. Since then, her popularity has built through word of mouth.

"The most interesting part of Lights is that, the audience she has – 800,000 Facebook fans, [350,000] Twitter followers, sold-out shows across North America – is happening in the absence of any major radio or video play," says Jian Ghomeshi, well-known CBC radio personality and Lights' manager.

Limited radio play means fans tend to have a stronger affinity for the singer than the typical pop-star-du-jour. "There's a proprietary sense the fans have because they haven't been force-fed her, they've discovered her."

Sean Claessen of Maritz says that youth take pride in being the first to discover something new or cool, so they want to share it. "There's a different weight when your best friend turns to you and says 'OMG. Have you heard this?'" he says.

But that's half the battle. Once discovered, fame needs to be sustained as the demo ages. Ghomeshi says he didn't want Lights to be pigeonholed as a teen pop sensation, relying on fickle youth taste to sustain success, so they've turned down overly youth-focused publications, opting instead for features in Rolling Stone, Spin and more indie-music publications, which, he says, prevents alienating any audiences.

"There've been a lot of situations with major labels, where [they say] 'Let's put her here,' and I say no and they thought I was crazy," he says. "If [people] see that artist is for kids, it doesn't matter how good she is, they'll put her in that silo."

It's an age-old dilemma for younger-skewing brands. Barbie has combated similar concerns, and recent marketing efforts have worked hard to position the iconic brand as more contemporary and less kiddy, such as the recent Barbie and Ken reunion campaign, positioning the dolls as a troubled celeb break-up story.

Claessen says this is a smart marketing tactic to reaching youth who aspire to be older. So being treated as an equal member of the audience ("I love Lights, and happen to be 14," instead of "I'm 14 and love Lights") will give the singer, and brands that follow similar paths, both loyalty and longevity among an ever-aging group.

Jump to:

Infographic: Youth by the numbers