Generation tech demands digi-retail
From social networking to augmented reality, kids have an unprecedented level of digital know-how, and they're demanding the same of retailers.
Teens and young adults are like cyborgs considering how much they use technology, particularly the 18- to 24-year-old demo, and they want their consumer experience to reflect their digital lifestyle.
A recent study conducted by Toronto-based Conversion, in partnership with client SPC Card indicated that most youth – over 50% – believe retailers could use more tech in-store to make the experience richer, giving more information, detail and perspective on products.
"The Pulse of the Canadian Student Shopper," leveraging SPC Card's 1.1 million teen and young adult members, indicates that we're headed for a retail ecosystem where purchase decisions will be increasingly made through digital touchpoints, based on the large role that digital and mobile platforms now play in youth's day-to-day lives, as well as their interactions with brands through those platforms.
Here are some telling stats: 56% of Canadian students use or own a smartphone; over a third follow a brand online via social media, more than celebrities and athletes; 57% have downloaded at least one retailer app; 27% have downloaded a store locator app; and 35% have shared photos of clothing, shoes or accessories they want to buy via social media.
New Canadian clothing brand 3F has really taken the idea of tech investment to heart. It recently opened up its first location, a flagship store at Yonge-Dundas Square in Toronto, with plans to open 33 more in three years. Working with its Toronto-based AOR Intercept Group, 3F plans over the next few months to outfit the Toronto location with all sorts of Minority Report-type tech to capture kids' attention, including augmented reality, image recognition, gesture control and even thought-controlled computing.
That's right: this brand will allow its young shoppers the opportunity to put together the perfect outfit based on their brainwaves.
The tech will determine the shopper's fashion state of mind by assessing whether their brainwaves fall into one of two categories: focused or relaxed. That data is then fed through a computer that generates different style choices for the customer. The AR, gesture and image recognition tech will also be put towards helping the shopper divine the ultimate ensemble.
3F's use of such tech helps to differentiate it from competitors like H&M, says Andrew Au, president, Intercept Group. But not all of the stores will be similarly equipped. Those outfitted to resemble the inside of Philip K. Dick's brain will be restricted based on factors including budget and market.
"Very few retailers are investing in new technology to enhance the in-store experience," says Au. "For most, their e-commerce strategy takes precedence. Under the traditional, one-dimensional ROI model, investing in new technology doesn't score well, but brands need to ask themselves what it's worth to have your target market look at your brand and say, 'They get it. They're constantly innovating.' It's the same fundamentals of a halo strategy. Companies that 'get it' will win in the long run. Retailers that choose not to innovate will be left behind."
3F's enterprising attitude isn't limited to cutting-edge technology. It also extends to the social media realm, which it leverages to convey that customers are partners in the brand. For example, 3F is using Facebook to invite customers to apply to become members of the brand's board of directors. As the brand expands to more markets it will establish a board of directors in each one. The goal is to be able to develop insight-driven campaigns, and market-specific BODs will help 3F to localize
those insights.
The brand also plans on experimenting with emerging micro-social network Pinterest by posting pics of its clothing that will drive e-commerce. 3F will encourage its customers to create their own Pinterest boards and, of course, 3F has established a Twitter presence.
Canadian Tire also recently married social media and technology to reach out to its more youthful customers and drive new traffic to its Facebook page. During the holiday season, working with Tribal DDB and Moment Factory, it set up a 30-foot "Spirit Tree" in Toronto's Union station. The tree captured, in real time, messages sent via blog, tweet, Facebook and other online content that contained Christmas keywords, which were converted into data and visualized by 3,000 LED lights on the tree. The brightness of the lights was determined by the total number of per-minute messages being shared across the country. The experience was live-streamed over the website and generated 280,470 mentions of Christmas spirit between Dec. 12 and 27.
Rosie Riolino-Serpa, AVP, online marketing, Canadian Tire, says that the tree gave her brand a good boost in terms of driving young people to its Facebook page. It currently has close to 300,000 fans.
"We went out saying it's not a product, it's not a push, it's not something you could buy, it's more just 'spread your Christmas cheer with your friends and family across Canada' and that's where I think we gained a lot of respect [with people saying] 'wow they're the first to do this – they're very tech-savvy,'" she says.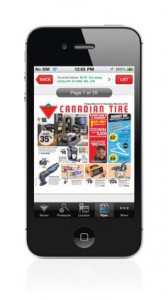 The centrepiece of Canadian Tire's youth-oriented tech strategy, says Riolino-Serpa, is the Canadian Tire iPhone app, which enables UPC scanning. Users can find enhanced product content like videos, rates and reviews in-store on their phone, and a Facebook component is baked in so they can share with their friends, or ask them if they would recommend a product. It also gives access to a digitally enhanced version of the Canadian Tire weekly flier. At press time it had been downloaded approximately one million times.

The brand has used the mobile app to do targeted "tech testing" in areas where it is more focused on the younger demographic, like Waterloo, ON., where it presented users with an exclusive sharable gas coupon. It found that one particular student shared the coupon with 92 of his friends, 67 of whom converted it.

"What we're seeing from that test is that Canadian Tire has a huge opportunity in the area of digital offering and social sharing," says Riolino-Serpa. "We want the market to be meaningful and engaging to our younger customers through those channels of their choice."

She says the company is also exploring the use of QR codes to bridge the gap between digital and brick and mortar stores, possibly through mobile commerce sometime in the future. Because of the flexibility it provides, mobile is Canadian Tire's focus, says Riolino-Serpa, but she adds that there's also a three-year plan in place to enhance in-store tech.

"[We want to be] consistent with the same content across all of the customers' touchpoints – when you go into the store there's a kiosk that accepts payment information, or there's digital signage in the store that enhances the information, but may be more personalized when you go and see it, touch it or play with it," she says. "So, we are looking at different ways to improve the in-store experience. How do we put technology at the end of the aisles? How do customers have more control in their hands within our stores?"

Kiosks are one prong of a technology strategy being employed by Indigo, which aims to make both its in-store and online experience more compelling.

An in-store look-up-and-buy tool, the kiosks are being enhanced to provide customers, particularly Plum Rewards members, with personalized offers and experiences delivered with a swipe of their cards, says Anne Baston, VP marketing, digital, Indigo Books & Music.

She adds that the brand is also leveraging its kiosks for experiential content like video, including book trailers and other assets.

Indigo has also been merging Twitter with the in-store experience, creating hashtags around relevant in-store content and putting them on in-store signage so customers can engage on the spot. For example, the chain recently featured a "Best of 2011" table. Customers could provide feedback on Twitter using the hashtag #bestof2011, sharing their 2011 "best ofs" and see what other Indigo customers were saying.

"We'll absolutely go deeper into things like hashtag strategies and QR codes," says Baston. "As we develop more and more video assets, the ability for people to easily scan a QR code and then delve right into that content directly in the store will be a big piece.

"Obviously people being able to find content, store locations and the assets that they're looking for directly on their mobile device is a big piece of that as well," she says. "You'll see that coming out shortly, both across tablet [and] mobile. As part of our mobile strategy we're looking at ways of making that experience even more digital whether it be a specific Plum loyalty app, or integrated into a larger Indigo mobile app. The ability to see points and serve up recommendations, those are absolutely things we're looking at."

The free Wi-Fi Indigo boasts in all of its stores will help with its mobile efforts.

In the meantime, it plans on furthering its social agenda, investigating platforms it has yet to explore, like Pinterest and Tumblr, and continuing to build out the ones it already leverages well: YouTube, where it has content including author and product demo vids; its Indigo blog that launched a year ago and now features up to 20 regular bloggers; and, of course, Facebook, where it's housed a couple of extremely successful Indigo endeavours including a "bookshelf creator" contest. Customers could go into an Indigo store and customize their own bookshelf, its look and the featured products, some of which could be unlocked via Facebook by encouraging friends to "like" them to unlock them.

"[Our youth strategy] is really around experiences and engagement, making the connections and speaking to customers in their medium of choice, and creating communities around topics that people find interesting," says Baston.