Micro-audiences: the new clout
Want to reach today's teens? It's time to throw aside the one-size-fits-all approach, writes strategy executive editor Mary Maddever in the editorial for our youth issue.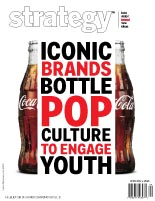 The spread of logos and brand messaging has become so ubiquitous that we're building quite the immunity to gratuitous branding. The carpet-bombing of subways, washrooms, airports and arenas may ultimately evolve into smarter targeting via digital ad-serving, but in the meantime, youth have grown up with giant logos everywhere, from the Santa Claus parade to the ads-within-ads reality fare that passes for primetime TV – to the point that a lot is just background.

I don't envy anyone trying to influence them, especially teens and 20-somethings.

So how do brands get from background to foreground, and beyond that, instill any semblance of brand loyalty?

Forum columnist Eric Alper points out some places where brands often get it wrong, starting with confusing an age range with a more realistic culturally-cued target audience.

As we explore what contributes to building loyalty with this generation, we see brands finding success by picking a niche and customizing programs, throwing aside the old one-size-fits-all thinking for a more direct approach. Brands are reaching teens by supporting things they care about, letting youth direct some of these efforts, and surprising loyal customers with exclusive experiences.

For big brands to resonate with the next gen, the challenge is to find a way to step far enough off ad-reliance and overt commerciality to genuinely make a splash in these more psychographically diverse and concise waters.

The youth survey this issue saw a telling increase in the number of individuals naming a favourite brand or musical act that no one else chose – and as our "next big kid thing" pundits identified this trend starts young, and the self-discovery of music, games and even the next toy is throwing the kids franchise biz big curveballs.

As youth as an audience continues to niche out in smaller interest groups, with influences straying farther away from mass media, can the mega-brands ROI model survive?

In lieu of doing what the skate brands do – create endless micro-brands – big brands like Coke, by inviting youth to be creators in its Covers music program, and collaborating with artists such as DJ Mark Ronson, are focusing on pop culture and subculture appeal, rather than relying on the perceived clout of an umbrella brand.

Instead of proclaiming "I'd like to teach the world to sing" to the broadest possible audience, Coke is listening to kids' songs and giving them a stage. By creating micro-programs, unique experiences and collaborating, the successful youth brands are building a mega-audience, interest group by interest group, person by person.

A much more complex, challenging, diverse and marketing resource-intensive world is unfolding, and, like the innovation that reignited the candy category, marketing is also getting more quirky, creative and hopefully fun. Youth marketing – where interaction with brand involvement is most pervasive – is the litmus test for what's working next. And in brands' pop culture and lifestyle-centric youth strategy, the new marketing clout is from the consumer.

Cheers, mm
Mary Maddever, exec editor, strategy, Media in Canada and stimulant
PS: Please follow strategymagazine on Instagram – we follow back!