Mobile and social were hot topics at BPNA conference
Facebook's Steve Irvine discussed how to be "social by design" at the 2012 Best New Product Awards Conference & Workshop.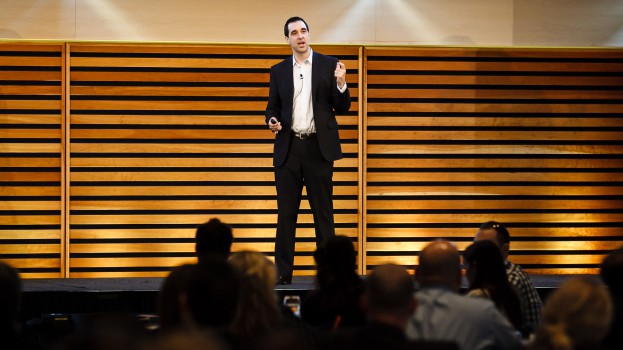 Last Thursday, CPG marketers gathered at the Toronto Reference Library's Bram & Bluma Appel Salon for the Best New Product Awards Conference & Workshop, where industry leaders spoke about the changing world of media and mobile marketing.

To kick off the morning, Facebook Canada's Steve Irvine (pictured) gave tips on leveraging the social media network for word-of-mouth marketing, as well as how to turn audiences into brand ambassadors.

"Stop thinking like marketers and start thinking like friends," said Irvine. "You must put people at the centre of your social media marketing plan to get them to participate in conversations about your brand and share stories with their friends."

Irvine discussed the term "social by design," which means revolving marketing around people to maximize a brand's social media presence. A video presentation referencing the launch of M&M's Pretzel showed how the brand created a virtual vending machine on the M&M's Facebook page. Fans could win free samples by telling their friends about the new product resulting in 140,000 samples of the candy given out in the first 48 hours of the launch.

Near Field Communication (NFC) was another hot topic at the conference. Out of Home Marketing Association of Canada's Rosanne Caron presented case studies of NFC-enabled campaigns that have taken place around the globe in the last year. A survey conducted in the UK indicated 57% of consumers would use NFC to purchase a product.

ComScore's Bryan Segal shared the latest digital, social media and mobile media data. His insights revealed the smartphone category has grown 13% in Canada over the past year with 20 million users.

"Canadians are looking to their mobile devices as a source for traditional digital media. Over 1.6 million Canadians watched videos on their phones in a 30 day span, 31% of us are accessing social media on smartphones, while  these devices are really becoming the new shopping tool," said Segal.

Mobile Marketing Association's Michel Becker discussed what is currently happening globally with mobile, and trends to anticipate. "We are seeing technology that allows a consumer to wave their phone over a head of lettuce that will let them know what farm the produce came from and how long it has been on the shelves, and even QR codes on gravestones that bring up a biography of that person's life," said Becker.

The afternoon interactive workshops had 70 CPG marketers form groups and create media campaigns for Doritos or Mr. Clean Magic Eraser. Acting as the Digital Dragon's Den, BrandSpark's Robert Levey and other industry leaders from the morning conference judged each group as they pitched their campaign ideas and selected one winner.

The day wrapped up with the highly anticipated Best New Product Awards. A total of 166 brands were entered into the contest, with 53 making the final cut for BrandSpark's annual Best New Product list. Colgate My First Toothpaste was the recipient of this year's Best in Show.