As seen on reality TV
From the team at The Hive to DDB Canada's Frank Palmer, Canadian ad men are taking the small screen by storm.
Ad men are popping up everywhere on the tube lately, and we don't just mean Don Draper and company. First Capital C's Tony Chapman was a judge on Recipe to Riches, and now ad folk seem to be taking over TV. Here are a few who recently had their close-ups:
Andy Krupski, president & CEO, The Hive
The show: The Pitch (AMC)
The network that brought us Mad Men is bringing us an inside look into pitches from real agencies competing for real clients. Representing the North is The Hive, which let the cameras roll inside their Toronto office to witness the process in action.
"We looked at the stuff [the producers] had done for Undercover Boss, and the quality of the work on Mad Men, and took the view that sometimes you have to take a risk to stand out, and we felt the risk was worth a shot," says Krupski (pictured, in the centre, with Klint Davies, Brad Van Schaik, Simon Creet and Trent Fulton).
To see which client they pitched for and whether or not they won the business, audiences will have to tune in to the May 7 episode.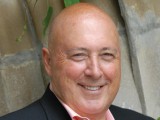 Frank Palmer, chairman & CEO, DDB Canada
The show: The Real Housewives of Vancouver (Slice)
Blink and you might have missed him, but if you watched the premiere episode, you likely didn't miss Palmer's wife Marika and their Vancouver condo, where she coordinated a party the housewives attended. While Palmer himself remained in the background, stay tuned for possible future episodes with the industry vet, and maybe even a speaking role.
"There's another scene I was shot in talking about branding of a product, but I don't know whether that will be used or not, they don't tell you," he says.
"People have to realize that it's not quite reality," he adds. "It's exaggerated reality. I think there's a script they follow and they try to get people to do and say things that are a bit silly because real life is not that interesting."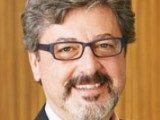 Aldo Cundari, chairman, CEO & founder, Cundari
The show: Come Dine with Me Canada (W Network)
Who knew Aldo was a foodie? Or that he was skilled in the art of sculpture? Thanks to a stint on the Canadian version of the British show, in which five people compete for the status of best dinner party host, we know a little more about the man who bears the Cundari name. After applying to be on the show on a dare from his kids, Aldo faced a hot kitchen and some seriously quirky characters to come out the winner on the episode that aired in March.
He likens the experience to a microcosm of the dialogue on social networking:
"It was complete strangers, which is kind of how anonymous we are on [social networks], and diving deep into their personalities," he says. "We're in this dialogue, which can go all over the place. That's what happens out in the marketplace, I'm completely different from everyone else but now I have a voice."