Sid Lee's Innovation Studio
The agency will launch a new multi-disciplinary approach to creative problem-solving this summer based on its Boot Camp model.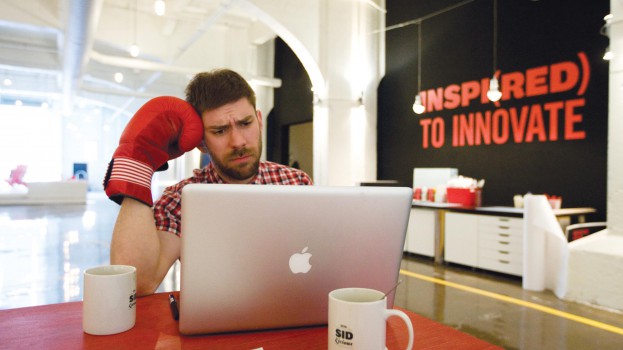 In an industrial space next to the Sid Lee offices in Montreal, the agency has been fine-tuning a new multi-disciplinary approach to creative problem-solving. Launching this summer, clients will be able to use what is being called the "Sid Lee Innovation Studio" to source creative ideas for a particular initiative by having the agency bring together groups of its employees from across disciplines and locations to hammer out ideas in a short amount of time.
The condensed-creative formula was developed through the Sid Lee Boot Camp, which invites creatives from all over the world to work towards a common goal for a specific brand (last year it was Fatboy, known for its beanbag chairs). This year, eight creatives from multiple disciplines lived, worked and played together for 10 days to come up with creative ideas based on a brief for the non-profit organization (RED).
This year's round drew nearly 600 applications from around the world thanks to Sid Lee's massive Facebook following of over 60,000. The applicants were whittled down to eight, hailing from the U.S., France, the Netherlands and Germany, as well as two Canadians – industrial designer Serina Tarkhanian and architect David Dworkind, both from Montreal. Boot Camp has proven to be a useful recruiting tool for Sid Lee, which hired two of last year's participants.
The client, (RED), was approached by Sid Lee to participate since it's a "progressive organization that favours innovation," explains Yanik Deschênes, VP global PR and communications at Sid Lee. (RED)'s mission is to eradicate the transmission of HIV from mothers to babies globally, and it raises funds by partnering with brands like Starbucks, Apple and Converse. Gathered in May during the C2-MTL creativity conference, the creatives were charged with telling (RED)'s story through a "hub" that would live both online and in the real world, supported by social media and other message-spreading activity.
"Because society is becoming increasingly complex and is evolving faster than ever, organizations must promote experimentation to find solutions to the challenges they face," says Philippe Meunier, chief creative officer at Sid Lee. "Boot Camp and the Sid Lee Innovation Studio are commercial offerings whose goal is to respond to this situation."