Samsung finds its heart
The electronics giant may be in two-thirds of Canadian households, but it's not top of mind for consumers. Now it has a plan to go from a brand we simply buy to a brand we must have.
One of the largest technology companies in the world, Samsung Electronics Group ranked 22nd on the Fortune 500 list for 2011 (above Hewlett-Packard, Siemens, Panasonic and Toshiba) with revenues of $133 billion US and $13 billion US in profits. Apple, which Samsung overtook in smartphone sales for the first quarter of this year, ranked 111th. Nokia was 143rd. To be fair, neither of those companies boasts the portfolio range of Samsung, with its 1,000+ SKUs covering everything from tablets, handsets and cameras to Smart TVs, refrigerators, digital displays, printers and toner. But, according to a new study from American consultancy Strategy Analytics, Samsung's share of the hotly contested smartphone market for Q1 of this year was a record 31%, rocketing 253% over last year to 44.5 million units sold, led by the Galaxy Note S2 and Y models.
Yet when he joined Samsung Electronics Canada last fall, VP marketing Andrew Barrett likened the brand to the Tin Man in The Wizard of Oz.
"The Tin Man was well engineered, well built, was technologically advanced within the community that he lived, was clearly recognizable and distinctive, and this brand is all those admirable qualities," he says. "But it was missing the single most important fundamental thing inside."
In Canada, says Barrett, Samsung's business is well in excess of $1.5 billion in annual revenue, and growing in double digits year-over-year. Last year, Mississauga, ON.-based Samsung Electronics Canada sold one million televisions, or one out of every 10 households, and holds the spot for premium washer-dryers as well as mobile handsets.
"Well in excess of two-thirds of Canadian homes currently have a Samsung product in them, are actively using them and have likely acquired that technology in the last four to five years," says Barrett.
However, ask a Canadian what home appliance brand is top of mind or what their preferred television brand is, and it's not likely to be Samsung. "We come anywhere from second to fifth on that list, with a desire to be number one," says Barrett. "Our share of purchase and our share of wallet is definitely greater than our share of mind or heart, and that is exactly what we want to change."
Former VP global marketing properties at LG Electronics in South Korea and 2008 strategy marketer of the year for his work on that brand as Canadian VP marketing, Barrett joined Samsung Canada last September. As the first VP marketing in Canada, he oversees the consumer business division including consumer electronics, digital imaging, home appliances, consumer computers and peripherals, as well as enterprise business division teams marketing digital screens for customers like Royal Bank and Toronto's Pearson International Airport, and mobile communications with carrier partners such as Telus. "This is the first time we've brought all that under one person to try to operate as one brand, with one look and feel spread across all the communications and activities," says Barrett.
The marcom team is now 30 people strong and growing, with new positions created to support key areas such as notebook computers, as well as a social media centre group to boost social engagement on Facebook and Twitter, to go "from being broadcast to now being dialogue-driven and being more engaged in our communities," Barrett explains.
Over the past 10 months the team has developed a marketing strategy and positioning to capitalize on the brand's growth and forge an emotional connection with consumers.
"From an advertising perspective, we were very feature-focused. We communicated more like a technology company than a consumer brand that took consumer insight as the lead point for communication," Barrett says. "We'd been very successful selling on that basis, but that's also the limiting factor to us becoming number one emotionally in people's hearts and minds. We've been approaching it from a feeds-and-speeds and a techs-and-specs perspective."
Management globally and in Canada recognized the company needed to shift its communications away from features toward consumer insights and benefits – and get consumers lining up around the block in anticipation of new product launches. Armed with a marketing budget in excess of $100 million, Barrett looked at the product offering and the company DNA and came up with a new Canadian tagline: "Pursue your passions." The long expression combines this with an older internal statement: "We are relentlessly passionate about building technology that lets every Canadian pursue their passions."
"Ninety-nine percent of all the products that we make [are used by] people in their daily lives to enjoy their own personal passions," says Barrett. "It was an idea that would work on everything we make for everyone in Canada."
The new slogan was soft-launched during the Canadian adaptation of the brand's first-ever Super Bowl ad, created by Los Angeles agency 72andSunny. The product specifications are nowhere to be found, but there is a parade, complete with human cannonball. "This company would never have done something like that before," says Barrett. "The spot was not about the feeds and speeds, it was about celebrating and how people's passions could be better pursued through the launch of our new SS Galaxy Note Phone."
After the Super Bowl, the Note Phone launch was supported with a full campaign that ran through February and March, including TV advertising, experiential mall tours and social media, as well as trade-based activities and engagement with its retail partners.
To help implement the new positioning in Canada, Barrett worked with three lead agencies of record: media agency Starcom MediaVest Group Canada, PR firm North Strategic, and former Samsung house agency Cheil Canada, now reinvented as a full-service more creatively focused agency. While Samsung still owns a single-digit percentage in Cheil, the agency has branched out to take on other clients such as Korean tire manufacturer Hankook.
On the Samsung business, the three agencies work as one, meeting with Barrett monthly. "They're all responsible for ideation," he says. "We brief, review, workshop and present as one, but they are specialists in the implementation. Cheil implements the advertising, North implements the PR and some of the event stuff, and Starcom implements the social media buy and broadcast media buy, but no one is the lead."
Cheil Canada president Matt Cammaert says the relationship has been successful thus far. "It is a bit of a different set up because as you know agencies in general can be territorial."
One campaign that's reaped the benefits of this collaborative model is the "Passion for Fresh" home appliance positioning, most recently for the Samsung Induction Flex Duo Range at the Green Living Show in Toronto this past April, and next for a new Samsung fridge launching this month. Instead of focusing on capacity, the strategy emphasizes a unique piece of technology that keeps fruits and vegetables fresher longer.
"We had to look pretty in-depth at the strategy but also work with Starcom and North to figure out how we leverage certain PR messages that can push what we're doing on the creative side," says Cammaert. "And with a minimal budget, given that it is home appliance, how do we take that creative message and spread it?"
The campaign is a prime example of how Samsung wants to disrupt the category on its way to becoming the number one loved brand in the space. Barrett has told all his agencies that he wants Samsung to be on their strategy Agency of the Year submissions. "Creative people get motivated doing interesting and engaging creative, and a lot of the time clients crush that," he says. "I said to the agencies: you bring us your most creative idea and we will find ways to execute all that stuff."
Online, Samsung relaunched its Canadian website to align with the new feel of the brand, as well as its Facebook page, supported by the new social media team. Launched on Facebook this month, the Samsung Passion Fund, an app that repurposes user-generated videos to provide peer-to-peer product support, takes the platform beyond brand affinity to channel the community aspect. If it works in Canada, Barrett anticipates global pickup.
"People that own our products figure out things you can do with them that even our product engineers didn't know," he says. "They're the perfect people to tell others that have the same passion how to do that."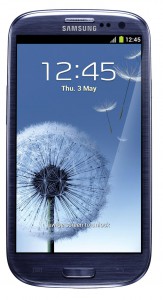 In May, Samsung announced its first-ever Canadian retail location in Burnaby, B.C., which will serve to showcase all the new tech in a more personal way, such as the Galaxy S III, an Android smartphone with a 4.8-inch display and face, voice and motion recognition, described by Barrett as the largest cell phone launch in the company's history, with campaign support from late May through mid-June.

Looking forward, Samsung is localizing a global TV advertising spot for Smart TV, which the company anticipates will disrupt the category just as smartphones did for mobile. The campaign seeks to educate consumers about the potential for Smart TV and the Holy Grail of convergence, towards which Samsung is reaching with its Allshare service. Launched at the Consumer Electronics Show in Las Vegas in January, Allshare enables cross-device searching, sharing and playing, and Smart TV is the missing link that ties this network of devices together.

Smart TV may well get a push from the Summer Olympics in London, which are being touted as the social games, and of which Samsung is a major sponsor. "The Olympic consortium is putting [forth] a multi-screen proposition on how to watch and experience the Olympics differently this year," says Barrett. "We make all those devices."

He is also adapting Samsung Hope for Children, a global corporate social responsibility proposition centered on three pillars of health, education and sustainability. A Canadian-made pilot program in 30 schools focuses on educating children about e-waste, with one school set to win a $10,000 technology grant. "Right now you're educated about paper and plastic and glass but not what to do with electronics," says Barrett. "[Samsung has] collected over one million pounds of e-waste in the last six years, including over 50,000 pounds over three weekends that would have otherwise ended up in Toronto landfills that will now be 100% recycled…We're taking a huge lead in that particular area."

Barrett estimates the breakdown between localized and homegrown marketing content to be about two-thirds to one-third, respectively. "We're given a great freedom here," says Barrett. "We write our positionings, our strategic imperatives, what we need to accomplish locally, and then we look at the global work. If it can fit or be adapted, we take the path of least resistance. If it doesn't, we make our own stuff."

One thing that's certain is Canada will be hearing a lot more from Samsung in the near future. "We've been a push company up till now, and we've got to become more of a pull company," says Barrett. "It will look like more marketing, because a lot of the stuff is going to be more outwardly facing, more consumer-facing than channel and trade driven over the next little while. That shift is happening."