Consumerlogy: Defending the indefensible – the QR code
Bensimon Byrne's Max Valiquette finds shopper marketing hope in oft-poorly used black-and-white dots.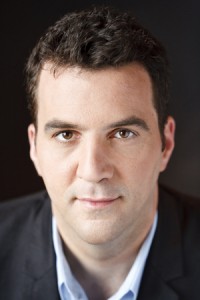 By Max Valiquette

I'm going to take a quick break from talking about the results of Consumerology studies to do something that I never though I would do: defend QR codes.

For the uninitiated: QR codes are the small black and white squares made of pixels (they look like an android's vomit, sort of) that can be scanned by a smartphone to activate content, an app, or pretty much anything. You hold your phone's camera up to the code – the "QR" stands for "Quick Response" – and as soon as it's successfully scanned it causes your phone to do, well, something.

QR codes usually require you to download an app to read them, and its being badly used – both in where they are being posted and also what they're being used for. The app issue, at least, is being addressed as smartphones started to come pre-loaded with a reader.

The real issue with them: they're terrible. I've seen them on the side of buses (as if one is going to run after a bus, like the code is a paparazzi-worthy celebrity), in subways where wireless connection is non-existent, and on billboards 15 storeys high, unreadable and out of reach. More often than not, QR codes simply activate a regular website. So what's the point? By the time consumers have activated the reader and taken the picture, they could have entered the URL.

But for marketers interested in a better retail experience for their customers, the truth is: start working on QR codes. They are easy to make, inexpensive, and currently the most prevalent form of mobile-scanning information activators.

They may not be fantastic yet but they do allow consumers to connect to your brand in a manner of your choosing at a specific moment. To me, that's a perfect opportunity to add tremendously to an experience. I think they're a huge opportunity for shopper marketers, to be used at the retail level for something more than simply awareness or couponing (which occurs away from the transactional experience). But you've got to use them correctly.

You need to optimize the content that you're linking to for mobile devices. This is step one, and should be painfully obvious – but a significant number of marketers don't do it. Design responsively for an experience that works best on a small screen. That also means offering free, no-password Wi-Fi in-store – especially if you've got video or rich media that you want people to look at.

Think about what your customer most wants to know in the moment of consideration or transaction. If you're a fashion marketer, for instance, QR codes are a great way to link to a video that shows people how to wear your clothes. If you're a grocery store, QR codes could offer simple recipes that use other nearby products. It will be significantly less expensive than installing a bunch of video screens and you can offer a ton of executions.

Work frequent updates into your plan. A single QR code can be altered way more easily than any of your physical POP materials. The same code that drives someone to a Father's Day recipe the Friday before a weekend can later drive people towards something totally different the following Monday.

Lastly, recognize that we've got a way to go. But consumers the world over are using QR codes more and more, and in Canada, slowly, it's happening. And more importantly smartphone penetration is also growing.

As unappealing as they may look, there's nothing out there like them. QR codes probably won't last forever – near field communication (NFC) or image recognition or something else will probably eventually replace them. But for now they're inexpensive, on the rise, and good for retail marketers who know how to get the best out of them. I can't say that I love them in ads, but I can see the application at the store level.

Max Valiquette is the managing director of intellectual property and content development at Bensimon Byrne. For more information on Consumerology, or to download a copy, go to Consumerology.ca.