Restructuring daytime TV in a post-Oprah world
With the talk show queen out of the running, a new slate of hosts vie to take her place, but is it the right strategy for the networks?
Daytime TV is a tough nut to crack for broadcasters across the board. The audience share is thinning as they fight for an evermore fragmented audience, predominantly women aged 25 to 54. Networks are re-imagining daytime post-Oprah, but has anyone nailed it?
There is a slate of new talk shows chasing the audience that the daytime staple left behind. Global particularly wants a piece of that pie, having added talkers from Ricki Lake and Jeff Probst to the 2 p.m. and 3 p.m. slots, sandwiched in between its showpiece soaps, Days of Our Lives and The Young and the Restless (which reached an average of 345,000 and 860,000 viewers January to May 2012 – up 22% and 18%, respectively, since spring 2011, according to BBM Canada).
Resting the new talkers between its two highest-rated soaps may have been the best strategy to take years ago, but Lina Alles, managing director, exchange trading, Mindshare, says that approach won't necessarily guarantee audiences today.
"Both shows must be strong on their own or the viewer will tune out and go elsewhere," she says.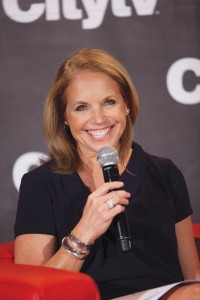 The battle for talk show audiences escalates this fall with the shift of Ellen (407,000 total average viewers, March to May 2012) to its simulcast spot at 4 p.m. on CTV and the introduction of Katie Couric's show in the same timeslot on Citytv. Sunni Boot, CEO, ZenithOptimedia, says that viewers will likely split their time between the two at first, and might even record the show they don't watch live, which goes against Boot's belief that talk shows aren't PVR-worthy due to immediacy.

Carol Cummings, director of TV services, Media Experts, is skeptical of the influx of talk shows. "I don't see anyone replacing the strength of Oprah," she says, noting that putting Ellen and Katie up against Global's Y&R may be a gamble. "We're saturated with talk shows now," she says. "Rather than keep looking for talk show audiences, maybe they should make another soap."

But Citytv isn't relying solely on talk shows, evident in its decision to move The Price is Right (80,500 average viewers, March to May 2012) and Let's Make a Deal (45,600 average viewers, March to May 2012, aired in Toronto only) from OMNI to the morning timeslot following Breakfast Television. "That might be a more advantageous strategy than just doing talk," says Cummings.

Laura Gaggi, president, Gaggi Media, agrees, saying that game shows attract a more diverse audience, with a split of 18- to 24-year-olds and those over 55 tuning in. She adds that in the race to fill Oprah's ratings, "talk shows make sense, but there is just too much choice."

Boot notes that game shows are good at attracting and keeping live viewing channel-wanderers. "The content is short; you want to see the outcome. A lot of people play against [the game] too, so there is a heightened level of interest."

Studio-based lifestyle shows are the CBC's daytime meat and potatoes – with Steven and Chris bringing in an average of 118,000 viewers and Best Recipes Ever reaching an average of 121,000 over the 2011/2012 seasons (BBM Canada). The broadcaster is branding its shows much like a specialty channel, however with lower production costs and a focus on offering simple do-it-yourself ideas.

Magazine-style programs are a good alternative to expensive U.S. fare and provide advertisers with more than just dots and spots, says Mindshare's Alles of the opportunities for product integration.

Boot agrees that they're advertiser-friendly, but points out that CBC is up against all food and shelter channels.

"The CBC is competing even more, [because] I can go onto the Food Network and get any cooking show I desire, or go to HGTV and get anything on home and design," she says.

One thing that's certain is that advertisers have something new to consider. "I applaud their re-focus on daytime. It has been faltering, and they've given us more reasons to look at it, to reinvest in it," says Boot.