An advertising free-for-wall
Marketing went off the wall this summer, with installations that left people with what they truly desire: free stuff.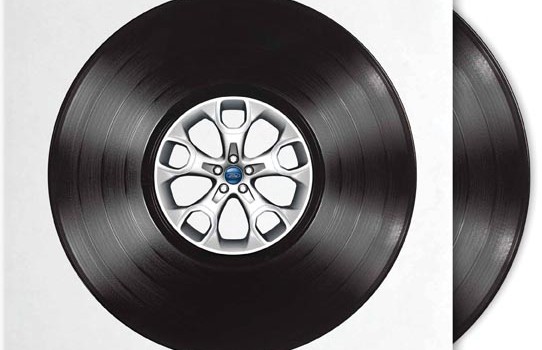 This summer, residents in two major Canadian cities had the good fortune to stumble across what can only be described as big walls of free stuff. And despite being something of a mini-spectacle, these OOH installations were meant as a subtle exercise in branding.

First, Royal Roads University and Cossette teamed up to hand out about 5,000 branded pens to Vancouverites at a downtown transit station. The institution's new tagline slowly became visible to passersby as the pens were gobbled up.

Y&R Toronto staged a similar undertaking during the Quebec City Summer Festival for Ford, which sponsors the event, by erecting a giant wall of LP records featuring tunes from up-and-coming local musicians.

In both cases, the installations were meant to create a deeper connection between brand and consumer than would be achieved by simply handing out free stuff on the street or at a stall. "The main hooks to it are relevance and surprise," says Trevor Schoenfeld, SVP, creative director, Y&R Toronto. "It gives people something they are interested in without being heavy-handed."

Schoenfeld says that location plays a huge roll in determining the effectiveness of such installations. Concerts, festivals and sporting events are prime locations for this kind of advertising, although in the case of Royal Roads, it made sense to hand out something as useful as pens to rushed commuters.

Benefit Cosmetics pulled off a similar campaign late last year, affixing free gift bags full of the company's products to billboards across Toronto. Often such installations are also designed to drive social media awareness. PR efforts around the campaign promised Benefits Cosmetics would offer those same free bags to anyone who followed the brand on both Twitter and Facebook. In the weeks following the campaign, Benefit says its Facebook following doubled and now sits at 7,300 "likes." In the case of Ford's Quebec installation, the wall contained a message encouraging people to use Twitter or Facebook to review the music for their online followers. Of course, the automaker hoped they might mention something positive about it, too.