GSP cross-promo changes the game
Sid Lee enlists UFC champ Georges St-Pierre to help relaunch the videogame Sleeping Dogs.
Sid Lee partnered with London, U.K.-based game producer Square Enix and Vancouver-based game developer United Front Games, to relaunch, rebrand and help develop the videogame Sleeping Dogs. Originally titled True Crime Hong Kong, the Montreal agency was approached to help promote the game after the publisher Activision backed out of the release over a year ago.
"If we were launching a brand new [intellectual property], that's pretty cool because we're starting from zero," says George Giampuranis, partner and CD, Sid Lee. "But unfortunately, cancelling a game because it's not good enough, that [message] spreads. We had to change the conversation from, 'This game isn't good enough' to 'This game is amazing.'"
The game, which follows a Hong Kong cop attempting to infiltrate the infamous Triad gang, launched mid-August and was heavily promoted through social media and PR, followed by a TV campaign.
To help rebrand the game, Sid Lee crafted the new name, based on the expression "Let sleeping dogs lie," and tapped up-and-coming U.S.-based artist Tyler Stout to design the cover art. It also brought in UFC champion, and Sid Lee client, Georges St-Pierre to help developers fine-tune fighting techniques, says Giampuranis.
The cross-promotion allowed the agency to tap into St-Pierre's and Stout's large fan bases to amplify the PR message that the game was worth playing, he says. Further, by integrating St-Pierre's fighting techniques into the game, new players – interested in his technique rather than the undercover cop story – might be drawn into it.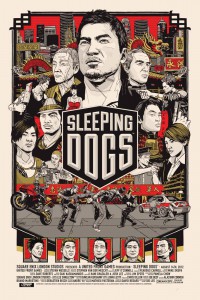 The TV spots, which will be supported digitally through website takeovers and rich media, focus on the theme of "breaking all the rules," with rookie cops being trained on the do's and don'ts of policing, while the game's protagonist ignores that same advice.

Playing off the insight that the game allows players to make their own choices, Sid Lee wanted to emphasize that despite playing an undercover cop, players won't always have to abide by the rules in order to win.

"When you say the 'the rules are different,' you're giving the player the ability to make his own choices. Essentially, he could do bad things for good causes," says Giampuranis. "We want people to say, 'Man, that looks like fun.'"

The TV spots were shot in both Cantonese and English, and will be aired around the world in major gaming markets, including Canada, the U.S., France and China, targeting male 18- to 35-year-olds.