Shoppers are browsing in stores and buying online
More than half of shoppers will walk away from a store purchase for a 5% online discount, a GroupM Next study finds.
Nearly half of shoppers will walk away from an in-store purchase for an online discount as little as 2.5%, according to a new study by GroupM Next, the research division of media collective GroupM.
With a 2.5% discount, 45% of respondents said they'd buy online. This jumps to 60% when the discount is greater than 5%. Only 13% of respondents would buy in-store when available online for 20% cheaper.
"I thought it was interesting at what level people would walk. A 5% difference – that's not even the sales tax here," says Jeff Lancaster, managing director for GroupM's search marketing practice.
The report surveyed 1,000 U.S. consumers with hypothetical showroom scenarios to determine when a person would or wouldn't walk away. Lancaster says that with Canada's burgeoning e-commerce landscape – one that is finally starting to catch up to the U.S.'s – as well as continued decreased shipping costs, it's something Canadian retailers should also be on the lookout for.
The study found "showroomers" (those who browse in-store then buy online) were most likely to be younger females with lower incomes who often make online purchases, while those were most likely to be swayed to buy in-store are 52-year-old males, with an average income of $60,000 who were occasional buyers.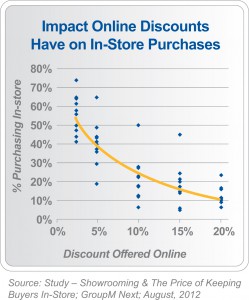 It's not all dire news for retailers: the study found that consumers who interacted with customer service reps were 12.5% more likely to buy in-store as opposed to shopping around online, while items that had a "must have now" mentality around them – like headphones to replace a broken pair – were most likely to be purchased in-store.

As a result, Lancaster says traditional shopper marketing techniques – such as limited-time promotions, unique in-store experiences and limited edition, retailer-specific products – are good ways of combating showrooming.