Brands of the Year: It's all good at McCain
Canada's largest food manufacturer and world leader in French fries, McCain Foods is set to complete its full product revamp in the spring of 2013, doing away with chemical-ladened ingredients.
McCain Foods, the 55-year-old company based out of Florenceville, N.B., faced a Goliath challenge: frozen food has a bad rep and is stereotypically considered chemical-laden and stripped of essential nutrients. Indeed, the plethora of healthy eating articles almost universally say to avoid the frozen and processed food aisles entirely. And considering the world's recent obsession with healthy and transparent food processing (just look at the successful run of McDonald's "Your Questions" campaign or Chipotle's "Back to the Start" campaign) it seems like pre-packaged meals might suffer as consumers move towards"healthier" options.
This was reflected in focus groups McCain was conducting back in 2009. Instead of saying "What's for dinner?" researchers kept hearing people jokingly say, "We should be asking what's in dinner?"
"It got us thinking, is there something there?" says Heather Crees, VP of marketing, McCain Foods Canada.
Crees, who's been with the company for four years, says research found 80% of Canadians were trying to avoid foods with ingredient lists full of chemicals. But on the positive side, it also concluded that 85% of Canadians wanted to buy prepared foods – a time-saver in today's busy world – made with real ingredients.
So McCain, Canada's largest food manufacturer by revenue, decided to turn the tide before shifting opinions could affect business, culminating in McCain's "It's all good" or IAG philosophy – a daunting task launched in 2010 with the aim of recreating its entire product lineup (which contains almost 100 different SKUs of pizza, fries, veggies and frozen desserts), only using ingredients that are real.
It's taken three years and more than $10 million on research, but McCain Foods is finally ready to finish off its revamp as it prepares to release its new and improved dessert lineup, including its Deep 'n Delicious cakes, in the spring of 2013 – something everyone's excited about, says Crees.
"We've started bringing the agency [Taxi] in and everybody says 'do you have any [desserts] to try today?'" she says with a chuckle.
McCain has re-released approximately 85% of its portfolio lineup, using ingredients a consumer might find in his or her home, without having to raise the prices to accommodate it (Crees does point out that inflation has caused the cost of some products to rise).
She says that while they were uncertain if they could pull it off, they set out three IAG pillars: first, ingredients would be simple, recognizable and would need to be found in kitchens across Canada; second, products needed to taste as good or better than the original recipe; and third, whenever possible, they would try to nutritionally enhance the product (such as decreasing sodium or increasing fibre).
The IAG philosophy filtered out into everything the company does, including a global push to use potatoes from sustainable sources, reducing energy emissions (potato skins fuel some of the factories, for example) and giving back to the community – among a number of other CSR pushes.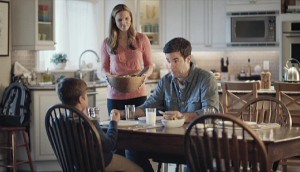 Making the change to "all good" wouldn't prove easy. Certain recipes required hundreds of iterations as researchers learned certain chemicals were key in simple processes – such as mono- and diglycerides, chemicals that help dough keep its shape.
"We knew for us to make a commitment to [all natural ingredients] it had to be beyond one or two products because consumers wouldn't believe us. We had to transform everything," says Paul Kurvits, director of strategy, McCain.
In January 2010, less than a year after the brand embarked on the IAG initiative, McCain launched its first batch of 70 SKUs of potatoes and pizzas, supported by new creative by Taxi's Toronto office, which served to educate the public on the "realness" of the ingredients and convince skeptical buyers about the changes. Steve Mykolyn CCO, Taxi, says it was treated more like a dialogue.
"People are more used to looking at the nutrition label than the ingredient label," he says. "So we had to spell out the ingredients simply."
The packaging was simplified to break down ingredients and creative asked questions such as, "What's the difference between McCain Superfries and a potato?" "Are all pizzas created equal?" and "Shouldn't food be the only ingredient in food?" It ran on TV and in print, and later online as well as through social media, allowing McCain to delve deeper into product history and open up a dialogue with consumers.
And results were impressive: according to Nielsen MarketTrack research, while other frozen French fries declined, McCain's industry-leading Superfries saw a 10.5% increase in sales in 2010. In the pizza category, sales grew 8% – more than double the average of competitors, but more importantly, McCain secured second place in market share, says Kurvits.
While McCain owns the potato front (it is the top frozen fries producer in the world), in Canada its pizza lags behind Nestlé's Delissio (Canada's top-selling pizza brand) and competes against Dr. Oetker for second place. Since the relaunch, Kurvits says not only were they able to secure runner-up position, in 2011 they were also able to launch the new Ultra Thin Crust Pizza lineup, which is impressive considering its pizza was in jeopardy of being pulled off the shelves at some grocers just a year before.
"Before we started this, [the pizza brands] were a bit of a 'me-too' product – how many pepperoni pizzas does a retailer need on a shelf? – so, rightly we were getting challenged," says Crees. "But in making this move [to real ingredients], we've clearly differentiated ourselves from competitors, and we've earned our right to be on the shelves."
McCain is now evolving its message from a purely fact-based campaign to a more emotional one, Crees says. In the past year, they've focused more on featuring the food in daily life, says Mykolyn. One spot features a mother bribing her husband to get out of bed to make breakfast, while another features a father complaining about his wife's pilaf unaware that she's standing right behind him.
"[These spots] kind of talked about the quality of the product, but it was a lot more fun and emotionally engaging than we had done in the past," says Kurvits.
Digital engagement has also increased, including a revamp of McCain's website and launch of its social media plan in August 2011. In the past year, McCain has been active on Facebook, with plenty of food-related photo contests, puzzles and games, amassing almost 50,000 followers.
Crees says the brand will increase its sampling efforts, continuing programs such as its partnership with CBC's Being Erica last year, which turned a cameo audition into a giant tasting as wannabe-thespians ate a slice of McCain's pizza on camera for the chance to appear on the show.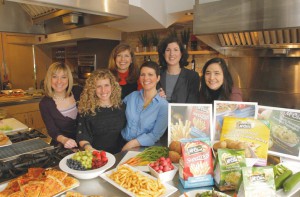 And, of course, Crees says it'll begin working out new dessert creative now that the products are ready after three years of development.

"Candidly, it's taken us a while to figure out how to [re-launch desserts]," she says. "When we made the 'It's all good' change to our Smiles product [kid-focused potatoes], it took us 70 tries. The desserts are well above the hundreds in terms of iterations we worked through."

Mykolyn wouldn't dish on what the new creative will look like, but says "You can bet that 'It's all good.'"