Biotherm continues push into men's skincare
With a new anti-aging serum, the L'Oreal brand is trying to grab hold of loyal skincare users in an increasingly competitive market.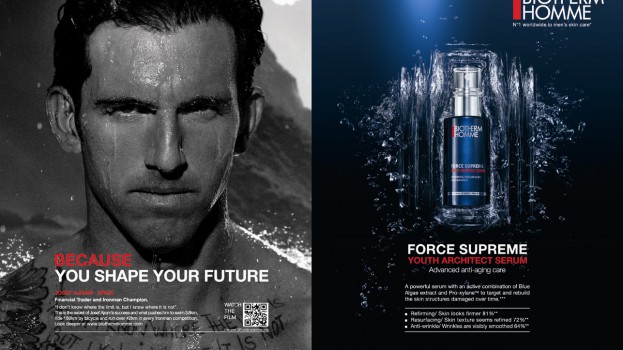 The L'Oréal Biotherm skincare line is launching Youth Architect, its more powerful anti-aging serum to date, targeted at men.

The new serum, which hits the shelves in November, follows Biotherm's first foray into the male skincare market, introduced by its "Live like a man" campaign this past summer.

The new line builds on "Live like a man" with the tagline "Because you control your own future."

"The [creative] speaks to men and how they live," says Minh-Dan Tran, marketing director, Biotherm Canada and US. "It's fun and engaging. We're saying men can take control of their skincare regimen and take care of what your future skin will look like. You can reduce your wrinkles and fine lines, but still very much be a man."

Youth Architect will have distribution at every Biotherm retailer, with promotional emphasis on in-store signage and a strong sampling campaign, as well as promotion on its e-commerce site and through social media, as the brand forgoes a traditional media buy.

This new product continues Biotherm's push into the rapidly heating-up male market, which represents a huge growth opportunity for the brand, says L'Oréal CMO Marie-Josée Lamothe, and builds on its existing line of eye care cream, anti-sweat moisturize and dry skin moisturizer. Anti-aging allows the brand to tap into the population of baby boomers who place a higher emphasis on their looks than generations past, she says.

While only 40% of men use some sort of skincare line, those who do remain brand loyal, marking it a great point of entry for life-long brand affinity. The campaign is meant to encourage active skincare users to make the switch to Biotherm or bolster their skincare regimen, as well as reach the 60% of men who might not be using any products at all.

Creative highlights its brand spokesperson Josef Asjram, a financial trader and Ironman champion, whose personal motto is "I don't know where the limit is, but I know where it's not." This marks a shift in Biotherm's creative away from "non-descript" male models towards real-life interesting individuals, says Tran, something that will continue into the 2013 season.