Editorial: Finding the sweet spot
Strategy's executive editor Mary Maddever on why mass advertising still matters.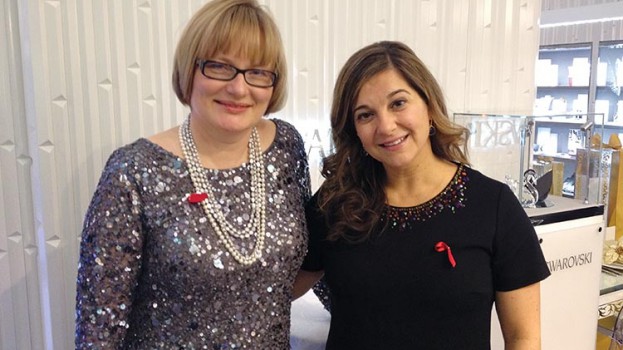 Strategy's overall Marketer of the Year winner, Mary De Paoli, put Sun Life at the top of the awareness battle in the insurance category (beating out most banks), and is the first woman and CMO on the global executive committee. She was nominated, and won, for injecting attitude into a category that needed it. From the fun singing spots that signaled a new direction to this year's smile-inducing campaign, De Paoli (pictured (right) at Canfar's Bloor Street Entertains) embraced brand advertising to imprint a new optimism on retirement planning.

As L'Oréal Canada took first place across all its categories this year, Marie-Josée Lamothe made the top marketer ranks for digitizing the brand experience and promoting L'Oréal brands with unique content around TIFF, Toronto Fashion Week and Canada's Got Talent – with no overt product-specific pushes.

Shopper's Sandra Sanderson reached out beyond the store, flyer and CRM channels this year with the largest media buy to date for the uber-integrated 50th campaign. She also relaunched Optimum, with an eye to expanding the circle of Canadians addicted to racking up points.

Sport Chek's Duncan Fulton, a passionate advocate of tech (currently plotting Canada's most integrated digital retail experience), also went from product-specific pushes to doubling down on brand image advertising.

And P&G's David Grisim oversaw the multi-brand mega-Olympic program in Canada. He also saw the impact of a P&G brand-level push when the online film thanking moms went massively viral and then to the masses via TV.

So it seemed like a good time to bat around an idea sparked by the overwhelming response to the P&G Olympic film: Has the industry as a whole stepped too far back from mass emotion-inducing brand image advertising?

This is not to say that all the transactional, targeted digital, social, experiential work is not valuable. It is. But it is part of a conversation that needs refueling from time to time to reinforce feelings and welcome new people.

Mass advertising is obviously not just TV spots, it's any piece of an integrated campaign. But while judging the Epica Awards, I noticed many Online Film entries were more suitable for Integrated – and often more stunt summary than engaging. Maybe transmedia mastery hasn't kept pace with volume, and budgets don't cover excellence across the ever-growing touchpoints. But since you may only have one shot, shouldn't each element be powerful enough to stand on its own?

Which brings me back to film, and yes, TV. I asked senior ad execs if the focus on product-specific quarterly objectives and new niche initiatives has tipped the balance too far away from brand advertising. The answer was yes. But, if an agency recommends TV to brands that need to push mass emotional buttons, they could be perceived as money-grabbing dinosaurs. Marketers also face a hard budget battle.

So at the risk of sounding not on-trend, our roundtable explores this issue, with some ROI evidence showing "commercials" get shorter shrift than is bottom-line wise in our quest for the new.

Congrats to all the Marketers of the Year, who have found a sweet spot in that balancing act, and happy holidays to all!

Pictured above: Maddever with Sun Life's Mary De Paoli (right).