Maybelline stocks up for stocking stuffers
The L'Oreal line kicked off three holiday collections tapping into the growing nail trend and high demand for coloured lip-balms.
L'Oréal's Maybelline decked the aisles this holiday with three seasonal collections launching in store. The brand picked its surprise hits of the year, Baby Lips lip balm and Colour Show polish and stickers, to anchor its holiday push, with semi-permanent floor units across major mass and pharmacy chains. The three lines, which will only be available in December, were created with the idea they would make their way into Christmas stockings and priced to make them appealing to passersby, says Katie Green, manager of brand communications for Maybelline, Garnier and Essie, L'Oréal.
"Maybelline hasn't had a really solid nail line in a while," says Green. "What we have been seeing is that nail is truly the next big trend. The most accessible accessory is to do your nails. When we launched Colour Show, it was all to play on the idea of trends for your fingertips."
The Colour Show nail sticker collection is the first time the brand has ventured into the sticker category, she says. With prints such as alligator and geometric burnt-orange on the shelf, the line is built around the growing trend of nail art. While stickers have been around for a while, Green says they've typically targeted a much younger demo, often featuring hearts and other youthful prints. With the Colour Show line, Maybelline is targeting a more grown up audience.
The stickers will live with its Colour Show polish collection, which follows the line's successful launch earlier this year. Its holiday line taps into sequins – a staple of Christmas fashion – to help sell the polish.
Creative for both stickers and polish features black and white models with only the nail in colour. Most of the creative is focused in the aisles, all done in house, but it is supported by a print buy, by ZenithOptemedia, and a PR push.
Maybelline's put a big push behind nails this year, tapping into the growing trend bolstered by the popularity of image sharing sites, where pics of nails are prevelant.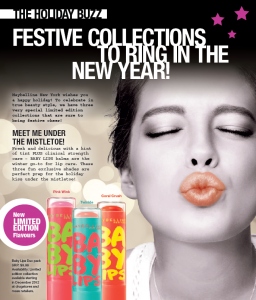 Alongside its nail promo, its other big holiday focus is its Baby Lips lip balm line. Launched in 2011, Baby Lips proved to be a sleeper hit for the brand, prompting the holiday release. The younger-skewing product offered Maybelline, a usually edgy and fun brand, a chance to tap into its playful side with names like Twinkle, Pink Wink and Curl Crush with creative featuring models blowing brightly coloured kisses. Its biggest marketing push will be in the aisles, but it will be supported through a social media and PR push.