Beer borrows vineyard techniques
Amid falling sales for mass brands and increased competition from craft beers, wine and spirits, the big beer cos copied a page out of wine marketers' handbooks.
Hold up the glass to the light to examine its amber colour, says Justin Lamontagne. Give it a bit of a swirl to release the flavours, and draw a few short sniffs to get a sense of the aromas (hints of coffee and chocolate). Next to him, there's a drawer full of spices in jars, including nutmeg, allspice, cinnamon and bubblegum to help people identify what they smell. Now take a sip to cleanse the palette, followed by a deep gulp – it's got a light caramel taste, but then goes down bitter.
This is not a whiskey or a wine tasting, although Lamontagne, national trade manager of Six Pints, Molson Coors craft brewing arm, says the process is remarkably similar. This is a beer tasting.
He's laid out a platter of cheese and a flight of four small glasses of beer, all brewed in house at the Beer Academy, which serves as a head office for Six Pints, as well as an event space, and a place for consumers to grab a pint after work. But most importantly, the Beer Academy in downtown Toronto is meant to educate people about beer and is part of a growing movement by the big beer cos to turn the tide on falling beer sales.
"For a long time, beer sold on sex and sport and against each other," he says. "What we're trying to do is celebrate beer for the sake of beer. To do that, we took a page from the wine connoisseurs' handbook."
Once upon a time, beer handily dominated the marketplace, with a 52% share of all alcoholic consumption as of 2000. But over the past decade, beer shares have consistently slipped, now sitting now at 45% of all alcohol purchased, while wine captured a 30% share (up from 23% in 2000) according to Statistics Canada.
Add the increased marketing presence of spirits (with a boom in flavoured liquors) and the popular craft-brewing movement, and a recent BMO analysis says domestic brews will have a hard time recovering the ground they lost over the past decade.
This is due largely to the rise of millennial drinkers who don't identify with a particular alcohol and a health-conscious aging population, with a more discerning palate.
Beer has traditionally offered a limited range of flavours, says Bensimon Byrne's Max Valiquette, managing director of strategy, where he works with Canada's biggest wine producer Constellation, and has worked with Molson as a consultant in the past. The marketing message was women in skimpy outfits, and the taste was "cold," he says. "Now consumers are demanding an entirely different experience out of beer than they were before."
Digital and social media accelerated the pace at which consumers choose new and different products, exploring taste and flavours based on friend recommendations and the ability to easily search out new styles (such as light porters or India pale lagers). Where once people were ardent beer or scotch drinkers (or even Canadian or Blue drinkers) now, they're whatever-suits-their-fancy drinkers.
To combat this, the past few years has seen a flurry of activity from Molson Coors, Anheuser-Busch Inbev (brewers of Labatt and Kokanee), Moosehead and Sleeman, with the introduction of new cocktail-inspired beers, such as Bud Light's Lime Mojito, and the gobbling up of smaller craft arms, such as Sleeman's purchase of Unibroue, providing intriguing options to please the consumer's more adventurous palate. But more choice results in more competition for coveted share and an increasingly crowded shelf.
"It's what wine has always been about," Valiquette adds. "You've always had a huge number of choices and then expect the experts in your network to recommend a wine." Wine, in essence, has always been about helping the consumer make the right choice at the right moment – be it at the dinner table or before a party, through wine reviews, a sommelier's suggestion or an eye-catching award-boasting package.
Food pairings, enhanced retail experience and education designed to help consumers choose the right product are just some of the wine-like methods beer marketers are testing, notes Valiquette. Re-educating the consumer is where efforts like the Beer Academy come in.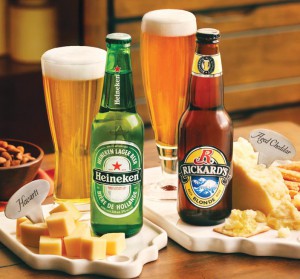 Consumers are taught how to taste beer properly, how to pair with foods, what glassware fits which style of beer (a long thin glass for a lager versus a tulip-shaped glass for a darker ale) or even peek into the brewing process – a remarkably similar experience to better-known Niagara wine-tasting tours.
"A more educated population will help bring more people to beer. We're not going to tell a craft-beer enthusiast anything they don't know," says Lamontagne. "We're here to connect with people who are new to beer or aren't familiar with how beer can accommodate different purposes."
The Beer Academy has seen steady growth since it opened in June 2012, and beer tasting classes fill quickly. It is a model Six Pints wants to explore nationally.
Six Pints, a subsidiary company of Molson, was created when the brew giant purchased Ontario's Creemore and B.C.-based Granville Island craft brewers and operates independently of the parent. But Debra Kavchak-Taylor, VP beer reverence, Molson Coors, says the Beer Academy offers a great opportunity for Molson, offering an upward halo-effect and helping to dispel some myths surrounding beer (such as it only pairs with chicken wings and its occasion-range is from the sports arena to the dock).
But Molson Coors hasn't invested all its educational eggs in the Beer Academy. It has taken a more teaching-friendly tone in some of its marketing efforts, she says. Her position – VP beer reverence, created in late 2011 – is dedicated to promoting the love of and igniting passion for beer across all of Molson's brands. She's the new beer cheerleader. She regularly hosts beer and cheese tasting classes (which she says is a better match than wine and cheese), teaches employees to do the same, and works with the different marketing teams to create promotions across multiple brands.
"It's amazing how many opportunities we were missing because it was a beer opportunity, not a brand opportunity," Kavchak-Taylor says.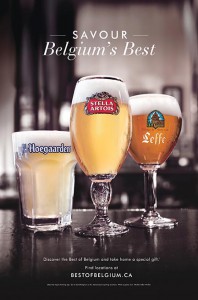 She points to the November "Made to Match" campaign – which drove back to Thebeerhost.ca and promoted beer and cheese pairings – as an example of a cross-branded "love of beer" promotion, rather than a Heineken or Canadian push.
The campaign, by Potion and supported by radio, mobile, digital, and social media, featured a branded-free guide on how to introduce beer into cooking, a beer and cheese pairing guide (such as lagers with Havarti), and instructions on which glasses were best for which styles. Drill down deeper and consumers will find suggested cheese pairings for Molson brands. Hard-copy recipe books were distributed, while QR codes downloaded ingredient shopping lists to users' smartphones. The website scored more than 88,000 visitors, more than 2,000 recipe books were dished out and 2,800 QR codes were scanned.
And while she says her inaugural year in the role was largely spent building the love of beer internally (with a pickup of consumer-facing marketing efforts in the latter half of 2012) a bigger outward push, with more teaching-style events and cross-brand campaigns is slated for 2013. "We're going to start spreading the love."
At Unibroue, Sleeman's mass distributed craft arm, its beer sommelier leads the love-spreading charge on education. Speaking at more than 150 events a year at liquor and grocery stores across the country, Sylvain Bouchard leads classes on how to taste beers and what to look for, but he also has a crucial role in telling the story behind Unibroue's product lineup, says Patricia Gagnon, director of marketing for Unibroue.
Each of its brands have carefully crafted myths behind them, such as La Fin du Monde, brewed in honour of the first Canadian explorers who believed they had reached the end of the world when they arrived in Quebec.
But while Bouchard preaches the story to live audiences and digital gives the beers' tales a virtual life, with 80% of its sales occurring at retail Unibroue relies heavily on its packaging to sell its story…and itself.
Wines often win the consumer at the shelf level, with bottle and label design helping brands stand out or give the appearance of prestige through a prominent display of award wins, abetted by signages indicating scores and rave reviews. Within the beer world, labels offer little in the way of differentiating (Sleeman, Molson Canadian and Labatt Blue all feature the maple leaf prominently, while Alexander Keith's and Moosehead both feature antlered deer).
Unibroue's labels, on the other hand, feature reproduced paintings by Asaf Mirza, with everything from a castle beside rapids to canoeists paddling towards a devil.
"It's art," says Gagnon. "That's why it's different." And it's working. Since 2004, Unibroue has seen its share rise steadily, while the rest of the beer world's dips.
It helps that Unibroue's award-winning selection (which is also often prominently featured on packaging) offers a wide variety of flavours, making it easier to connect beer with food. This allows gastro-pub and foodie-like restaurants to embrace the brand. For example, its Noir de Chambly with traces of coffee and licorice is perfectly paired with sushi, while it's Don De Dieu with hints of fruitcake and vanilla complements sausage or white meats.
"Historically, people look at wine as the beverage of choice to be paired with food," says Arielle Loeb, director of marketing for high-end and specialty beers at Labatt. "But the conversation around beer and food is centuries old in Europe. We're just starting to see it emerge in North America."
She points to the "Best of Belgium" campaign around Labatt's Belgian brands, Stella Artois and Leffe (Blonde and Brune) as a good example. The 360 campaign, by Toronto's Grip and U.K.-based Mother, extended the brand story and changed perceptions beer and fine food don't mix.
The traditional TV and OOH was complemented by a retailer and restaurant partnership at Toronto's Bier Markts highlighting food pairings as well as educating consumers on beer glass etiquette. Four thousand booklets with recipes and the beer's history were distributed to bring the message home with consumers. The Bier Markt saw a 44% sales lift for the trio of brands, and gave out more than 60,000 free sets of glassware at 190 retailers to emphasize certain beers need to go in certain glasses.
Pairing with food was just one component of this campaign, but it's also something Loeb expects to see more of in the future.
Of course, while food pairing and a more shopper-friendly experience will help beer compete in an increasingly wine-friendly environment, Loeb recognizes that changing attitudes towards beer won't happen overnight. "You walk into restaurants and you see wine glasses on the table," she says. "This is a long-term proposition."