Shoppers unveils Carnaby Sweet
As part of its efforts to reposition the Life brand as health care products, the pharma-retailer is donning a new name and look for its confectionery line.
Just in time for Valentine's Day, Shoppers Drug Mart is rolling out a chic new candy line in place of its Life brand. Carnaby Sweet will be sold at both a premium and regular price point, and will offer all the candies formerly under Life.
"It's going to be a wide selection of the classic favourites," says Tammy Smitham, VP of communications and corporate affairs, Shoppers. "[Carnaby Sweet] was chosen to inspire memories and create an elevated experience. It's reminiscent of Carnaby Street in London. When you think of high-quality confectionery items, people tend to think of the U.K., so this was inspired by that."
The product was launched in time to capitalize on the Valentine's Day shopper, she says, allowing the retailer to tap into existing in-store Valentine's Day promotional efforts to help introduce the line, adding that Life had traditionally done well in the seasonal confectionery sales. Dedicated marketing efforts for Carnaby Sweet will roll out after Easter and will include online, flyers and social media pushes.
The name, packaging and offerings, done with design house Pigeon, are meant to create a more premium product than its predecessor, she says, adding this is part of a larger move to reposition Life as a health brand, rather than a catch-all private label line.
"We did a lot of consumer testing around Life and we know our consumers trust it most for things like OTC [over the counter medication], oral care and other health products. So we've undergone some changeover in our regular foods," she says.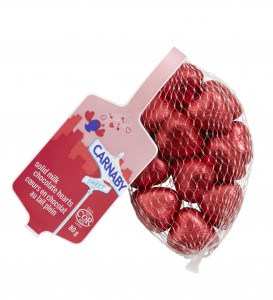 Carnaby Sweet is the fourth rebrand by the retailer, and follows the 2012 introduction of Simply Foods, its national everyday food product line; Nativa, its organic food line; and Everyday Market, its discounted food line in place of Life.