Country Style's sunny rebrand
The QSR updates its image to push its breakfast offering and stand out amidst heavy competition.
With its brown and olive green colour scheme, and menu boards that lack blown-up food imagery to induce salivation, Country Style stores were starting to look outdated. Before agency Lg2 was handed the reins to design a new experience for its first non-Quebec client, Jason Chaney, VP strategy, says the QSR was headed toward becoming more of a quick-serve deli than a charming café, and lacked the warmth of the small town vibe reflected in its name.
Historically, the chain depended on its coffee products to drive store traffic, but with McDonald's having entered the market with its own java beans, and intense competition from Starbucks and Tim Hortons, Country Style decided to differentiate by shifting its focus to the most important meal of the day.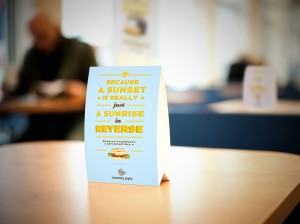 Extensive research done prior to the rebrand found the "consistent frustration [among consumers] was that the breakfast menu ends when they need it most," says Chaney. So the brand responded by launching new advertising in mid-February that highlighted its all-day breakfast menu. Billboards read, "Breakfast time is whenever you're reading this" and radio spots aired at times when competing QSRs switched over to their lunch menus.
A complete redesign of in-store materials saw the agency inject brighter colours into the previously two-tone store. Chaney says the agency "wanted to bring a notion of connection and friendliness into the graphical elements" of the advertising and in-store materials, as well as deliver a more contemporary versus classic country design. "The [redesign] is about carrying through that friendly, personable relationship that you would usually see in the countryside or small town," he adds.
The sun iconography, as well as warmer yellows and softer blues on menu boards, coffee cups and bags, give the overall look of the store a personality jolt, while simultaneously mirroring the brand's strategic shift in its menu focus.