Dare merges with RocketXL
The digital and social media agencies are joining under one roof to better offer business solutions in a digital environment.
Digital agency Dare has merged with social media shop RocketXL, folding the latter into the ranks. The agency will remain Dare and be headed by Peter Bolt (top right), SVP managing partner. RocketXL's VP general manager Ian Barr (bottom left) will move into the role of VP of social and innovation in the senior ranks.
Because both companies operate under Vision7 International, there was no financial transaction between the two agencies, simply a "combining of resources," says Bolt.
He says that while RocketXL first offered social media creative, it began expanding its offering to clients, leading to its focus as a digital agency and making it a good fit with Dare. The company will be better poised to offer whole business solutions rather than just advertising campaigns as a result of the merger, he says.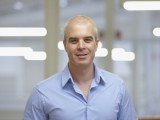 RocketXL has offices in Toronto, New York and Los Angeles (the latter two will remain under the RocketXL name for the foreseeable future, though folded into Dare), while Dare works out of Toronto, Vancouver, London, Singapore and Bristol.