Shopper Innovation Awards: Changing behaviour
Changing consumer behaviour is never easy, yet Unilever and PepsiCo manage to do it, winning Silver and Bronze respectively.
SILVER

Unilever & Shoppers offer beautiful hair
To become a leading hair care destination, Shoppers Drug Mart partnered with Unilever to target a female audience of "solution seekers," who are highly motivated to try something new if they believe it will help solve a hair care problem.
The four-week "30 Ways to Beautiful Hair" program, created in partnership with Ariad Communications, was designed to help female shoppers quickly identify, select and purchase the products required to achieve a desired look.
Consumers were greeted with end-aisle displays in stores, and do-it-yourself styling cards were merchandised next to corresponding Unilever products that could be used to achieve one of the 30 different styles. In print, four perforated DIY styling cards were included as a special insert in Glow magazine, and the program was also featured in the Shoppers flyer. Cityline featured the program in its "Fashion Fridays" segment, and the partnership also included in-store demonstrations leveraging Nexxus celebrity stylist Tony Masciangelo at a high-traffic Shoppers location.
The Shoppers and Pharmaprix websites hosted "30 Ways to Beautiful Hair" online styling hubs with interactive styling information, and users were able to filter looks by hair type (such as Curly & Waves, Smooth & De-frizzed, Volume, Short and Everyday). The program also utilized Shoppers' Optimum loyalty program, offering bonus points for purchasing three of the recommended Unilever products.
The hair care category experienced 9% growth during the four-week period, and another 10% growth in the styling category (reversing the 52-week decline of -1%). The program also garnered more than 2.5 million impressions, with the Shoppers website having received more than 800,000 page views.
Credits:
Client: Unilever
Agency: Ariad Communications
VP marketing: Sharon MacLeod
VP, Ariad Communications: Tracy Smith
Team lead shopper marketing: Bill Carlson
Shopper marketing manager: Stephanie Conrad
Senior AD: Sofia Costa
CD: Rob Ciancamerla
BRONZE
PepsiCo celebrates the 'Power of One'
PepsiCo, with its extensive portfolio of brands, has long promoted its soft drinks and snacks under the banner of "Power of One" (with marketing that combines its top food and beverage products).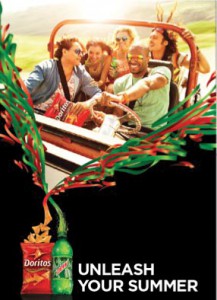 However, the promotions are usually sporadic and at store-level, with no consistent creative or visual identity to tie the programs together. Capital C was tasked with linking the company's products, such as Pepsi and Lay's or Mountain Dew and Doritos, to develop a "Made in Canada" brand solution that would be brought to life across U.S. markets.

To capture the feeling of celebration, PepsiCo used the symbol of streamers to illustrate that its products can be a part of consumers' moments of celebration.

The company leveraged its sponsorship of the NFL for the soft launch. For example, in Indianapolis, the company executed a huge OOH takeover of the city for Super Bowl XLVI. And during the summer, the first-ever national awareness campaign for PepsiCo "Power of One" products rolled out, with the company executing an OOH component in major U.S. markets such as New York, Dallas, LA, Chicago and Baltimore.

Capital C developed creative that showed everyday occasions relevant to families across America, with examples of two PepsiCo products emitting streamers and the tagline "Soak up summer." The OOH campaign also included a domination of transportation hubs in the NYC area such as Grand Central Station and Penn Station.

Credits:
Client: PepsiCo
Agency: Capital C
CCO: Bennett Klein
CD: Milan Sukunda
Senior ADs: Steve Gauder, Donovan Bond
AD: Barb Vrhovsek

Tracy Smith was mistakenly credited as the Shopper marketing manager for Unilever's "30 Ways to Beautiful Hair" when in fact it was Stephanie Conrad. The online version has been updated with the correct name and title.