Mucho Burrito does a taco tango
The brand has launched a radio and mobile campaign to promote its limited-time offering of three new tacos.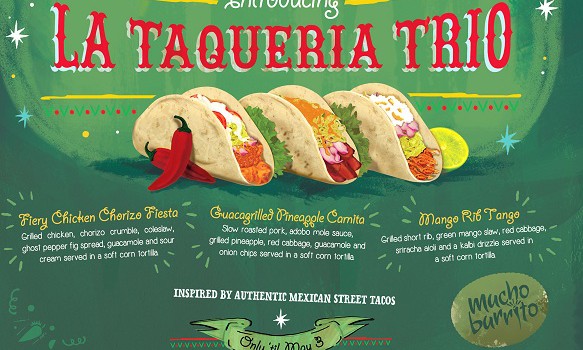 Mucho Burrito is adding a little fiesta flavour to its line-up, with a campaign for its recently launched "La Taqueria Trio" promotion, which features a series of new taco offerings, including fiery chicken chorizo fiesta, guacagrilled pineapple cornita and mango rib tango tacos.
The campaign promoting the new menu items targets 18- to 49-year-olds, with a slight male skew, and features creative by Doug & Serge, a digital buy and planning by Cairns Oneil Strategic Media, and a radio buy by Active Media.
It relies on a 30-second radio spots on Toronto's 102.1 The Edge and Chum FM, as well as stations in other Mucho Burrito markets, like Barrie and Edmonton. The campaign will also feature mobile banners on the Urban Spoon app and the UFC's mobile app and mobile website. Mucho Burrito's Facebook page is also hosting a contest that offers a prize of free tacos for a year.
Sherry O'Neil, partner, Cairns Oneil, says the campaign marks the first time that the brand has invested in a mobile buy.
The radio spots will run for three weeks, while mobile ads will run until the end of the promotion on May 3.