GM gets help from future leaders
Paul Bailey, ad integration manager at the car co tells strategy how involvement in Canada's Next Top Ad Exec program helps drive the company's creative and media plans.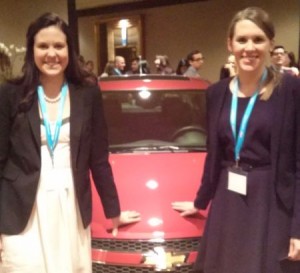 Last night Kennedy Crawford and Alyssa de Hoop from Guelph University (pictured) were crowned as the winners in this year's Canada's Next Top Ad Exec (CNTAE) program, each taking home a prize pack that included a scholarship and a 2013 Chevrolet Cruze for planning a campaign that increases market share for the car co's 2013 Chevrolet Equinox in Canada.
The student-run program is now in its seventh year, and General Motors has been on board for the past four as the brand that students must plan campaigns for in order to win the cash and prizes.  This year a group of 10 finalists were picked from 114 submissions representing 30 universities across Canada.
Paul Bailey, advertising integration manager, General Motors of Canada, says the car co is involved with the program because it helps them work with the next great leaders in the business, as well as potentially find interns and campaign ideas. He says three students in this year's CNTAE were offered internships at the car co, and all campaign ideas submitted for the contest are kept by GM, and potentially used in future work.
"The first year we worked with CNTAE we were launching the Cruze, and the tagline for the launch ('Don't just drive, Cruze'), came from some of the students that had participated in the contest," says Bailey. "And another year, some students proposed launching the Sonic alongside other cars at the same time, like the Volt, which we ended up doing. Every year there are some really great nuggets that come out of Canada's Next Top Ad Exec and they are things we like to integrate wherever possible."