3D printing goes mainstream
The industry weighs in on how agencies and brands are using the tech now, and how they may use it in the future.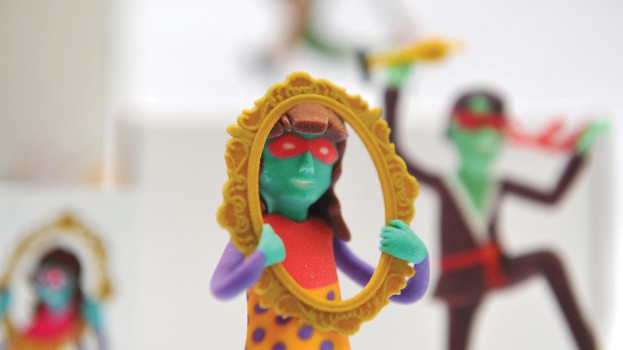 While 3D printing is a still a relatively young technology, it's rapidly becoming affordable (printers run as low as $500, but the plastic filament is pricey). Since 3D printers used to be prohibitively expensive, most brand executions tend to still be gimmicks, says Tribal DDB's technology director, Joe Dee, pointing to projects like Disney's "Frozen in Carbonite," which takes photos of theme-park visitors and prints figurines of them in the vein of Hans Solo's iconic Star Wars scene, or its "Princess Experience," which creates custom Disney princess figurines for young girls.
Alan MacDonald, partner, innovation, at Naked Creative, who saw the tech at SXSW, says curious agencies are bringing the technology in-house, not necessarily to incorporate in marketing efforts, but to play around with. He points to Amsterdam-based Resoluut, which recently did away with business cards in favour of customized 3D-printed figurines (pictured above). Each "card" is modeled after the employee and dressed up like a superhero, with the contact info imprinted on the base. Both Dee and MacDonald anticipate gimmick-led stunts will continue for the next few years as brands try to figure out how to build the technology into their communication efforts.
But with the cost now paving the way for mass adoptions, MacDonald is looking beyond the novelty value to a reward or revenue stream opportunity for companies to hand out 3D designs to consumers. For example, a luxury retailer like Harry Rosen could send out limited-edition cufflink designs to its loyal consumer base, and those with the printers at home could easily print their own version, while those without could pop into a nearby store to have them made.
Bensimon Byrne's managing director of strategy, Max Valiquette, concurs, adding there is a huge opportunity for companies to create personalized experiences in stores, creating customized add-ons for products. For example, after a sale, Virgin Mobile could offer to print a custom phone case or perfectly-molded headphones for its customers. But he cautions brands not to get lost in the hype. "The challenge is that while I do think it's the future – and I mean immediate future – the technology itself is so cool, it's hard for brands to do something with it and not [have everyone] focus exclusively on the 3D printing and not on anything else."