Next Media Stars: Amanda De Fields chalks up a digital strategy
The MediaVest digital supervisor launched an execution that gave consumers a chance to create cafe chalk art without ever leaving their digital device.
Giving consumers a chance to create chalk art without leaving the comfort of their digital device was the concept behind Kraft's execution for Nabob that Amanda De Fields, digital supervisor at MediaVest, pitched to AOL Canada and Huffington Post Canada.
As the first execution of its kind in Canada, the ad featured digital chalk boards on the sides of the sites for visitors to draw on and was meant to promote the launch of Nabob's new Bold Blend and Whole Bean coffees by evoking feelings of indie coffee shops.
The design-it-yourself digital creative was aimed at attracting a new audience of 25- to 54-year-olds with sophisticated coffee tastes. De Fields says the brand is typically thought of as old-fashioned, and the idea behind the launch was to change people's mind about the coffee company.
"Typically Nabob is really big out West because there is a heritage there, but in the rest of Canada it doesn't really have that spot," she says. "People have a view of the brand as being slightly out of date."
The digital piece also provided a link to the rest of the campaign's creative, which included a street artist creating chalk art on transit ads in cities, including Toronto. TV spots in the campaign also featured chalk drawings, says De Fields.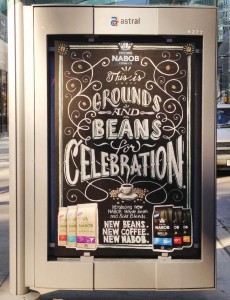 "Nabob hasn't done tons of digital in the past, so this was a bigger leap for the brand," she says of the interactive chalk-art digital ad. "In the TV spot you see people using the chalk, and this execution was about allowing people to do it themselves."
De Fields, who joined MediaVest in 2010 and works as a digital lead on the Kraft account, handling projects for more than 20 brands from the company, has also led the charge on other Kraft programs. Notable among them was the multi-year "Real Women of Philadelphia" campaign, which had people submit videos for the chance to win $5,000 and be part of the Philadelphia Cream Cheese's online channel.
She was also behind the launch of an "Oreo Cakesters Sports Zone," within the Microsoft Xbox Kinect 360 Experience in Toronto, which included live tournaments and product sampling.
Despite her digital focus (and professed love for online videos), De Fields started her career in traditional media planning after graduating from Sheridan College, and made the jump to digital when she started at MediaVest. She was originally on the creative path after attending a regional arts school, but says she discovered media was the best way to bring that passion to life through a paying career.
Up next for De Fields is an extension of last year's Mio launch, which got over one million YouTube views for its kick-off commercial last spring. Not bad for a water enhancer gel, which Kraft bravely targeted to men.