Strum launches, rewards customers for brand interaction
The new iPhone app provides a direct communication line for customers to speak with local Toronto retailers and restaurants while in their stores.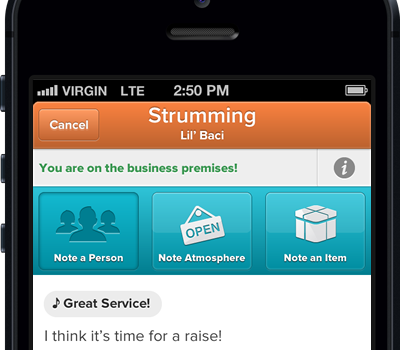 Social media platforms, for the most part, are used to build personal family and friend relationships. Yet brands find their way into the community, creating their own social content to build a rapport with customers.

For Andrew Smith, this causes more of a disruption than an addition to the conversations that exist on platforms like Facebook and Twitter, which is why the former head of strategy and development for BCE and Bell decided to introduce what he calls "the world's first customer-to-business platform."

The newly launched Strum mobile app provides users with a direct line of communication with their preferred local business owners at the moment they're inside their stores, he explains. The location-aware iPhone app allows them to message the business directly by giving praise (when pressing the Strum button in the bottom centre of the app) to a specific server in a restaurant or the atmosphere of a store, as well as send personal or private messages to the business owner.

For each interaction with a business, the user receives points, which can be used to bid on promotional items in the "Strum Auction," such as a free coffee at a nearby café or a knapsack at a local sports retailer. This personal exchange of rewards for simple actions, instead of purchases, is part of an emerging trend reported in a recent study by design and tech consultancy Nurun where companies like Xbox and Shopkick reward customers for completing brand surveys or simply walking into stores.

"Strum is a marriage of a social mobile app and a business web portal that allows businesses to see their customers for the first time," he says, noting that users can "favourite" up to 20 different businesses to receive additional rewards and perks from their preferred retailers. "It's a customer instrument. It gives [customers] what they want, which is a quick way to speak [to businesses] when they want and provide rewards for their simple interactions."

The app launched early June, after two months of beta testing with 50 Toronto-based retailers and restaurants, including Sport Chek's Retail Lab and The Churchmouse & Firkin. In the first week of launch, the company had partnered with another 25 businesses, which pay a placement fee to place items in the Strum Auction, as well as a distribution fee to send targeted rewards to customers. Smith would not disclose the number of users currently registered for the app.

Strum is currently being promoted on 140 digital screens in the Sport Chek Retail Lab store as well as through social media and online bloggers. Each participating business is also given vertical postcards to alert customers that they are on Strum, says Smith.