Animation domination
There's been a boom in animated spots lately. We round up some great ones.
"Dumb Ways to Die" may get all of the attention (and awards – Google it if you've been under a rock), but there's been a boom in animated spots lately. Here's a few great ones you may have missed.
Pogo's love story
Characters: A pair of battered hot dogs on sticks named Marie and Luc.
Story: Who knew Pogos, the Mississauga-based ConAgra brand, led such romantic lives? Two animated Pogo sticks go through the new-romance motions: feeding the birds in the park, tanning on the beach, dancing in the club. That is, until disaster strikes and Mr. Pogo finds his beloved sipping on ketchup. He's a mustard man, and in Pogo-land, there can be no double-dipping.
Catchy song? No, but soft Parisian-style piano plays in the background while the French narrator walks us through the romance.
Life is in the details: This is one educated Pogo. He's reading Voltaire while sunning on the beach.
Agency: Blammo Worldwide, Toronto.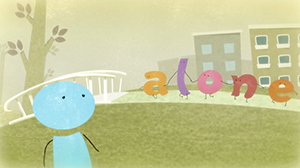 Dave Thomas Foundation's adoption tale
Characters: The lonely orphaned I and the future parents M and F.
Story: Poor I. The orphan animated letter feels all alone in the world. That is, until he's adopted by M and F, who show him that being in a family is a happy place.
Catchy song? Definitely. While the animation is adorable, the song, by audio studio Grayson Matthews, makes the spot worth re-watching. Is that a ukulele?
Life is in the details: The ants that run across the family picnic are actually all the letter A…get it? For ant.
Agency: MacLaren McCann, Toronto.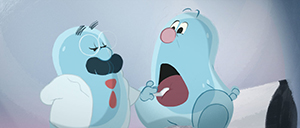 The Ben Towne Foundation's mighty hero
Character: T, who becomes Mighty-T.
Story: T is a cell wandering through life taking care of viruses and germs, until one day he meets a mean 'ol cancer cell he just can't tackle. With the help of Seattle-based Ben Towne Foundation (which works with youth with cancer), T becomes the Mighty-T, capable of conquering the nasty bugger.
Catchy song? Not really, just a '50s-style jazz tune – but there's a celeb cameo by Joel McHale  from Community and The Soup.
Life is in the details: As T is pumping iron, the narrator breaks the fourth wall when he says cheekily "We'd love to play the Rocky music for you right now but…we cannot afford it."
Agency: The Academy, Seattle.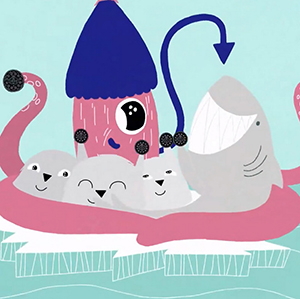 Oreo's wonderous tune

Story: Not so much a story as a melee of "what if we gave an Oreo…" to various characters, including the Big Bad Wolf, creepy vampires or great white sharks. In a cookies-and-cream filled world, wonderful things would happen.

Catchy song? Indeed. This theme, sung by American pop artist Owl City, would not feel out of place on a hit music station.

Life is in the details: The animals in this video may not wear clothes, but they do like their hats: the Big Bad Wolf sports a fez, while the friendly squid at the end looks cozy in a toque.

Agency: The Martin Agency, Richmond, VA.

Watch all these spots on stimulant.