Next big things of the past: hits and misses
A selective list of ideas - some that fell short and some that were on the mark - covered in past pages of strategy.
As we worked on this issue of strategy, we pondered the fate of past "next big thing" ideas covered in our pages. (One finding: we ask the question "Is this the next big thing?" a lot.) Here's some ideas that prospered and others that sputtered.
Fell short
The disc's lost lustre
How could we have predicted the existence of Netflix when we wrote in 2003, "DVD marketing may be the next big thing." After all, DVD marketing had picked up, with some folks cross-promoting products with hit releases and others making direct-to-DVD films to hock products. At the time, Mark Workman of L.A.-based First Fireworks Group noted the medium had a high "pass-along" lifespan because it could be viewed in multiple places. Today, people view in multiple places, sans DVDs.
Failure to launch
In 2008, flying logos (pictured above) sounded promising when we covered it in our "What Next" section, with Disney planning to float Mickey Mouse-shaped Flogos at its theme parks. Now, a smattering of companies offer floating ads but we haven't seen it take off.
On the mark
Holy Grail 2.0
In 2000, Mark Relph, then with Microsoft Canada, called personalization the "Holy Grail of the digital age," and looked at using digital tech to learn about customers so offers could be targeted to them. If you've ever thought Facebook was reading your mind with its ads, this should sound familiar.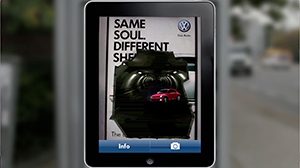 Look ma, no maps

In 2009 we suggested that advertisers could take advantage of augmented reality, noting an android app, Enkin, could take map data, such as store names, and display it on a phone's screen over real-life locations. Brands have used AR in interesting ways since. Notably, in September 2011, Volkswagen's "The Beetle Juiced Up" campaign (pictured, left) let people use smartphones to view virtual car stunts on billboard ads.

Jury's out

QR codes

In 2011, the death of QR codes was being predicted in these pages while near field communication was being boosted. Two years later, marketers still use QR codes, though it's not clear who is scanning them. NFC, on the other hand, still hasn't broken out in Canada. Could it be the next big… oh, nevermind.